James Bond's new film SPECTRE finally hit the cinemas on November the 6th. Three years after Skyfall, the highest-grossing James Bond film ever, this new instalment received mixed reviews.
SPECTRE, a return-to-form film for the prolific franchise, has caused both praise and disappointment to an audience that had high aspirations. Lacklustre to some, spectacular to others, Sam Mendes' second James Bond film continues to divide opinion. We won't delve into SPECTRE particulars in this article –after all, we have already presented our argument in depth. Instead, we will take you on a fascinating trip down memory lane to look at some of the most iconic, exciting and memorable scenes in 007's long cinematic career.
"Goldfiiinger… He loves gooold"
It's one of the most memorable theme songs in cinema history. Shirley Bassey's biggest hit, written by Anthony Newley and Leslie Bricusse and composed by John Barry, opened the 1964 James Bond film starring Sean Connery. In addition to the captivating vocals and audio track, the sequence itself – a surreal set of shots where film is projected upon a beautiful gold lady – is remarkable. Dame Shirley Bassey famously never agreed to sing any song before hearing the lyrics but she was smart to make an exception in this case as, according to her website, the music gave her goose pimples. Bassey went on to sing two more James Bond songs, Diamonds are Forever and Moonraker.
"Bond, James Bond"
Among the literally dozens of memorable quotes the suave secret agent has given us, one is known best, and that is the way he introduces himself – only followed by "Martini – shaken, not stirred."
It was first delivered by Sean Connery in the very first ever James Bond film, 1962's Dr No. Over a green felt table of baccarat, Sylvia Tench asks 007 for his name, remarking that he has excellent luck, and the man replies "Bond, James Bond" while lighting a cigarette – it became legendary almost overnight. This scene also earned the high-stakes game of baccarat a place in pop-culture history, as it was James Bond's casino game of choice. While recent Bonds have been shown playing poker and roulette, we see the spy play bacarrat in no less than seven of the series' movies, spanning more than 30 years.
Interestingly, Dr No wasn't supposed to be the first movie featuring the iconic agent: The producers' top pick was Thunderball but it had to be postponed because of an intellectual rights dispute. Watch each and every actor who's played James Bond introduce themselves to you in the following video. Who said it best?
"We have nothing to declare. Just this cello"
The year is 1987 and Timothy Dalton, James Bond's fourth incarnation, is driving his Aston Martin with Kara Milovy in the passenger's seat. Their attempt to flee from Czechoslovakia to Austria is threatened by the KGB and Czechoslovak police who are pursuing them. After a series of spectacular leaps, the car gives up on them and the duo slide downhill on Kara's cello case, James Bond holding the instrument in his hands to the sound of an 80s version of the classic theme of the series.
Despite the skiers and vehicles, they manage to reach the Austrian border safely – with a single bullet hole on the cello, in a characteristically action-packed but strangely romantic moment for the series. Kara Milovy, played by Maryam d'Abo, was the last blonde main Bond girl for almost thirty years, until this year's Spectre.
Parkour for the ages
An action sequence fit for the 21st century, the parkour chase in Casino Royale shows that recent instalments of the series can indeed live up to the JB legend. Daring cinematography, breath-taking combat and a great soundtrack see a casually dressed Daniel Craig prove his worth as 007 in the best possible way. Terrorist Mollaka, the acrobatic villain being chased by Craig is in fact Sebastien Foucan, a renowned real-life parkour artist and founder of freerunning, who joined the movie to showcase his impressive stunts. In an interview, Foucan said he's proud to have been part of the James Bond legend, and clarified that when they shot the scene where he spits on Daniel Craig's face, he actually spat on the floor. Martin Campbell's 2006 film marked the hero's return after a four-year gap and managed to captivate audiences worldwide.
"Underneath the Mango Tree, My Honey and Me"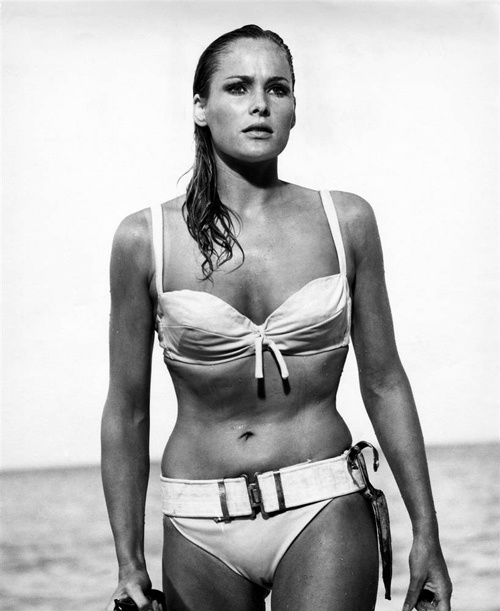 For 53 years now, Bond girls have been haunting the fantasies of men and women – but it was Ursula Andress who started it all, in 1962's Dr No. Andress played Honey Ryder, the original Bond girl, in the quintessential scene where she emerges from the sea after diving for shells. James Bond, who believed he and Quarrel were alone on tropical Crab Key island, is very pleasantly surprised and joins in her song of "Under the Mango Tree". Honey's spectacular body – clad in a white bikini and knife belt – set the standard for the Bond Girls that followed.
This classic scene was mirrored in 2002's Die Another Day, with Halle Berry wearing an orange bikini and emerging from the sea to be met by Pierce Brosnan. The latter scene, shot in Cadiz, Andalusia might look sunny and warm but it was quite the opposite. Berry had to be wrapped in thick towels to avoid catching a cold inbetween shots.
Drip… drip…
1967's You Only Live Twice, the fifth James Bond movie, sees Sean Connery return as the superspy. Among its dozens of memorable scenes from this instalment, it is the poison scene that grabbed our attention for its restrained, tense action. James Bond spends the night with stunning Aki and the two fall asleep. An assassin targeting Bond sneaks into the building and attempts to slide a powerful poison down 007's mouth using a piece of thread. The poison reaches Connery's mouth but he shifts in his sleep. Instead, it is Aki who swallows it and meets her death. Bond gets his revenge right away, shooting the assassin dead. A true classic, this method was later paid tribute to in Grosse Pointe Blank.
It was not easy to choose our favorite classic scenes from the now 24 James Bond films. This franchise has evolved hand-in-hand with cinema and special effects, delivering breathtaking action, daring stunts, beautiful girls and witty punchlines almost each and every time. We attempted to touch upon every aspect that has made this series sucessful, from incredible chases to stunning female bodies and memorable quotes. Now it's your turn – which is your favourite scene from James Bond? What have we overlooked? What do you expect from the franchise in the coming years?