Goodbye, Petrushka is a comedy-drama from director Nicola Rose about a young woman and puppeteer trying to discover her happiness while navigating life in France.
Claire, played by Lizzie Kehoe (More Than Roses), is a quirky girl from New York. She's a puppeteer who, with the nudging of her friend Julia (Casey Landman), moves from New York City to Paris. In the city of love, Claire works as a nanny, often to families with out-of-control children, deals with bureaucrats, and overcomes a toxic relationship. Unfortunately, Claire also hilariously humiliates herself in front of her crush, a Parisian and former ice skater named Thibaut, played by Thomas Vieljeux (Thanksgiving Masquerade). The film navigates a delicate balance between drama and comedy, often leaning into the former just a degree or two more than the latter.
PopAxiom spoke with director Nicola Rose about becoming a filmmaker and evolving to make Goodbye, Petrushka, a film that draws heavily from her own life.
Then Petrushka
"I didn't realize I wanted to be a filmmaker until later in life. I was 26," Nicola begins her story. "Before that, I had been in the arts, acting mostly. Then, for a time, I was a professional puppeteer."
Much like Claire, Nicola studied puppetry in France. "I ended up coming back to the US where the practice of puppetry is a completely separate thing. So, it was like starting over."
"The first thing I did was an ongoing puppetry gig at the Boston Public Library," she says, "I did shows at libraries, daycares, community centers; you name it. I pitched to everyone who might conceivably let a puppeteer entertain kids."
Nicola "got the idea of doing a web series during my time as a puppeteer. It was the first thing I ever made. Definitely a learning curve experience. From there, it led to a short film, then another short film, and another, then Petrushka."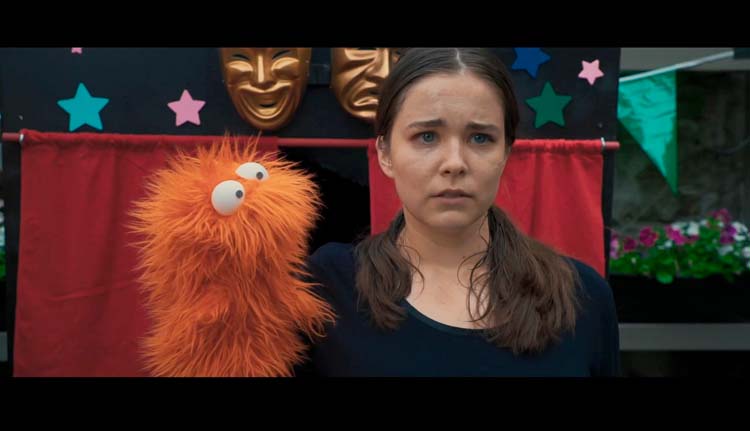 About Goodbye, Petrushka
"I did have a situation in France similar to the sh*tshow you see in the movie," she admits and reveals the reality behind Goodbye, Petrushka's crazier scenes: "Kids running amok trying to destroy the puppets while the parents sat around drinking and eating."
Goodbye, Petrushka is directly connected to Nicola's real life. "Ten years ago, I lived in France. Around 2011 or 2012, I had surreal life experiences that directly or indirectly inspired the film. I felt that I was living in this theatre of the absurd. I kept having conversations and experiences and meeting larger-than-life people."
"We all get these times in life when things are out-sized," she says, "they feel like a movie. I've only had maybe one or two life chapters like that, but I was lucky to have that group of weird people that allowed me to think, 'this should be a movie.'"
At the time, Nicola "wrote it down to make a feature. But I didn't have the means to make a feature. So it was not until years later that my producing partner, Tierney Boorboor, led the charge and steered the ship."
"Tierney saw the script, which at the time was heavily overweight. It was 122 pages and had other plots and other stuff," she explains. But as with any piece of art, things evolved. "First thing she said was that I needed to cut it down and make it more producible in a few ways. But she said that whatever I do not to lose the youthful spirit the film has."
Communication

Despite the more serious places it sometimes treads, the youthful spirit of Goodbye, Petrushka is alive and well. "I'm not a big rom-com fan, but what I was aiming to do here, while it is a comedy and romantic in a way, I wanted to see a movie where things didn't end up just fine. I remember I was fairly unlucky in romance when I wrote it."
"One review described it as 'deeply silly' and another as a very serious joke.' Both of those are correct," she laughs. "It's a very serious joke, but the joke is the important part. Life is often not that serious; it's weird and often absurd."
Once Claire reaches France, the film bounces between English and French with subtitles. "Hopefully, people don't find it too jarring. Originally, almost the entire movie was in French. Tierney suggested dialing it back as we did for a wider audience. So it's about 75 percent English in the end."
"What I think works seamlessly in the film," she adds, "is that characters who are French that become emotionally charged speak in French."
Compromise

One of the significant obstacles for the film was COVID. "At that time, we had to ensure everyone was safe and contained on set. So we had a CCO (COVID Compliance Officer) who constantly tested people."
"We'd planned to shoot part of the movie in France," she says about the film, which was shot in New York City. "Among our funds, we'd budgeted for this project to go to France for certain scenes. Unfortunately, we couldn't do it because it wasn't clear at the time if we could travel. So, you can't plan for something you don't know that you can do."
An essential skill for any filmmaker is making the best of evolving situations. "We used the money for extra finishing, PR, and marketing. Everything in the movie is shot in New York, but it fools everyone except maybe people familiar with the precise spots we used."
Wrapping Up
Watching Goodbye, Petrushka gives off Amelie vibes, and Nicola lists its director as one of two vital influences "Jean-Pierre Jeunet and Wes Anderson (Rushmore). Céline Sciamma (Girlhood) is another big one for me. There are so many people out there doing wonderful work."
What's coming next for Nicola? "I have a project in development. It's a teen/family comedy called Magnetosphere. The script is done. It has to do with a 13-year-old girl who is neuro-divergent."
Is Goodbye, Petrushka, on your watch list?
Thanks to Nicola Rose and WildWorks PR
for making this interview possible.
Find more interviews from Ruben R. Diaz!