Fantastic Beasts: The Secrets of Dumbledore is a tremendous reminder of just how wonderful The Wizarding World can be. Arriving a few years after its predecessor, the film manages to push the narrative forward in exciting ways while exploring the character of Dumbledore. The last entry sparked doubts about the series retaining its appeal for three more entries. Fantastic Beasts: The Secrets of Dumbledore provides enough heart, humor, and spellbinding duels to satisfy many fans of this world.
There's no denying that J.K. Rowling dropped the ball with Fantastic Beats: The Crimes of Grindelwald. While the visuals remained strong, its narrative was riddled with one too many subplots. Steve Kloves returns to co-write The Secrets of Dumbledore, and those "problems" from before have been fixed. Allowing itself to focus on its larger conflict helped Fantastic Beasts: The Secrets of Dumbledore convey a compelling and action-packed adventure.
Grindelwald's (Mikkelsen) rise to power across the community has caused Dumbledore (Law) to request the assistance of Newt Scamander (Redmayne) and his allies. As tensions rise, Dumbledore questions how much longer he can stand on the sidelines. Meanwhile, Grindelwald and his army continue to chase their goal of terrorizing the muggles. Directed by David Yates, Fantastic Beasts: The Secrets of Dumbledore stars Jude Law, Mads Mikkelsen, Ezra Miller, Eddie Redmayne, Dan Fogler, Callum Turner, and Alison Sudol.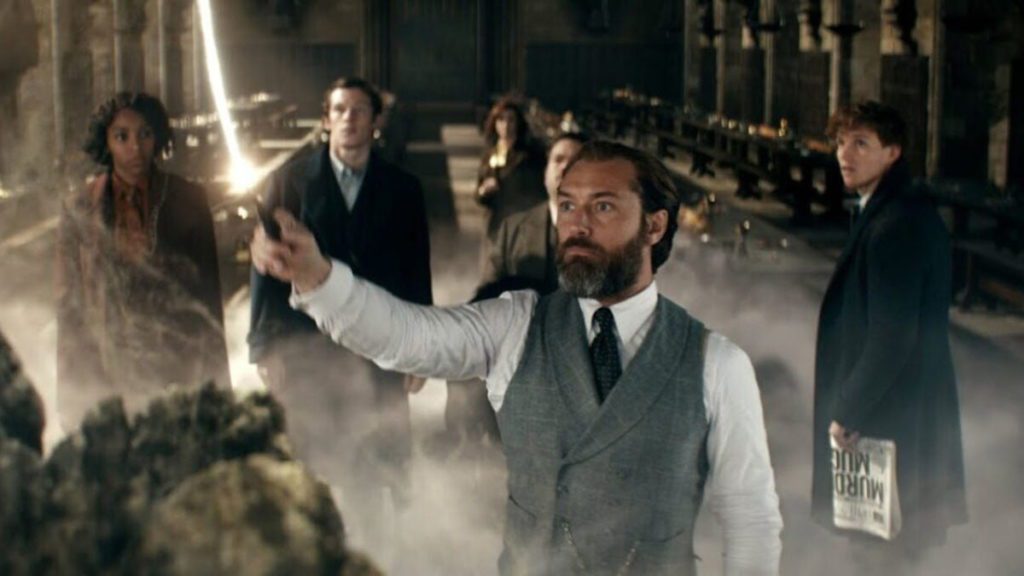 Newt Scamander's progression here was a remarkable aspect of this new film. Previously, I have felt that the films were trying to force audiences into caring about him. Knowing that Fantastic Beasts is building toward the highly famous battle between Dumbledore and Grindelwald, made it questionable as to why these films weren't centered on Dumbledore. Scamander's importance to this pending battle is highlighted better thanks to his scenes with Dumbledore.
Newt's attitude towards these creatures and his desire to do what's right without reward seems to be why Dumbledore has so much faith in him. Newt has always been a likable character, but it just seemed that the wrong character was being focused on. While Dumbledore and Newt continue to share a healthy bond, Grindelwald and Credence (Miller) have the complete opposite. The Secrets of Dumbledore lives up to its title by further addressing shocking revelations.
While The Crimes of Grindelwald left many fans frustrated and confused, most of the confusion should be cleared up here. Some would argue that Credence's history came out of nowhere, but there are many moments of foreshadowing that took place. Admittedly, Fantastic Beasts: The Secrets of Dumbledore builds more intrigue with its foreshadowing. Since the narrative is focused and not held back by multiple subplots, audiences might have a better time connecting with this new revelation.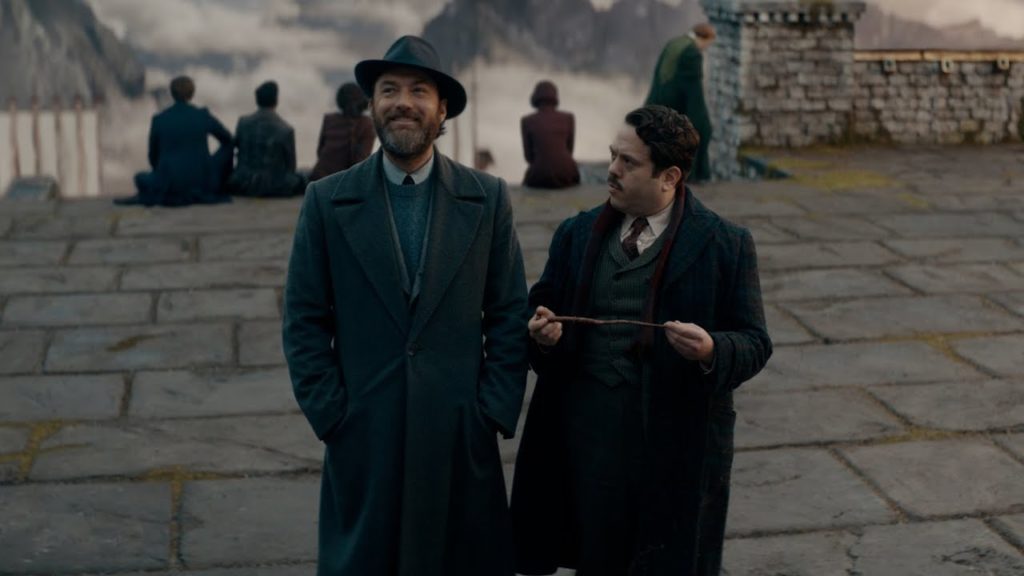 Perhaps the film has too many characters involved, but they are all likable and Jacob Kowalski's development here is terrific. Fogler has always been great in the role, so it was nice to see everyone's favorite no-maj (muggle) get involved in Dumbledore's affairs. Speaking of Dumbledore, the film's subtitle isn't there to simply draw in Harry Potter fans. There are several advancements in Dumbledore's story that make him a more complex character. Sure, some additions weren't always planned from the start, but longtime fans will enjoy the new details surrounding Dumbledore's sister, Ariana.
The chemistry between Mikkelsen and Law makes their interactions emotional, intense, and highly entertaining. The relationship between Dumbledore and Grindelwald is the heart of this Franchise, and it's unpacked quite well here. Both share differences on muggles, have a troubled history, and their inability to battle emphasizes the tension between them. Mikkelsen's portrayal of Grindelwald is captivating, it demands your attention, and I can take him more seriously in this role. Every performance is stellar, but Fogler and Mikkelsen were my favorites.
Kloves's return to the writer's room certainly made a difference as far as I can tell. Yates remains one of the best directors for this universe and the energy that was missing from the last installment is present throughout. Fantastic Beasts: The Secrets of Dumbledore takes you on an emotional rollercoaster while delivering several crowd-pleasing moments. One, in particular, the crab walk sequence, should have audiences laughing uncontrollably.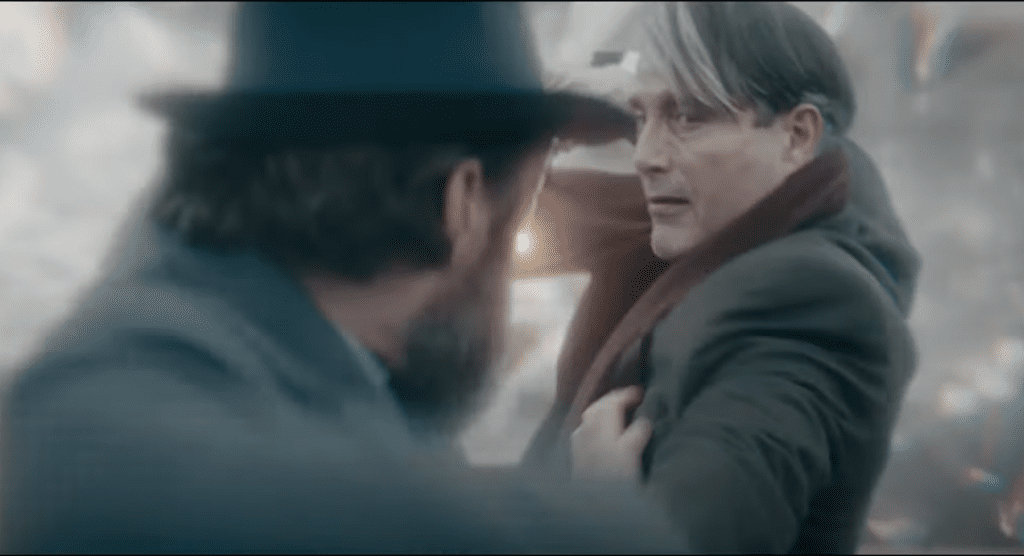 Yates' passion for this universe is always evident through his visual style, and James Newton Howard's score is the ultimate source of nostalgia this time around. If one were to argue that this series relies on the Harry Potter legacy too often, they wouldn't be wrong. However, Howard incorporated certain aspects to his score that I would say are needed in a Wizarding film. Some visual aspects are disappointing, such as the Hogwarts featured in the film, which isn't a practical effect.
Fantastic Beasts: The Secrets of Dumbledore doesn't erase every issue with this series, but it did a fine job restoring my investment in what's to come. A more focused narrative that provides a coherent beginning, middle, and end while never growing dull. There's better pacing, iconic duels, and Newt's beasts are an integral piece of this story. Harry Potter might be the superior franchise, but this series still has signs of greatness coming soon.