The pandemic years were a psychological crucible for most of us. Night's End is a horror film by director Jennifer Reeder (Knives and Skin) that relates isolation and anxiety through colors and cinematography from Christopher Rejano (Knives and Skin).
Ken played by Geno Walker of Chicago Fire suffered through alcoholism before succumbing to a nervous breakdown. Ken's since relocated to an old building in an unknown city. Ken's so isolated, he's the only tenant in his building. Any quality time with friends or loved ones involve his ex Kelsey (Kate Arrington) and old friend Terry (Felonious Monk) via video calls. Ken's isolation includes a disturbing diet of tomato soup, coffee, and Pepto-Bismol. He also has no desire to change any of this viewing his lackluster YouTube career as his salvation. However, Ken's strange normal starts to change with the rise of a spirit that seeks to torment him.
PopAxiom spoke with Chris about photography, colors, and getting the right look for Night's End.
Trajectory
Christopher was around 13 when he gained an interest in photography. "My dad bought my first camera, and I taught myself how to use it. I had a friend who also got a camera around the same time, so we learned together. He pursued photography in college. I concentrated a photography, design, and fiction writing."
"A teacher suggested I write screenplays. So I went to Chicago to study film. Screenwriting was my interest initially." But once Chris got into film production classes, things changed. "I gravitated toward photography and became a cinematographer on many projects. I liked to be able to let the camera tell the story rather than a screenplay."
Chris focused on cinematography and then worked as an intern at an equipment rental house. "I did a movie with László Kovács, which was my exposure to Hollywood productions. I also worked as a gaffer for many years while shooting things as a DP on the side."
"Now I've stepped away from gaffing," he says. "It's been a traditional arc. But, it's also been a fruitful journey along the way. I've learned so much."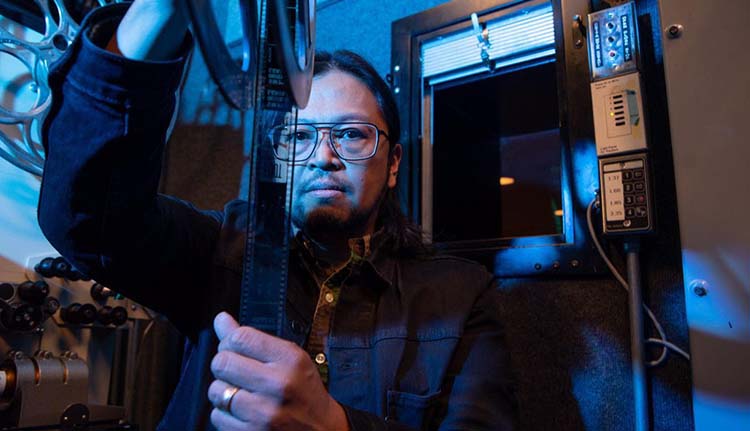 About Night's End
Chris and Night's End director Jennifer Reeder are longtime collaborators. "I worked with Jennifer Reeder on two features before this; Signature Moves and Knives and Skin. We've done seven, eight, maybe ten short films and been working together since about 2012."
"Jennifer came to me in the summer of 2020, in the middle of the pandemic," he says about the evolution of Night's End. "In December of that year, we shot some tests, and by summer of 2021, we shot the film. Even though vaccines were available by then, we kept the crew small."
Jennifer had a relationship with Shudder, who backed the production, "Everything fell into place, and we shot into July of 2021."
Chris received the script for Night's End but didn't read it because soon after, "we did a table read. The writer Brett Neveu and Jennifer set up a read in Chicago with many actors, some from the Chicago Fire and PD. So that was my initial exposure to the film."
"It's a challenge, he says about the vast majority of the film taking place indoors. "The team scouted a couple of places. I was able to get in and look at the house a couple of weeks before shooting. So, there was a good lead time. Production design had things to do too. We filmed everything in the same location. In the story, everything's communicated via webcam. So, behind them, it could be any number of things that we used to differentiate the characters."
Chris reveals that behind the scenes, "We shot on primarily Arri Alexa Mini with Hawk Anamorphic C-Series lenses. We used my RED Komodo as the b-camera slash webcam look."
Contrast
Night's End has a very distinct look. "Jennifer has a unique style and vision for things. We did Knives and Skin and shot on some vintage anamorphic lenses. We introduced a lot more color into her films. We continued that in Night's End. It's something thematic in her film career. Color is so important to her, and I love color and contrast."
"For this film," he adds to the talk about the opposition of colors. "I mixed a magenta with a light green or amber. Again, something that creates more of a contrast; it's a fun way to create that contrast for me."
One of Jennifer's first notes "was that she wanted the film to be dark. That was a challenge because we have an African-American lead, and if you play it too dark, you could lose his skin tone. So, we played with color to separate him."
Represent
Night's End's inception in script form came together during the pandemic, and that influence saturates the story. "It's about a man who's agoraphobic. He's trapped in his house because he won't leave. So he communicates with loved ones through a webcam. But he discovers that a spirit might inhabit his house."
"We wanted to create a sense of isolation for Ken," the film's tormented protagonist. "So a lot of the framing is locked off, anamorphic frame. It's static, or if it's moving, it's slight. We see him going mad alone in this space."
Those feelings are common for people living through the pandemic. "It's not an accident. As the film was being written, we were all in lock-down. I think it's rooted in the idea that we can't see our friends or families. It wasn't uncommon to feel that isolation. At the premiere, many people said to me, 'this is my pandemic experience.' This never-ending day; same rooms, same coffee, same everything. So many people could relate."
"It was a lot of repetition for many people, and I think we represented that very well," he declares.
Wrapping Up
Chris draws influence from all sorts of creative places. "Cinematography-wise, I love Robby Müller and Harris Savides. I love bold 80s photographers like Andres Serrano. I love 90s American independent films like Gus Van Zant and Spike Lee. I love the revival of horror films recently and how they've stepped up."
Night's End is available on Shudder. So, what's coming next from Chris? "I'm slated to shoot a feature called Homesick with director Jim Mendiola this summer. It's a supernatural thriller. Also, a film called Nowhere with Rachel Leigh Cook and director Natasha Levy-Gunn.
Is Night's End on your watch list?
Thanks to Christopher Rejano and Projection PR
for making this interview possible.
Find more interviews from Ruben R. Diaz!