Celebrate The Birth Of One Of Film's Greatest Influences Alfred Hitchcock By Looking At My Favorite Films
Seems to be no other director in cinema history with the reputation quite like Sir Alfred Hitchcock. From notorious on-set antics to his filmography, Hitchcock has proven that he is a lasting force within the industry. Countless directors have been inspired by his work and he's constantly homaged. To celebrate what would be his 117th birthday on August 13th, I look back at my five favorite Hitchcock films.
With over 60 directing credits, it's a hard mission to narrowing down to 5. You can't leave out one iconic film without making some cinema fan angry. Taken into consideration is each film's legacy, acclaim, and watchability. This is also about how each film personally touched me as well.
Let me know if your favorite film from the British filmmaker makes the list!
"A good film is when the price of the dinner, the theatre admission and the babysitter were worth it."
-Alfred Hitchcock
Honorable Mentions:
-Strangers On A Train
-Dial M For Murder
-Suspicion
-The Birds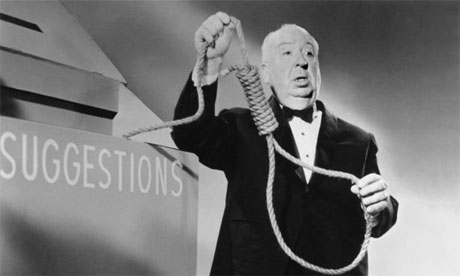 5. The Lady Vanishes (1938)
-This film marks the only time Hitchcock ever received an award for his directing. Winning a Critics Circle Award, this early film remains of his very best. 'The Lady Vanishes' was dubbed the future of Hollywood and little proves otherwise. Also what's up with Hitchcock and his problem with trains?
4. Vertigo (1958)
-It took a very long time before a filmmaker could make a film this maddening again. Dizzying and Oedipal, 'Vertigo' is hailed as one of the greatest films of all time. The film also de-throned 'Citizen Kane' in a critic's poll as the best film ever. But what makes the film so special is the tremendous score by Bernard Herrmann.
3. Rear Window (1954)
-Often imitated, never duplicated. 'Rear Window' is one of the best stories with some of the best cinematography featuring some of the best actors ever. Perfect example of why Alfred Hitchcock is such a legend still to this day. Also, how perfect was Grace Kelly was the typical Hitchcock girl? Utter brilliance.
2. Rope (1948)
-Learning about this film and the boundaries it pushed, Hitchcock made his edgiest film with 'Rope'. Testing the limits of what you can do in filmmaking is hard; the director's attempt was to make the film seem like a single take. If you have ever tried to make a movie, that's nearly impossible. He cheated along the way but it almost works as a seamless piece. He also challenged the censorship by featuring very heavy homosexual overtones in a time that was a major taboo.
1. Psycho (1963)
-Could there be anything else? What can be said about 'Psycho' that already hasn't? We all know this film shaped horror for an entire generation after but it's also a dissection of American life in that era. Before this film, horror was about the monsters-like creatures but 'Psycho' made humans the true monster.
Do you agree with this list?
Celebrate Hitchcock's birthday and comment with your favorite film!