DC's Selina Kyle, aka Catwoman, is about to step out of Alleytown and back into the world of Gotham in Catwoman #39. Once again, she's not content to take the simple road, especially not while Tini Howard (writer), Nico Leon (artist), Jordie Bellaire (colorist), and Tom Napolitano (letterer) are in charge.
Catwoman #39 marks the start of something new. New plots, new creative team, new potential allies, and plenty of new threats. Selina has done her time, stepping back to see what threats would track her down. Well, as with any cat, she's gotten quite bored of that game, so now it is time to start a new one.
Where Alleytown took Catwoman back to basics, a return to Gotham City is like returning to the main event. Here she is in a world full of adventures, enemies, and potential heists. Where will this cat strike first?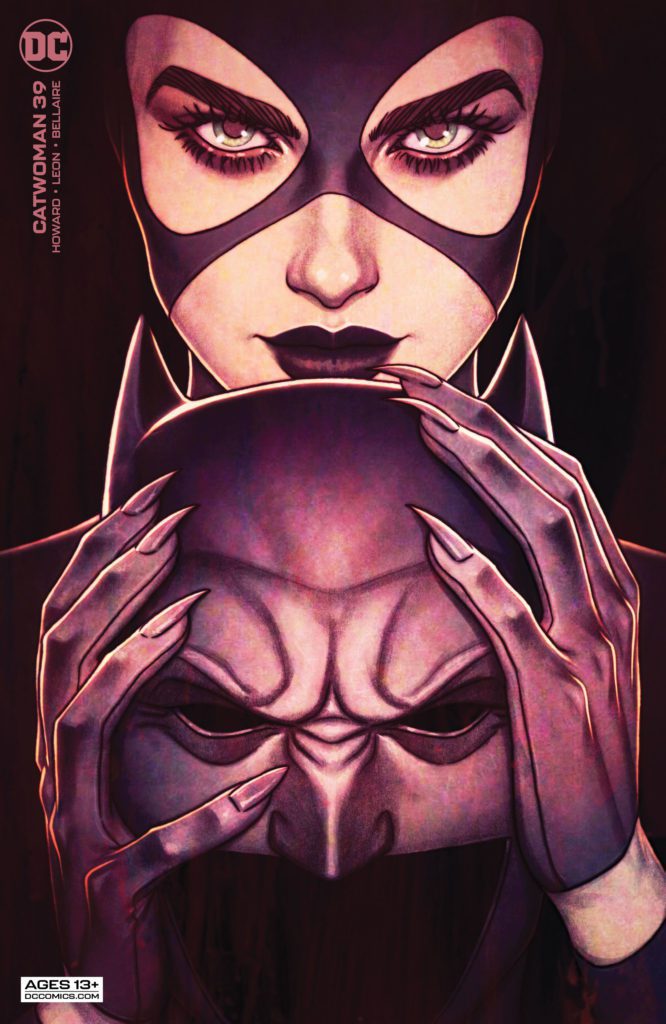 Writing
This issue is surprising for various reasons. Catwoman #39 is a blend of old and new. On the one hand, we are very much returning to form, with Selina making trouble for herself in ways that only a cat could pull off. And yet it all feels so familiar.
Adding onto that sense of newness is Tini Howard, as this is her DC Comics debut. She's already showing a strong grasp of at least one classic character here, while throwing her own flair into the mix.
This latest plot promises lots of trouble, alongside a new set of secondary characters for fans to love or hate (or that odd mixture of both). While this is exciting, it's also somewhat bittersweet as readers reflect on the goodbyes recently thrust upon us.
Overall, Catwoman #39 has a lot of fun in a limited amount of time. Howard pulls out most of Selina's vices in a short period of time, reminding us of everything that can distract this cat. Oh, and let's not forget the heavy cat theme; that was a nice touch.
Artwork
The artwork in Catwoman #39 comes off as fresh, which is fitting, given the new plot and team. Nico Leon (art), Jordie Bellaire (colors), and Tom Napolitano (letters) team up with Tini Howard to bring this latest arc to life.
Everything about this issue feels vibrant and flashy. It is reminiscent of a laser light in that sense – meant to catch our eyes and lead us off on a merry chase. Leon's art makes for a strong foundation, creating bold new characters, striking backdrops, and mixing in some surprising details. While many panels pop from the page, one, in particular, stood out to me, proving that Leon knows how to turn a feline into a gem.
The colors are even bolder than the plot, bouncing back and forth between shadows and bright hues. Thanks to these choices, it's easy to see it like Selina's at a party or otherwise having a blast.
Finally, there's the lettering, which is highly effective here. Tom Napolitano had a lot to work with, as Selina generally is not quiet when she fights. Likewise, a lot is going through her mind that must make it onto the page.
Conclusion
Catwoman #39 is a solid start to a new Catwoman plot arc, one that sets the scene for countless conflicts and adventures to come. One can only hope that the pace will stay this steady for the foreseeable future.