Welcome to Project 365! The premise is simple: read one comic every day for the entire year. It seems like a simple task, but there is no way that I read 365 comics last year, even if you count the individual issues in collections. So, this year, I am committing myself to this reading challenge, in the hope that I can broaden my reading habits and fully engage with my hobby again.
The plan, therefore, will be to do a round up each week of the comics that I have read, along with my impression of and reasons for my choices. It's very possible that I read more than one comic on a particular day and on these occasions I will pick one to include (but will probably keep a list of the others). I also encourage comments and recommendations, as it would be nice to know what other people are reading.
So, without further ado, Week 1 of my 365 comic challenge.
On the surface, a challenge like this should be fairly easy. However, 2022 saw me canceling the regular standing order I had with my local comic book shop. An ongoing order that had been in place for well over 10 years. There are a number of reasons why this happened, the most significant being finances. I just can't afford to buy comics like I used to. When Marvel published their first Civil War event, I bought every single title which had the Civil War banner on it. Every single one. However, last year I was having to cancel some titles in order to pick up others. There was a one in, one out system in place that made monthly comic buying difficult and, often, unpleasant. So I swept the board clean. I even dropped Saga.
This challenge, then, might not be as easy as I first thought. But I have plenty of back issues to re-read and a determination to find exciting new things, so….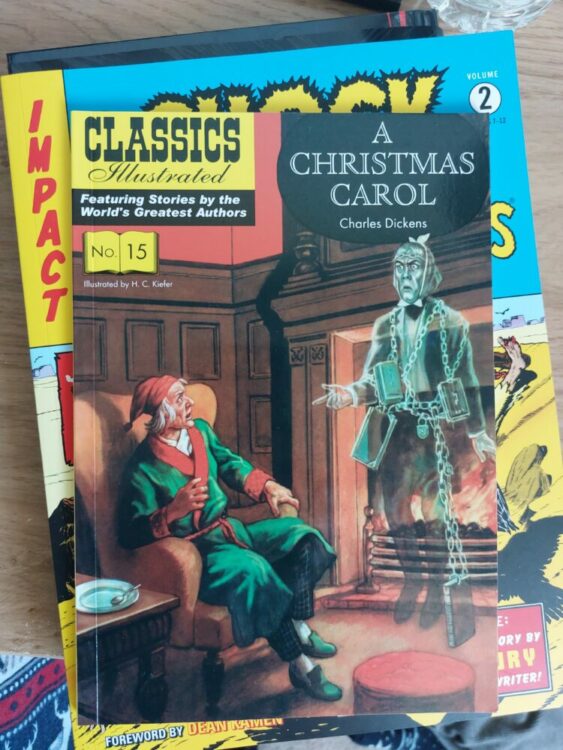 Comic number 1: Classics Illustrated No 15: A Christmas Carol.
I've read this for a purpose, one that will become apparent over the year (hopefully). Originally published in 1948 in America as number 53 in the series (the version I have is the 2009 UK reprint), it's a retelling of the classic Dicken's novella with art by Henry Keifer. It is not the best retelling of the tale, or even one of the better Classics Illustrated, but it is enjoyable and includes elements of Dicken's original that are often forgotten. I didn't read this for entertainment, but for research purposes, however it was a good comic to start this challenge and probably sets the tone of what's to come. Expect more classics and historical titles than new releases in the coming weeks.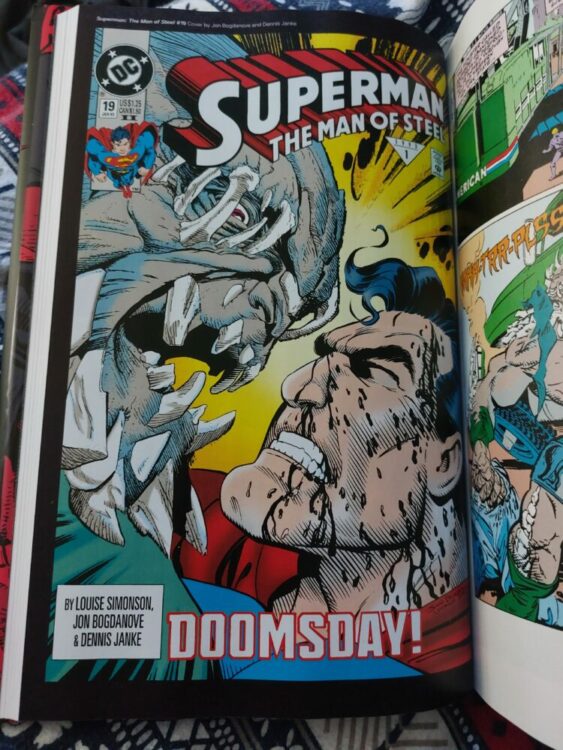 Comic number 2: Superman: The Man of Steel #10
For Christmas I treated myself to The Death of Superman hardback book. The Man of Steel #10 is the penultimate issue before the death mentioned in the title. As an all out action piece, it has interesting layouts, especially taking into account the issues that precede and follow it. With only two panels per page, there is a lot of detail in each panel, although, the narrative itself is pretty straight forward by this point: Doomsday and Superman go at it hammer and tongs. An historical event story that spread across all of the Superman titles and seeped into the rest of the DC Universe, it isn't the most cerebral of stories, but it does pack an emotional punch, even after all these years.
And the scene where Doomsday knocks Supergirl out of shape, literally, has always stuck in my memory. I had no idea what was going on with Supergirl at the time and reading this when it came out led me straight into reading Supergirl. These days, I'd rather read Supergirl over Superman.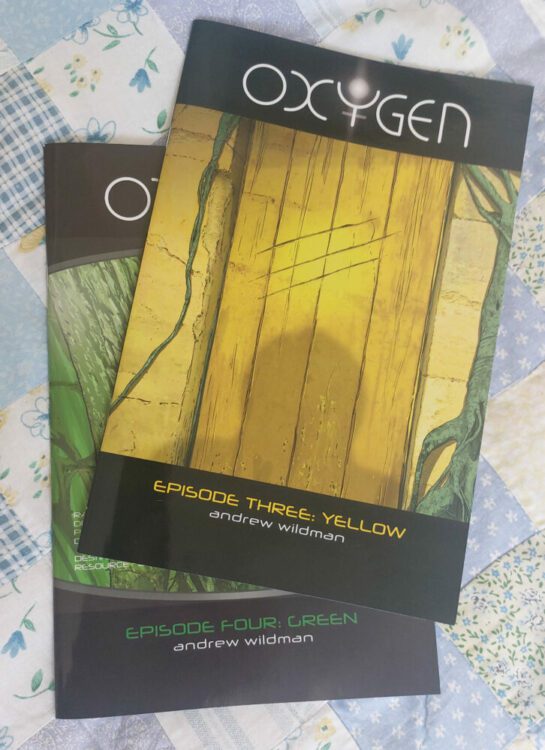 Comic number 3: Oxygen Episode Three (and Four)
Oxygen is a self published comic by one of my favorite artists: Andrew Wildman. Issue 4 came out late last year but I re-read number 3 before moving on to number 4. Issue 3, subtitled Yellow, was the point where I started to really grasp what was going on. The series follows a lone astronaut, stranded on a planet fraught with dangers. The comic is a surprisingly personal journey through a single life and reminds me, in style and tone, of Martin Vaugh-James' The Cage. What do we leave behind? What detritus remains of our memories as we move on through life? Thought provoking and beautifully produced, I'm with Oxygen until the end.
The series is half way through and can be bought directly from Andrew Wildman's website here. I highly recommend it.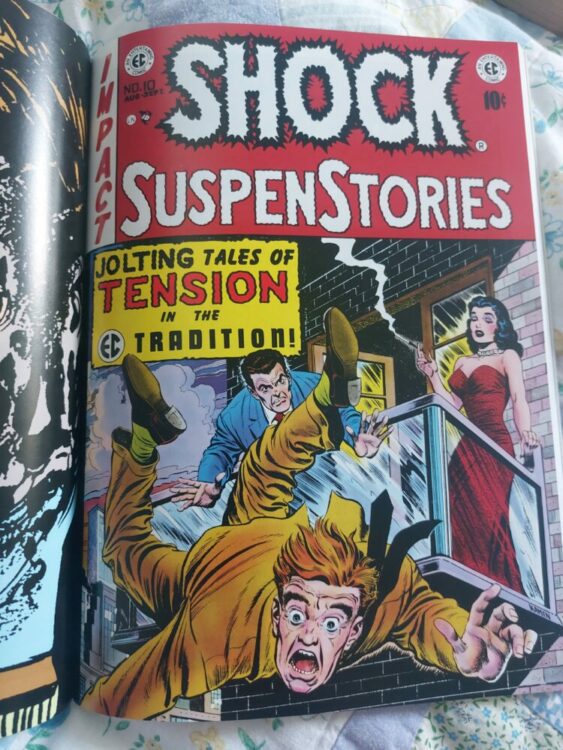 Comic number 4: Shock SuspenStories #10
I love EC, and the EC Archives collections published by Dark Horse are a great way to read them. Some great writers and even greater artists worked on these comics, and you can guarantee there will be a gem of a story in each issue. For Shock Suspenstories #10, the diamond in the rough is The Sacrifice by Gaines, Feldstein and Kamen. It is an excellently paced murder mystery with a satisfying twist at the end. A sci-fi story and a horror-lite tale fill the pages of this issue with wonderful art but rather limp endings. The most intriguing story in this issue is …So Shall Ye Reap!, again written by Gaines and Feldstein (aren't they all?) with art by Wally Wood. For a comic published in 1953, when anti-comics movements are taking America by storm, it is a very ballsy swipe at those people blaming comics for society's woes. I've put this aside for later study.
Comic number 5: Joe Fixit #1
A brand new comic!
I'm not much of a Marvel reader anymore, but I do enjoy Peter David's early work on titles such as Spider-Man and The Hulk. And Q-Squared is one of my favorite Star Trek books.
Plus the Hulk punches the Kingpin.
'Nuff said.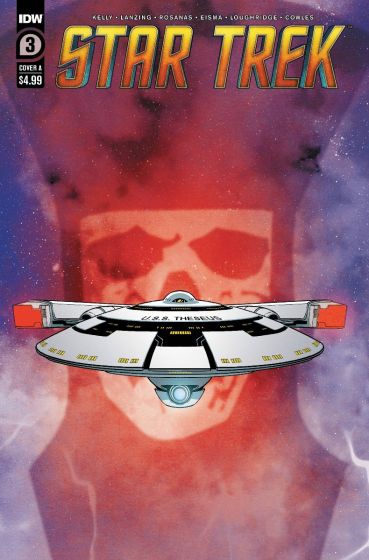 Comic number 6: Star Trek #3 (2022)
As a big fan of Star Trek, I do tend to give a lot of the comic runs a go. I really enjoyed the recent Year 5 run with the original crew and have high hopes for the Strange New Worlds tie-in. IDW are putting out some great Star Trek content and this current run, featuring a mix of characters from the television series, is very exciting. With Benjamin Sisko captaining a star ship after being released from the Celestial Wormhole to track down a God Killer, it has adventure written all of it. So far, each issue has featured a number of recognizable faces and this third issue is no exception. With the arrival of Q to the mix, the narrative becomes quite ridiculous but definitely fun. It feels like a bit of a filler issue, but writers Collin Kelly and Jackson Lanzing are clearly enjoying playing in the Star Trek sandbox.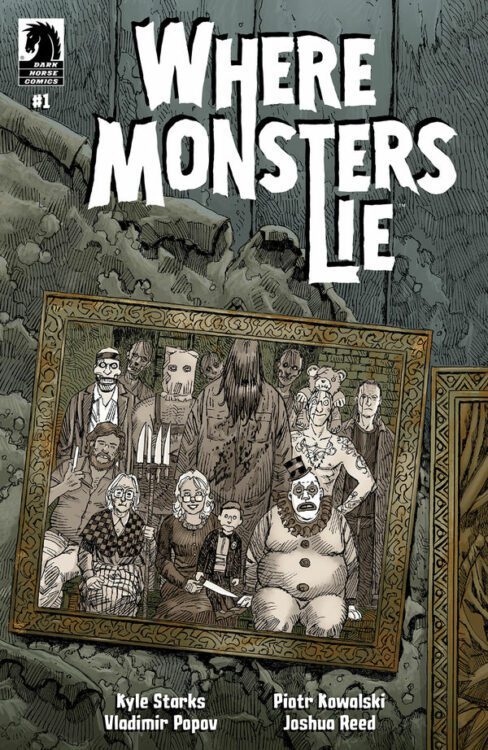 Comic number 7: Where Monsters Lie #1
This is my first preview comic of the year. Due out on February 1st from Dark Horse Comics, this tale asks "Where do all the psychotic serial killers go after their killing spree has come to an end?" The answer: Wilmhurst. In this gated community run by a cold and clinical matriarch, the horror b-movie characters, slashers, and cannibal families can all feel safe while they take a little down time between murder sprees.
This first issue by Kyle Starks, with art by Piotr Kowalski, has its moments of slasher style horror, but for the most part is a whimsical comedy, a kind of serial killer sit-com. It's not clear from this first issue what kind of story the mini-series will tell, whether it will lean more into the killer aspect or the comedy aspect, but this first issue definitely has enough going on to hook fans of either genre.
..
And so ends the first week of the year and a satisfying selection of comics already read. I think this mix of old classics, personal favorites, and brand new comics is going to be the shape of things to come. Hopefully, I will get the chance to look at a few previews to whet your appetite, and not re-read too many out of print, hard to find, back issues that no one can get their hands on if it seems appealing.
So, join me next week to see what seven comics have taken up my time. And why not add a comment below to let us know what you've been reading? Let's share our love of the medium.