King In Black Thunderbolts #1 begins Marvel Comics' newest rendition of a supervillain ensemble on January 13. Through Kingpin, writer Matthew Rosenberg puts Taskmaster and Star through a gauntlet they might not survive. Artist Juan Ferreyra showcases the entire issue's dire mood with impressive panel work, scale, and shading. Letterer Joe Sabino completes the package through his word balloons.
The Kingpin's Comeback Thunderbolts
King In Black Thunderbolts #1 follows the Kingpin's copyright legal version of the Suicide Squad. Rosenberg puts some of Marvel's less egotistical villains together for the chance of seeing their personalities bounce and clash.
Taskmaster remains one of the more levelheaded characters, as his record with dealing with the absurd suggests. So when he encounters an event so absurd, his practical mind gives him the most common sense. Taskmaster knows when the Thunderbolts need the right equipment and can't afford a distraction.
Because Star is the only one with any firepower to survive against giant symbiote dragons, her recent series keeps her fresh and full of opportunity for developments despite her newcomer status. She wants to be a hero but has limitations in both power and opportunity for good. Luckily one of her co-stars seems to provide just enough backup to make up for it.
Batroc the Leaper is always a fan-favorite character and serves as good comic relief. His lighthearted attitude complements both his more serious teammates and the whole situation. Back in the initial meeting, he displays a more professional attitude than Taskmaster. No amount of death threats seem to get him down.
King In Black Thunderbolts #1: Keeping Control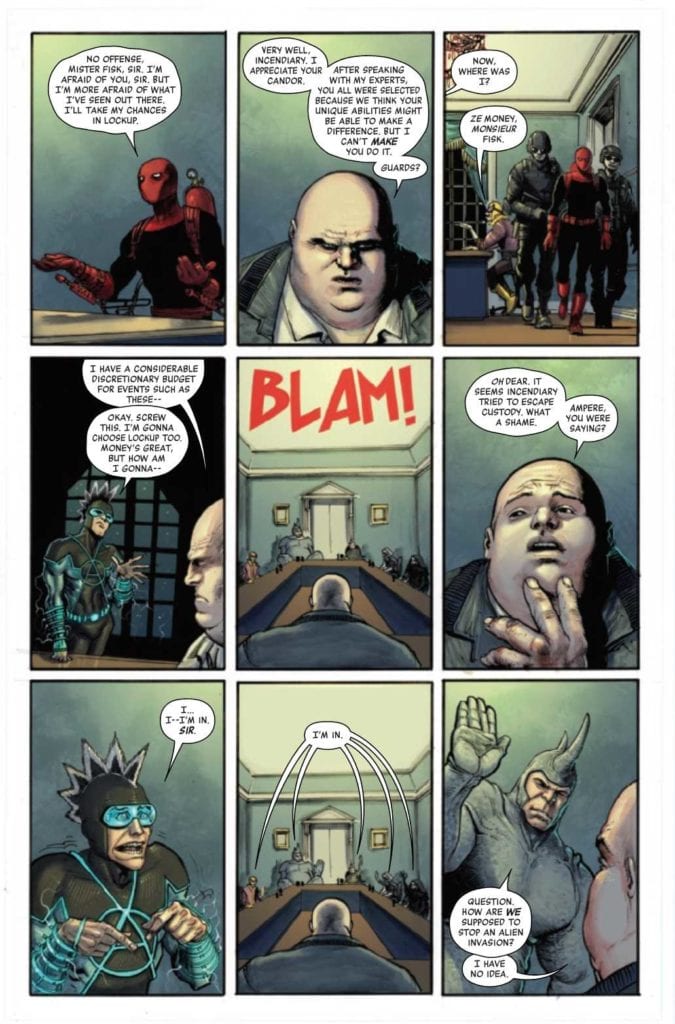 With Ferreyra serving as the overall artist of King In Black Thunderbolts #1, it says a lot about his dedication. His panel layout certainly attests to this statement, including the use of a 9-panel grid. That one page, along with Kingpin's presence, demonstrates the amount of power he has over the immediate situation. One way or another, Wilson Fisk will get what he wants out of the Thunderbolts.
The other giant of King In Black Thunderbolts #1, Rhino, also demonstrates his presence in scale alone. His large size gives him an edge over others in hypotheticals. The fact he wasn't in the issue's introduction with the rest of the team calls into question his fate.
Finally, there comes the colors and shading within the issue. Anyone following King In Black knows the situation is dark, with shadows blanketing the panels. To make matters worse, the color red is practically a signifier that someone will die or is at risk of dying. Considering Star's role in King In Black Thunderbolts #1, the red on her costume makes her a target.
Letters Between Artists
VC's Joe Sabino is the main letterer of King In Black Thunderbolts #1. The word balloons he employs keep the pacing and tone in overall flux. A single splash page with a speech shows Kingpin's presence and the Thunderbolts in question. Then there are the widescreen panels that feature short but sweet sentences to not slow down the action.
One point to question is the SFX; crashes, a gunshot, and a sudden attack look more like Ferreyra's art. Either Sabino is really good at making SFX extensions of his co-artists, or Ferreyra is going uncredited for this.
Pay Attention to King In Black Thunderbolts #1
King In Black Thunderbolts #1 brings out the best in an ensemble of villainous characters. Each has a role that makes them stand out and complement one another. It's something that the artwork goes to lengths in order to showcase their roles and the stakes they face. This iteration of the Thunderbolts is one team to keep track of.