TURNING ROADS is currently funding on Kickstarter, and we chatted with the book's editor Paul Carroll about how the anthology came together and what readers can expect.
The project is a collection of Irish folklore and mythology retold in modern (and future) settings. Carroll talks more about the project below, but the stories will span various genres and styles, with over 30 creators from all around the world contributing. The campaign runs through March 28th, 2021.
Carroll is a writer in his own right, and 1/3 of the Dublin-based comic collective Limit Break. TURNING ROADS is his second Kickstarter, following 2019's Plexus.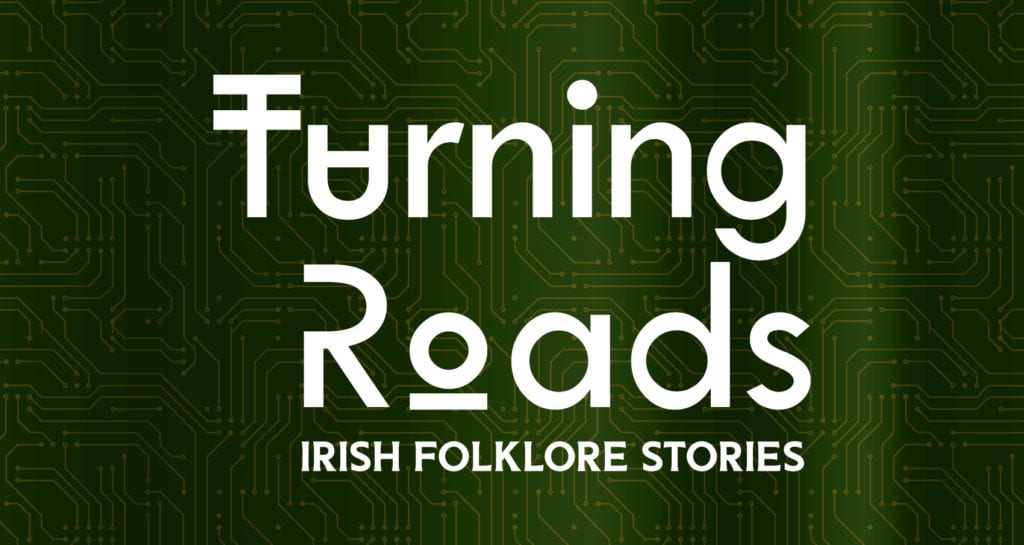 Read on for our full interview with Carroll:
Monkeys Fighting Robots: Tell us about TURNING ROADS — what kind of stories can readers expect to find in this anthology?
Paul Carroll: Turning Roads is an anthology of short comics from Irish and international creators, focused on retelling Irish myths, legends and folklore stories in modern and future Ireland. There's a mix of science fiction, fantasy and magical realism blended through the stories, some of which take a distinct genre fiction approach to the twist, others of which treat the presence of Irish fairies in modern Ireland as a consequence of time, rather than magic — they were always there, and now they're adapting to life here. There are 18 different teams in the book, each with their own styles and voices, so no two stories will be the same — and that's not even accounting for the fact that one legend appears twice in the book, albeit through two very different approaches.
MFR: Where did you get the idea to put this project together?
PC: This goes back to the Before Times; there were discussions around the winter of 2019 among Irish and UK comic creators about putting together comic anthologies. I've had notions of organising something like this for a while, even before those conversations, and with lockdown in Ireland presenting long-term isolation for the comic community here, the timing felt right. I've been out of work as a result of the pandemic, while others have been busy trying to meet their deadlines or doing essential work as part of their day jobs, so I figured it was only right to put some of my time and experience to good use. At the very least, I've tried, and some people have paid attention.
MFR: Can you plug some of the creators who are contributing to the book? And can you tease anything about the stories they're working on?
PC: I'm exceptionally fortunate to have over 30 creators involved in this book. There are some who've been around the Irish comics scene for a while — people whose work I admired before I knew the creators personally — like Hugo Boylan, Dave Hendrick, Leeann Hamilton, and Tríona Farrell. Hugo and Dave are both writing stories for the book, teaming up with Hugh Madden and Pete Marry respectively to tell some whacky tales. Hugo and Hugh have so much creative energy between them, and the one page of their story I've seen so far just blew me away. Leeann is joining Kerrie Smith on art in a beautiful little short that Kerrie scripted. They're probably two of the most humble creators in the book, and they'll be packing quite a punch with the story they're telling. As for Tríona, I was lucky enough to get her on board to colour one of the stories in the book.
It would take hours to shine a similar light on everyone, but there's so much talent in this book it almost makes me feel unworthy to be editing them. (Except, of course, they're also all lovely and endearing, so they've made me feel like I've fit the part quite well!) Just off the top of my head, two of the creators I didn't know before this whose portfolios made me audibly gasp the first time I saw them are Dominique Duong and Ember Johnstone. Each is contributing stories as solo creators, and I honestly cannot wait to see the finished work. We'll need to adopt them as Honorary Irish when all this is done!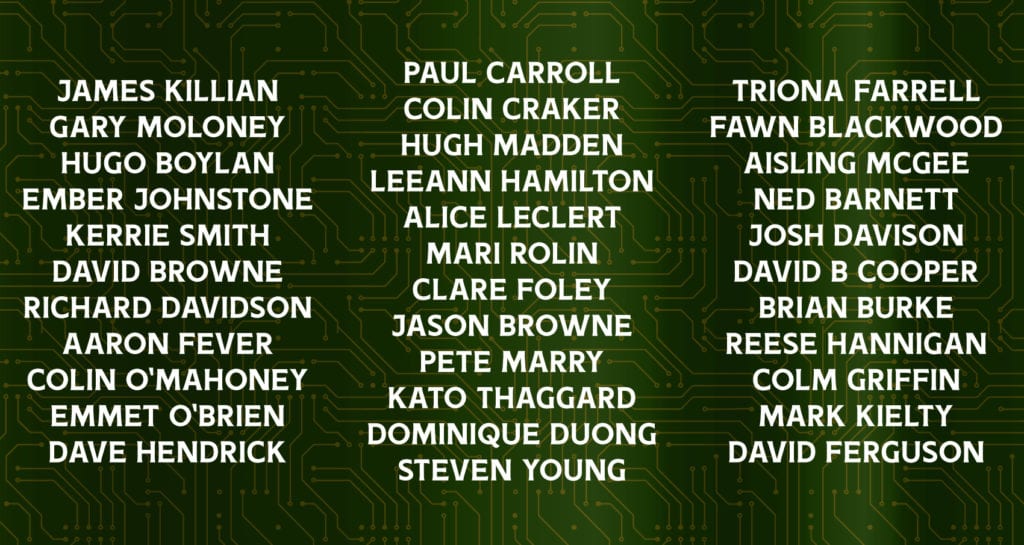 MFR: I'm assuming you have at least a passing interest in myth and legend since you're putting together this anthology — where does that fascination come from? Is it something from childhood, or something you grew to appreciate as you got older?
PC: I've always loved stories, and myth and legend provided so many variations that my young mind couldn't keep up. It started with the Greek legends, through old movies my dad would put on the television on a Sunday afternoon, and then Disney's wildly inaccurate Hercules. After that, I took any chance I had to experience Greek myths, mostly through PC games as I was growing up, and then through books and reading online once the opportunities presented themselves. (Side note: we didn't have even a dial-up Internet connection in my household until I was in my mid-teens!) That passion for mythology then spread through other pantheons, to the point of collecting books on Norse and Egyptian mythology whenever I could. At some point along the way, I found my collection included stories of Irish myth and legend, though I couldn't tell you how or when they showed up. Still, they felt right at home.
MFR: What do you think makes Irish myth and legends stand out compared to other cultures' folklore (other than being set in Ireland, obviously)? Are there certain themes and concepts that make them uniquely Irish?
PC: Irish stories are a funny old lot. They almost always end in misery, and sometimes they'll just stop when the main character is dead. There's a lot of focus on death, and on the consequences of messing about with things that you shouldn't. There's a strange beauty to them, though the retellings and changes made to the stories and the people that occupy them make it confusing to keep track of everything all at once. Between the arrival of Christianity in Ireland, and the occupation of Ireland by the British, we've ended up with many contrasting tales, each with their own focal points and morals (if you're lucky to have a moral by the end of the story!)
MFR: You write a story yourself in TURNING ROADS — how do you like writing short stories compared to longer ones like MEOUCH?
PC: I've always had a soft spot for short stories. There's a whole separate challenge in telling a complete story in just a few pages. With Meouch, myself and Gareth Luby get to play around on single scenes for a few pages at a time, and it allows for more space to tell jokes and shift the mood a bit whenever we need to, but you don't have that freedom when you go from a 20-page issue one down to four pages. Not that that's a bad thing. The constraint is part of what makes it fun. Unless you have a completely unforeseen twist at the end, there's the challenge of keeping a story tonally consistent and interesting, and there's not much room for explaining what's happening before it's all over.
Of course, short stories also allow writers to work with lots of different people if they want to. Don't get me wrong, I'd do a hundred short stories with Gareth if he had the time, but even if he wasn't working a full-time day job, there's only so much one artist can do. For Turning Roads, I took a couple of chances on my story; I'm working with James Killian, who's relatively new to the scene, on art, while Marvel's own Tríona Farrell is handling colours. (I really felt like I was chancing my arm asking Tríona, but she's a delightful person and set my mind at ease from the get-go!)
MFR: How has the process of putting together the Kickstarter campaign and getting it ready to launch been? Any advice for creators who are getting ready to start their own project?
PC: Full disclosure: I'm an anxious person. I love having done a Kickstarter campaign, but I panic the entire way up to and through the process. It's also been almost two years since my first campaign, so I'd forgotten so much about how it's done. My advice boils down to a few things. The first is simple: give yourself more than enough time to complete the set-up of the project, because there are always delays on Kickstarter's end when it comes to approving a campaign. They're quite open about the delay — it can take up to three days to be approved — but if you leave it late, you can be stuck waiting.
Secondly, have as much work ready to show as you can. This is for more than just the Kickstart page. A good press release can result in people needing more images to include when they share something online, and you need it accessible. Save it on your computer, on your phone, in the Cloud – have it available to send to people no matter when they ask you.
And thirdly, do the work in marketing and PR. You need to be present on social media, before, during and after a campaign. Tell people about your project, as people for help, and put in the effort in contacting websites and podcasts. Craft a press release if you feel the need to put on a professional face, and have all the info you need to tell potential interviewers at hand so they can craft better questions for you.
(And, it should be said, the immortal words of Douglas Adams apply to running a Kickstarter campaign: Don't Panic.)
MFR: What are you most proud of in regards to TURNING ROADS? What are you most excited for people to see?
PC: I have personal pride in even getting it this far, which is a difficult thing for any Irish writer to admit to having. We're a shy, modest bunch for the most part.
For real, though, I'm excited to share the stories that were pitched. I picked the ones that spoke to me, the ones that made my mythology-loving inner child want to see them complete.
There's also a special guest star who I'm hoping will make an appearance when we hit the stretch goal stage of things, fulfilling cover art duties. It's a big name, I can promise you that, well outside what I considered the realm of possibility back during the initial conversations I had with people about doing the book.
MFR: And you are part of Limit Break Comics alongside Gary Moloney and Gareth Luby. Outside of TURNING ROADS, what else can we expect to see from Limit Break in the near future? Any projects coming down the pike that you want to tease or promote?
PC: Limit Break as a collective has a few projects on the go at the moment. We're talking with a couple of creators from outside the circle of three about publishing their books under the label – we're hopeful we'll get to announce them before conventions return to Ireland.
Aside from that, you can expect issue two of both Meouch and Plexus in the near future. Gareth is hard at work on the art for Meouch. Plexus currently has two stories out of three completed from the art point of view, too, which is an exciting place to be in.
Joining them, I'm working on cryptid horror comics under a project name Dark House; I've no idea when they'll start appearing in the world, but it's fun to return to the genre after a few years away from it in terms of comics. While I'm doing that, Gary is putting together a wicked looking pitch, and he has plans to put together a collection of his crime comics in the future — I'm under oath not to make any promises on his behalf as to when any of that will happen, and he's our law-talking guy so I've got to stick to my word!
It's an exciting time to be making comics, though, and working with Gareth and Gary makes the journey all the better.
---
Thanks again to Paul Carroll for taking time to talk with us! TURNING ROADS is currently funding on Kickstarter; you can check it out here!
Have a look at one of the stories from TURNING ROADS, Niamh Cinn Óir by Hugh Madden: