SPIDER-WOMAN #6, available today from Marvel Comics, dives straight back into the latest adventure for Jessica Drew. Only this time, she's gone to her best friend for a bit of help — and space transport.
Jessica Drew may have her own series again, but it has been far from smooth sailing. Her entire life has been shaken up, from being forced to step away from Gary and Greg, to finding some dark truths about her family.
In truth, her story has only just begun. Every revelation seems to send her down a new spiral. Whatever is causing all of this obfuscation is not making it easy for Spider-Woman, though admittedly the mitigating circumstances aren't helping either.
At least in Spider-Woman #6, she has an ally on her side. Only, it isn't quite the team-up that fans have eagerly been hoping for. After all, there's something wrong with Jessica, and that couldn't be more apparent than when she's standing side by side with her bestie.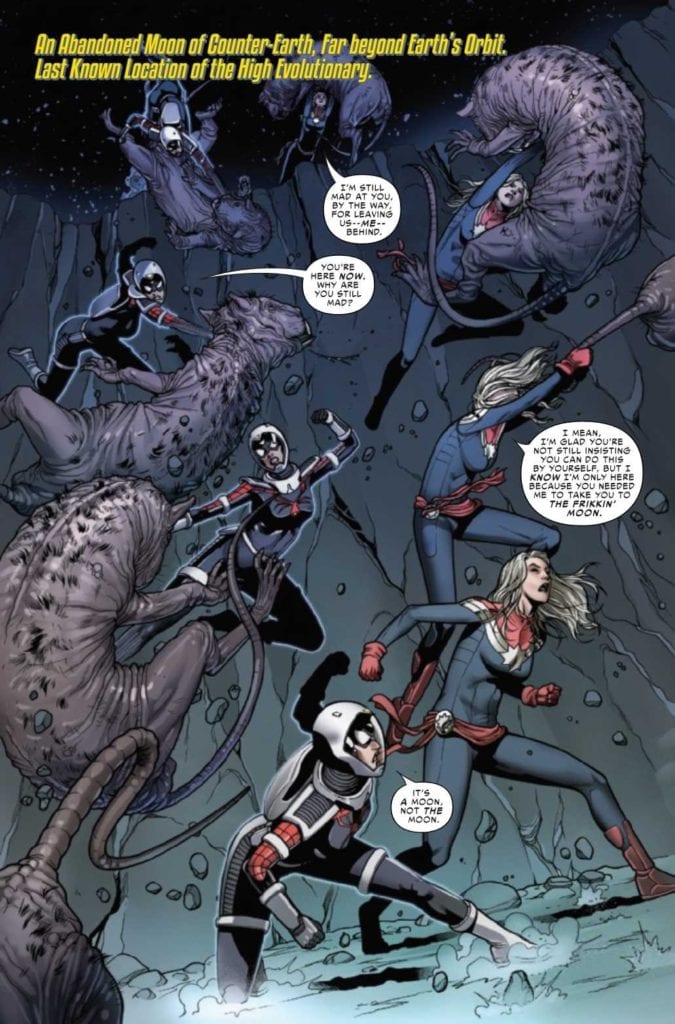 The Writing
In many ways, it feels like Spider-Woman #6 is a deviation from the rest of the series — even though in truth, it isn't. It may have taken Jessica Drew away from earth, but not away from her problems. That much writer Karla Pacheco made painfully clear.
This issue is a very fine balance of humor, drama, and suspense. There's plenty of action to be found, thanks at least in part to the mental state of Spider-Woman (if you've been following the series up to this point, then you know exactly what is going on).
A lot of the humor comes at the expense of another Avenger, but honestly, that just makes it all the more entertaining. An easy mark, sure, but one that is still appreciated. It very much fits with the dynamics of the characters involved. Namely, the two best friends.
It's intriguing seeing where this story is unfolding, though it is raising more questions (and concerns) along the way. One thing is certain, fans are once again finding themselves fully invested in what is about to happen to Jessica Drew.
The Art
The artwork inside Spider-Woman #6 is a treasure, simply put. It also deviates from the norm, but in a way that really showcases the action in particular. Our heroines bounce all over the panels, as they battle and sass their way through multiple situations.
Pere Perez (art), Frank D'Armata (colors), and VC's Travis Lanham (letters) really did create something memorable here. Not just because of the fighting (though there is certainly that), but the way our heroines react to everything, as well as dozens of other little details.
The colors are so perfect for this issue, transitioning alongside the plot. One moment it's vibrant and alive, the next muted, as if it too exists in the void of space, and then the next we're seeing a sun-dried palette perfect for an abandoned world.
Finally, there's the lettering, which is top-notch. Everything from Jessica's mental state to the impact she had on her surroundings (and the people in it) was made clear as day. Thanks largely to the careful placement of those letters.
Conclusion
Spider-Woman #6 is one of those issues that is perfect for fans of both Spider-Woman and Captain Marvel. It goes without saying that it is also perfect for those that adore their friendship, and their combined sass.
Alongside all of that sass is a solid plot, one that is dark and compelling. As it raises concerns about our heroine and her fate.