Marvel's SPIDER-WOMAN #12, available now, is about to explain Jessica Drew's latest enemies: The Brothers of the Sword. Written by Karla Pacheco, with artwork from Pere Perez, Frank D'Aarmata, and VC's Travis Lanham, this issue is going to bring with it many answers.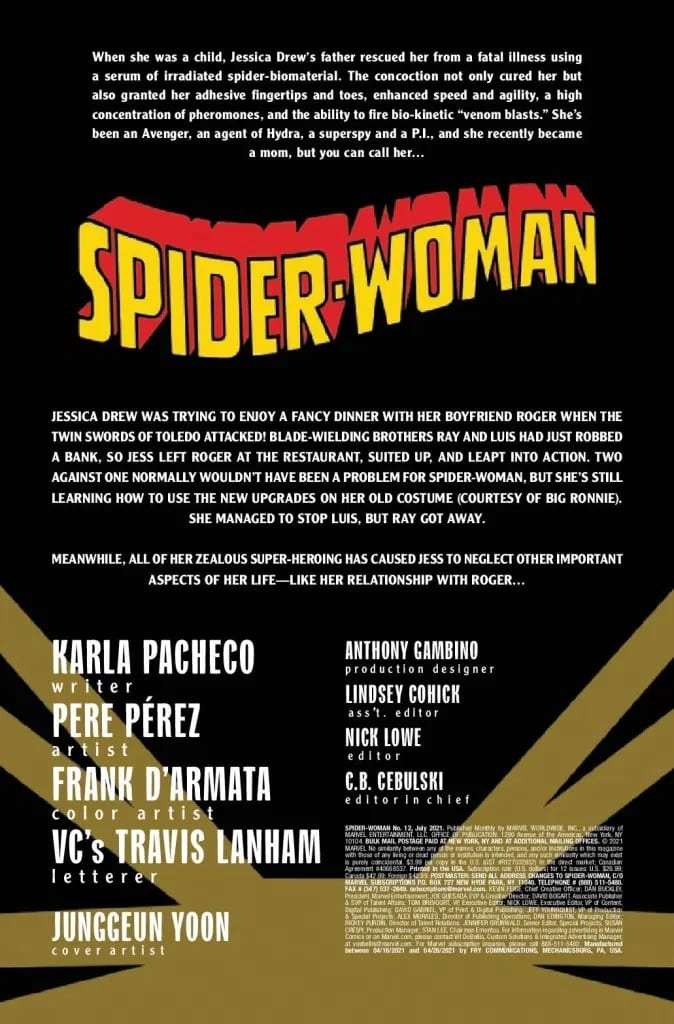 In the last issue, readers got to see the one and only Spider-Woman go back to basics. She's back home, back to fighting, and best of all? She's back in that iconic suit that fans love so much. All of this begs the question, what's about to go wrong in her life?
As it turns out, she really didn't have to wait long to find out. She now has two new enemies, plus a few personal problems that she's going to have to work out. And in Spider-Woman #12, we're about to learn more about all of the above and then some.
Writing
To say that there's a lot going on inside of Spider-Woman #12 would be an understatement. Jessica is facing a war on two fronts, though, for the longest time, it feels like she doesn't even know it. Written by Karla Pacheco, this issue isn't afraid to jump back and forth between different problems.
One of the more satisfying parts of this tale was learning about The Brothers of the Sword. Their appearance last issue was pretty iconic, but we didn't really learn all that much about them (unless you count seeing them rob a bank as 'enough'). Now their origin is finally going to be better explained. Better yet? There's quite a lot of depth to their history, and it's undoubtedly going to affect their story going forward.
I do have to admit that there was one jarring moment in Spider-Woman #12. The transition between the two scenes felt a little too abrupt. One moment the fight was just winding down, and the next, Jess was back at home (queue more drama on that front).
While I appreciated the chance to see more of that storyline unfolding, it did feel like there needed to be something more between these two moments. Otherwise, it was a pretty solid read from beginning to end, and I, for one, am very anxious to see how both arcs will pan out.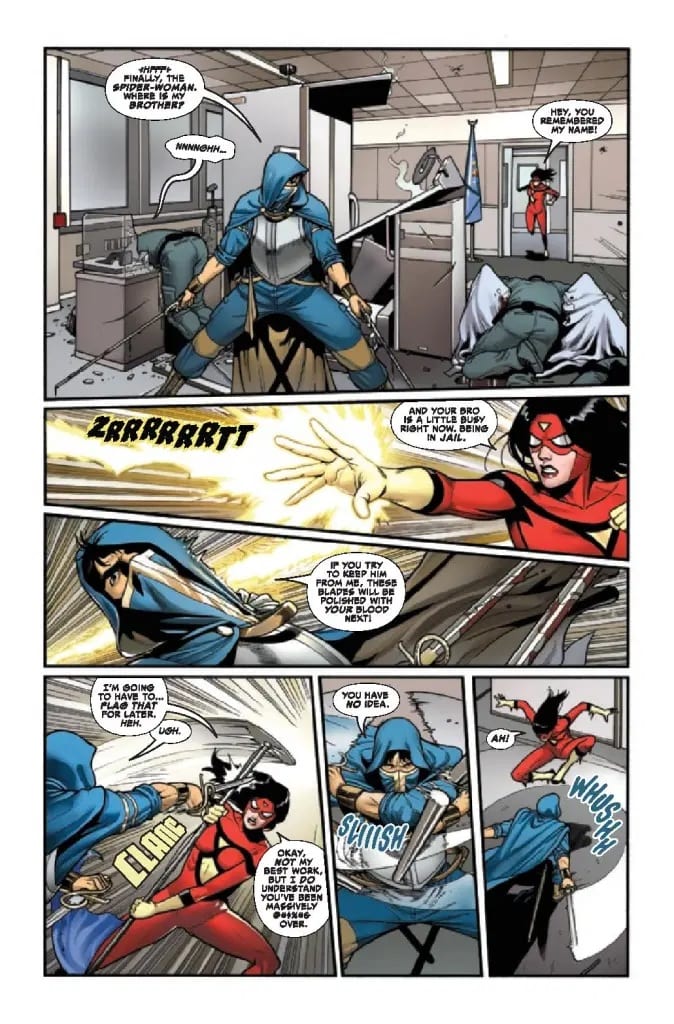 Artwork
It seems like there are two modes in Spider-Woman #12. Either Jessica Drew is dodging drama, or she's fighting. One could argue that they're two sides of the same coin, especially for superheroes. Throw in a flashback or two, and suddenly we have an entire issue worth delving into.
Pere Perez had such a creative way of portraying the fight scenes that unfolded. It made it feel like the fight was moving forward quickly. More than that, it captured the cramped and narrow space that the fight took place in. All of which admittedly made things a bit more complicated for Spider-Woman. What a surprise, right?
Frank D'Aarmata's colors help distinguish the present from the past while also ensuring that the leading characters practically pop off the pages. Not literally, but it sure does feel like it at times. Many of the panels feature a darker backdrop (courtesy of the setting), but it makes Spider-Woman's costume all the brighter.
The lettering in Spider-Woman #12 is arguably the best I've seen out of this entire series. VC's Travis Lanham lettering is divine. There's something so haunting and lyrical about how the letters weave around The Brothers of the Sword. Really, it actually looks musical. There's an implied movement here or a temptation, depending on who's asking. It's so evocative and goes wonderfully with the story that's been laid out before us.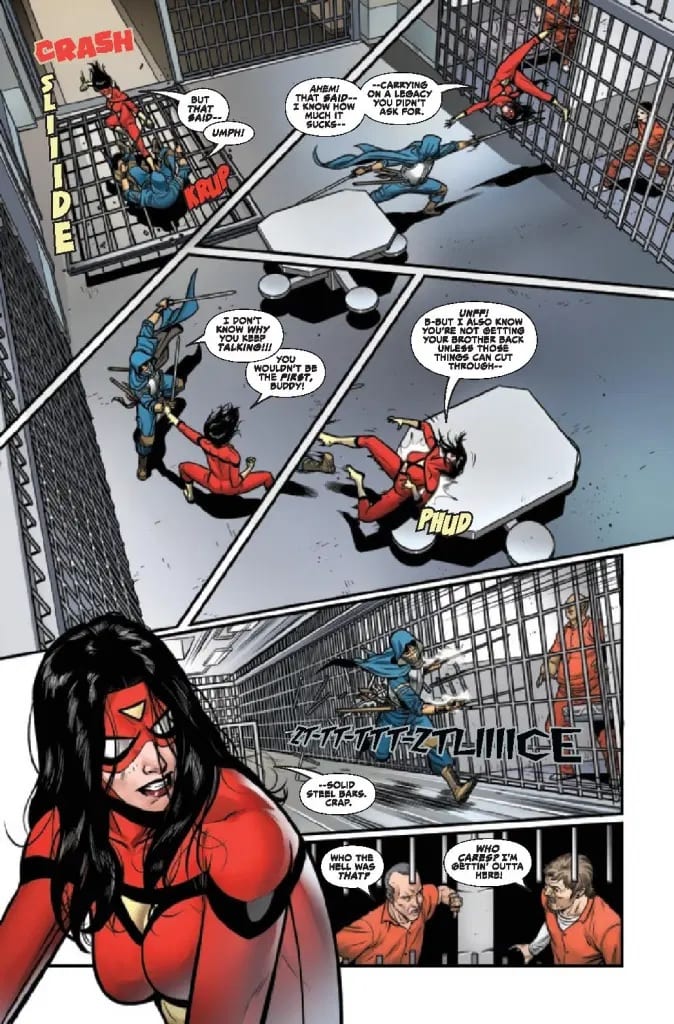 Conclusion
Spider-Woman #12 was a dramatic and bold issue, through and through. There's lots of fighting, but also some very relevant backstory that readers needed to know about. Best of all, the issue has already set up for future conflict. Now to see where it all leads.