"Do you feel the basis for your life is wrong?"
This is one of the questions central to GUARDIANS OF THE GALAXY BY AL EWING, out this Wednesday from Marvel Comics. Ewing uses his Guardians run to ask several big questions — questions about who the Guardians are and what they deserve. In turn, he has us as readers asking the same questions about ourselves.
But, before getting to the Guardians as a whole, this new collection starts with Rocket: The Blue River Score, the six-issue story that Ewing did first with artist Adam Gorham, colorist Michael Garland, and letterer Jeff Eckleberry. As the title suggests, The Blue River Score is a heist thriller starring everyone's favorite murderous trash panda, and it is just pure rip-roaring fun. It very well may be the highlight of this collection (which is saying something because, as we'll get into, Ewing's Guardians run is also very good).
Ewing and Gorham imbue Rocket with all the best tropes of the noir heist genre: you've got your femme fatale, your double crosses, and there's even a prison break. It feels like the team just wanted to tell a fun little self-contained crime story and they had an absolute ball doing so. Ewing packs his script with jokes as well — this is a laugh-out-loud funny book — and Gorham executes them perfectly on the page with his panel layouts and character acting. There are robots with accents right out of a Guy Ritchie movie, and a courtroom scene in particular that made me laugh so much that I found myself revisiting it throughout the day just for another chuckle. Overall, Rocket is a much lighter, breezier read than the Guardians run that follows it, and it packs plenty of heart too when you least expect it.
The Blue River Score leads directly into Ewing's 18-issue Guardians of the Galaxy run. The first twelve issues are their own self-contained story, with art by Juann Cabal and colorist Federico Blee — with the exception of three issues drawn by Marcio Takara (also colored by Blee).
It begins with a visit from Nova: rogue gods are on a warpath through the cosmos, destroying everything in their path, and he needs the Guardians' help. From there we get a very personal, emotional, and action-packed story about a bunch of loners who found a family with one another.
Ewing and co. recognize that the Guardians are soldiers — veterans who have fought, died, and been resurrected. This run starts off asking, "have they done enough?" Do these heroes deserve to retire and have their time in the shade? More importantly, do they want that, or are they still chasing something? And what do they owe one another? Ewing also explores the idea of PTSD in superheroes, particularly in Richard Rider. Nova has a starring role in this Guardians series and we really get to see the effect that being a hero has had on him. There's an entire issue (one of the ones drawn by Takara) dedicated to Nova's first therapy session, and it's one of the most memorable issues in the collection. Star-Lord, Moondragon, and Phyla-Vell are all similarly explored and have major character developments in this run that Ewing handles beautifully.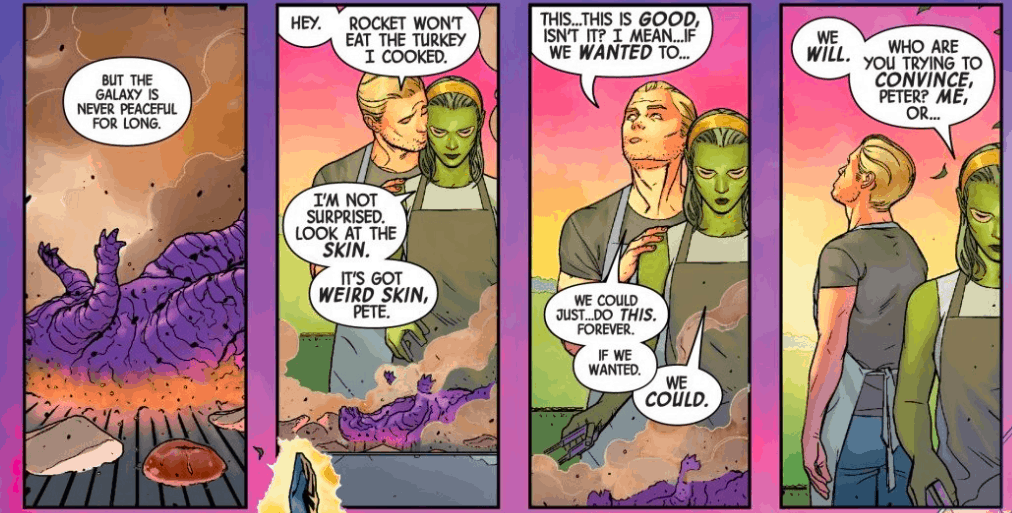 It's not all heavy, though. There's plenty of grand spacefaring spread between these pages. Like in Rocket, Ewing experiments with different genres throughout his Guardians run. We get more heist shenanigans, plus a murder mystery, political drama, and — of course — superhero battles. The moments of reflection that make you think and make you feel are balanced out with big action and fun interactions between characters that will put a big smile on your face and make reading this weighty tome a breeze.
There's also a large romance element woven seamlessly into these celestial chronicles. Ewing's Guardians of the Galaxy is a celebration of love in all forms, and a study of self-discovery. It's a warm and welcome experience that adds some brightness to a series that can get bleak at times (and it adds a bit of soap opera drama to the narrative as well).
Juann Cabal is one of the best artists Marvel has working for them, hands down. The way he draws facial expressions is unparalleled, and in a series that focuses on the characters as intimately as this Guardians of the Galaxy run does, that's a huge advantage. Even more jaw-dropping are Cabal's panel layouts. The artist tries out various sequences to visually form concepts like Moondragon's telepathy or Marvel Boy's powers, and the effect is — in a word — cosmic. And an A+ goes to letterer Cory Petit (who lettered the entire run), because his work perfectly guides you through the most intricate layouts and keeps you fully engrossed in the story.
Cabal's art also goes to Animal Man lengths of meta in order to explain several characters' powers, and again these sequences are just mind blowing in their originality and genius.
The final six issues of Ewing's Guardians run are drawn by Juan Frigeri, and they are both a continuation of the story Ewing told with Cabal and Takara's story, and a complete story in their own right. This second story is more of a straight-up superhero action story, with additional characters and cameos galore (if you ever wanted to see Doctor Doom fight alongside Rocket Raccoon, here's your chance). There's plenty of humor and great interactions between characters in this story as well, and some really big action moments that you would expect from a Guardians of the Galaxy comic. Things get weird in the best way, and Frigeri's work explodes off the page when he's drawing the action.
It's worth noting that Blee colors the entire Guardians run for Cabal, Takara, and Frigeri, which creates a consistent look even when the art style changes. Blee's work is colorful, bright, and vibrant, which he both amps up and pulls back as needed depending on the tone of any given scene. Cosmic stories are an artist's chance to really go crazy with their color palette, and Bree doesn't let the opportunity pass him by.
The only thing that detracts from Ewing's Guardians of the Galaxy (and it barely detracts) is when the story needs to touch on whatever else was happening in the Marvel Universe at that time, like the King in Black event or the Hellfire Gala. If these kinds of things take you out of the moment when you're reading modern superhero comics, just be aware that there are a few instances in this collection where that happens, but for the most part Ewing handles these instances gracefully and it never feels forced. He also does a good job of filling you in on whatever you need to know (I haven't read anything regarding the Hellfire Gala but I never felt lost when it came into play with the Guardians).
GUARDIANS OF THE GALAXY BY AL EWING is a must-read if you're a fan of Marvel's cosmic heroes. It's rich in storytelling and character development, and it holds some truly beautiful moments in between all the swashbuckling and excitement. Pick it up this week at your local comic shop, and long live Richard Rider!