BLACK WIDOW: WIDOW'S STING #1, available this Wednesday from Marvel Comics, with the Black Widow movie looming on the horizon (a distant one, admittedly), it's time for a reminder of the Black Widow's past, and just what she's capable of.
Natasha Romanoff is a long-standing favorite in the world of Marvel, one with a rich and complex past. That much is not, and has never been, a secret. Yet sometimes it's good to be reminded of what she is capable of. As well as why she is so cherished as a spy.
Black Widow: Widow's Sting #1 is a blast from the past. As Natasha is off on yet another mission from S.H.I.E.L.D. This time with the intent of taking down an infamous crime boss, Silvermane.
This tale is set back before Black Widow made herself known as an Avenger. Back when she was still heavily involved in deep cover cases for S.H.I.E.L.D. – she was the best of them, even back then.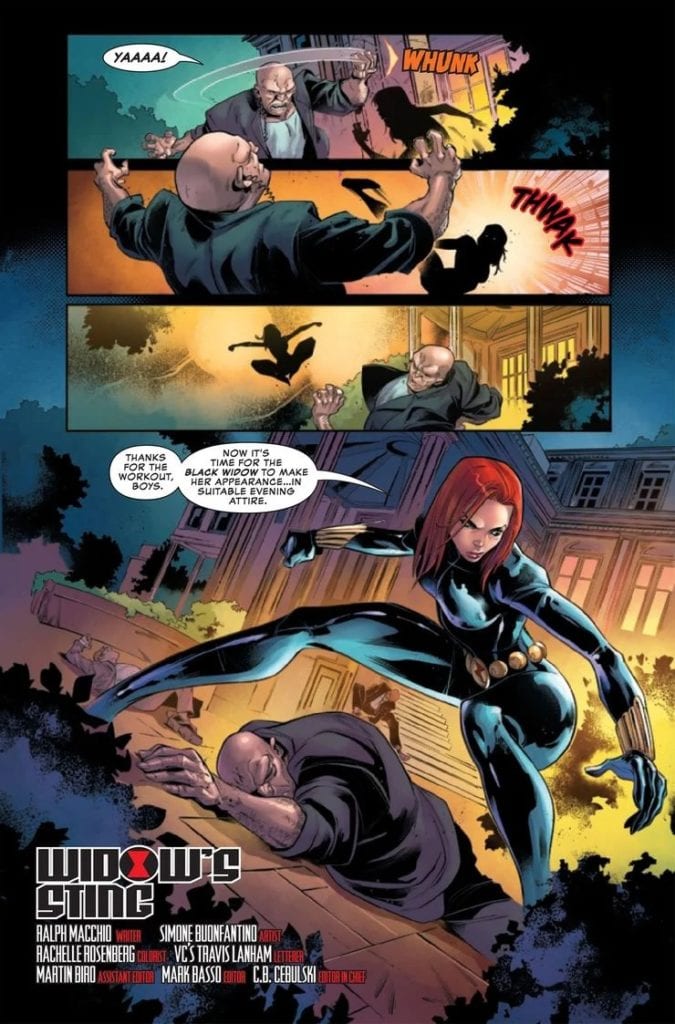 The Writing
Black Widow: Widow's Sting #1 was written by Ralph Macchio (yes, that Ralph Macchio), and it portrays a one-shot adventure for the one and only Natasha Romanoff. It's a quick and fun spy thriller issue, full of action.
In short, it perfectly succeeds at what it is: a classic tale of Natasha the badass spy. Here Natasha is portrayed at jumping through all of the hoops, and succeeding where no other spy could possibly hope to do so.
As a standalone escapade, it is far from a bad one. Compared to the groundbreaking events of Kelly Thompson's Black Widow series (which is actively updating), it may lose a little bit of that shine. It is an amusing adventure, to be sure, but it lacks any sense of depth or permanency.
However, it does quite a nice job of setting the scene, especially if one were to put it in the context of the impending movie. In one fell swoop, it showcases her abilities, her drive, and even her favorite weapon.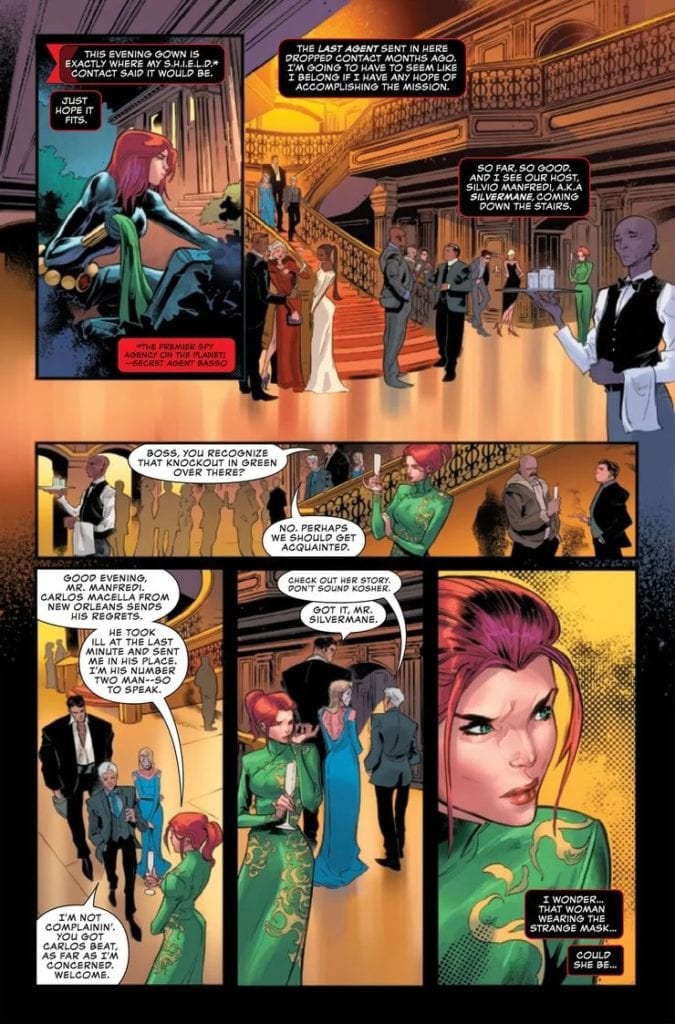 The Art
Black Widow: Widow's Sting #1 is about as vibrant as the character herself, and not simply because of her bright red hair. The artists had a chance here to portray a spy adventure through and through, and they did not pass up on the opportunity.
Simon Buonfantino was the lead artist, and their version of the Black Widow at times feels larger than life. To be fair, her talents frequently make her seem that way, so there's really nothing wrong with this take. She's bold and confident, and up for surviving the strangest of circumstances.
The colors, provided by Rachelle Rosenberg, take those lines to a whole new level. The use of colorful backdrops to portray motion was a clever one, and it actually works really well with the character herself. It also enhances the look and feels of all the action, making it overall aesthetically pleasing and thematic.
VC's Travis Lanham's letters helped to add to that sense of movement, as well as a serious level of impact, when needed. Obviously, this further enforced the idea that Widow's Sting was an action and spy thriller, bringing the point home.
Conclusion
Black Widow: Widow's Sting #1 was a quick and bold dive into the history of Black Widow. Its story must be one of many, as Natasha surely took on countless cases during her time with S.H.I.E.L.D. It raises some interesting questions along the way, but overall just has fun exactly as it is.