FIREFLY #25, available Wednesday from BOOM! Studios, is about to answer many of the questions fans have been holding onto all these years. Namely, what happened to the crew, after the battle in Serenity?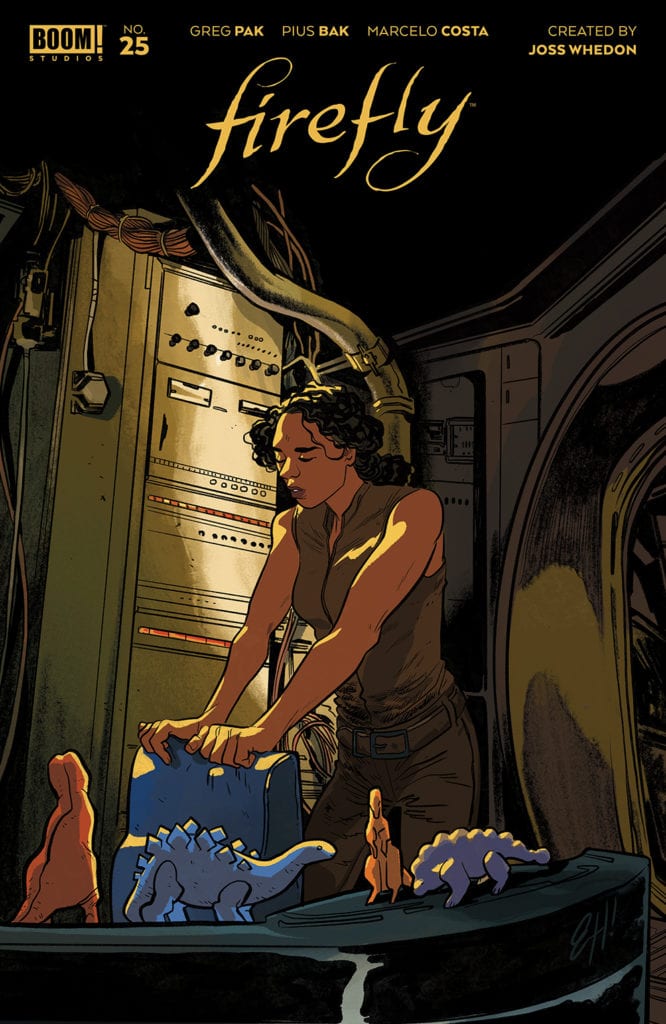 Serenity released back in 2005, and one of the questions fans always wondered about is what would happen next. Well, their first question was one full of hope for a sequel, if we're being completely honest here.
Firefly #25 is an issue that jumps forward in time, to a point after the events of Serenity. The goal, naturally, is to answer many questions that the fans have had about what would have happened to the surviving characters following the fall of the Alliance.
The Writing
I went into Firefly #25 more or less expecting the series to pick up right where the movie left off (give or take a few years). What I got instead was a bit more of a surprise. This first issue doesn't drop the past events of the comics, but instead merges both worlds together.
It's going to be interesting to see how Greg Pak continues to integrate these two plots, as in many ways it feels like we're dealing with many changes. There's the obvious of course, but it goes beyond that as well.
This is an issue that is both surprising – in the twists that it brings with it, and just a little bit disconsolate. There's a real feeling of loss mixed throughout the pages. As there should be. It's a sentiment that many fans can relate to, both following the end of the movie, and the cancellation of the series.
It makes for a melancholy start to this new plot arc, but it's balanced nicely by the intrigue that has created. As I already hinted at, there are many changes happening, some of which will make sense to long time readers. Others that are clearly meant to be explained at a later point.
The Art
Where Firefly #25 has to merge two major plot points together, the artwork has, even more, to contend with. Yet it rises to the occasion, portraying a variety of scenes, characters, and changing dynamics in flawless transitions.
Pius Bak was the lead artist for this issue, toeing a careful line for the characters. Many are immediately recognizable, while still clearly showing signs of time passing (painfully so, in some cases). It's not just in the way they dress, but in the way, they're portrayed to carry themselves.
Marcelo Costa's colors brighten up the scenes, even those of a more sober variety. The backdrops are understated, yet compliment the tone of the series as a whole. It's when something shocking occurs, or power is running free, where the colors really seem to steal the show.
The lettering, provided by Jim Campbell, is the final touch necessary for this series. The highlight, in this case, would have to be the sense of action and feel of combat that the lettering carries. All while leaving room for a narrative twist on things.
Conclusion
Firefly #25 is not exactly the issue that I was expecting. But it has already done a solid job of holding my interest. It's hard to say how new fans would feel, jumping in at this point, but those that have been following the series will almost certainly pick up on those somber tones.
Ultimately, this first issue in this new plot arc will leave fans hoping that things get better for those characters involved. All while being very curious about what is actually happening behind the scenes.