Writer Bartosz Sztybor and artist Vanesa Del Rey, with colorist Jordie Bellaire, and letterer Aditya Bidikar return with another chapter in the life of Geralt of Rivia. The Witcher: Witch's Lament #2 streamlines and capitalizes on the momentum set up by the prior issue. This comic contains a mixture of deeply personal inner conflict and tension-filled foreshadowing that keeps the pages turning in suspense. Albeit there are some shaky visuals, this comic is compelling enough to propel the series forward with tons of anticipation.
"Geralt's rescue mission takes a turn when Giltine refuses his help. Drawn to the cult's settlement, he finds himself an unwitting participant in one of their most sacred rituals."
Writing & Plot
Bartosz Sztybor writes up a powerful script for The Witcher: Witch's Lament #2. He has stripped away all of the plot and pacing inconsistencies of the first issue and replaced them with compelling character storytelling. This cult that Geralt's quarry has run to brings up some great moral quandaries, both in this story and in his story as a whole. Geralt's guilt over the things he is "forced" to do is placed front and center in this issue, while we watch other characters deal with their own issues. Sztybor crafts some of the best character studying we've gotten from The Witcher since The Wild Hunt. I noted in the last issue how the story felt like it was taking its own sidequest. In this issue this concept comes to fruition.
Witch's Lament feels like a quest from the game series. What starts as a cut-and-dry bounty for Geralt turns into an insightful and cutting character dive. There's a meaningful duel in the midst of a series of important conversations and investigation. I can even hear Doug Cockle's (Geralt's voice actor in the games) voice as I read the White Wolf's dialogue. Huge credit to Sztybor for making this comic feel wholly authentic to every aspect that makes The Witcher RPG's so engaging.
Art Direction
Unfortunately, I don't have as much praise for the visual end of The Witcher: Witch's Lament #2. The inconsistent yet effective pencils of the prior issue have become even more of the former this time around. While much of the character detail is still tight and detailed, there's an unfortunate amount of muddled work here as well. It looks as though a portion of the panels were rushed through, leaving Geralt and much of the environment difficult to make out. It's unfortunate too because there's a lot to like in this issue as well. The flashback and dream sequences are handled with their own chaotic visual tone. This is mostly due to the coloring talents of Jordie Bellaire. The veteran colorist shades these moments in a varying single color that makes them stick out on the page and in my mind. His handling of the darkness in the environment and character tone is stellar as well.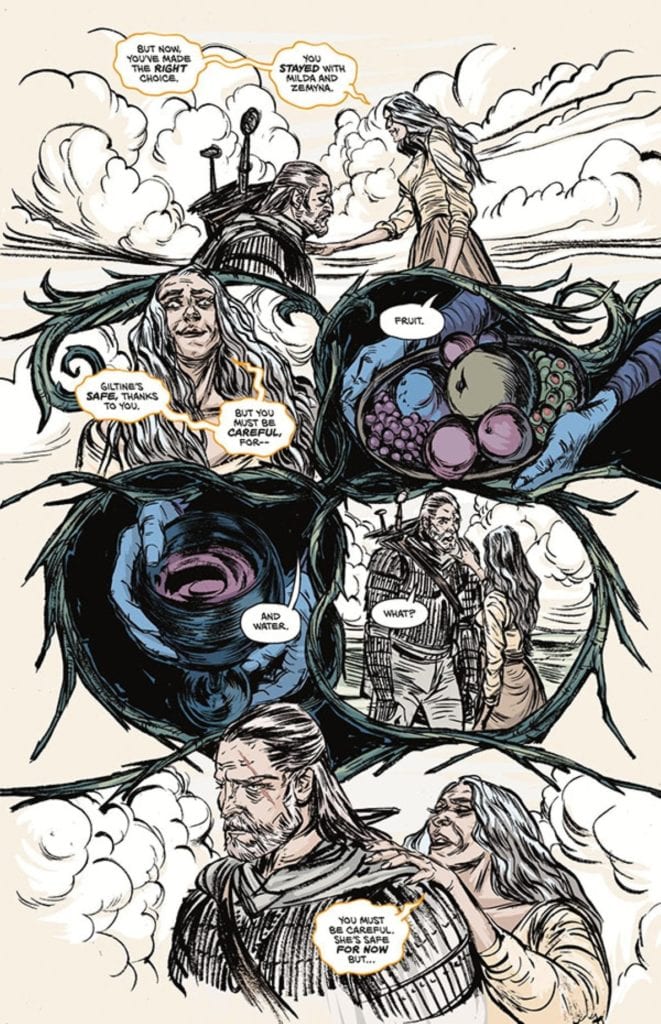 Lettering & Design
Much of the panel design work, as seen above, is absolutely stunning. My favorite attempted trick here is the artistic lettering of certain steps in the cult's "therapy" session. They show up as a banner made of sticks and mark where Geralt is in his mindset at the time. The problem is that it's difficult to make out what these words are, so the effect escaped me up to a certain point. I am not sure if this was Del Rey's pencils or Aditya Bidikar's lettering that was responsible for these scenes. Regardless, it's a great idea that required better execution. The rest of Bidikar's lettering is fantastic though, using a sort of scratchy and wobbly font throughout the comic. It's a unique choice that really sets the reader into the story's tone. There's a lot to enjoy about the visuals in this comic, but they're put off by some inconsistent pencilling.
Verdict
The Witcher: Witch's Lament #2 is a sharply written comic marred by rich but inconsistent visuals. Bartosz Sztybor's script carries suspense and humanity, while bringing out what makes The Witcher so engaging regardless of medium. Vanesa Del Rey and Jordie Bellaire's visuals tackle some great feats, but are marred by rushed inconsistency. If you're a Witcher fan, be sure to grab this issue when it hits shelves on 6/30!