Writer Bartosz Sztybor and artist Vanesa Del Rey bring us the first issue of a four part mini-series set in the monster and blood-filled universe of CD Projekt Red's masterpiece RPG trilogy. "The Witcher: Witch's Lament" #1, with layouts by John Starr, colors from Jordie Bellaire, and letters from Aditya Bidikar, is a rough but entertaining start to this comic series. Uneven pacing and inconsistent art are saved by a fantastic atmosphere and characterizations that will take fans of the game series right back to this brilliant world based on Andrzej Sapkowski's novels.
"Flames rise as a witch is burned at the stake. As Geralt searches for his next job, disturbing images of the fatal persecution appear before him, bringing an ominous warning."
Writing & Plot
Bartosz Sztybor's script for "The Witcher: Witch's Lament" #1 does a solid job of setting up its immediate conflict and creating an eerie sense of tension from the opening page. The tone of the story is immediately crafted with Geralt watching a witch be burned at the stake, an event that he is responsible for in some way. Those who have played the Witcher games (or read the original novels, which this comic does not take as much influence from) know about Geralt's complicated associations with witches and sorceresses, so seeing this as an opening is a seriously intriguing and emotionally conflicting start for any series fan. Sztybor nails Geralt's characterization, from his gruff single syllable vocabulary to his internal conflict and thinly veiled remorse about his actions. His mercenary attitude is always just a front for his altruistic nature, but he still won't suffer a fool or a double-cross. Unfortunately, this issue has a bit of trouble keeping its audience focused. It feels like the script can't quite decide what the most important part of the issue is. This comic almost seems like its emulating the games in that its setting up side quests and subplots that complement the main arc; a maneuver that really only works in the gaming medium. There's obviously an endgame in mind here, it's just taking a roundabout way of getting there. This is still a solidly written issue that Witcher fans are sure to enjoy, it just has some bumps here and there that could easily be smoothed out in the coming chapters.
Art Direction
Visually, "The Witcher: Witch's Lament" #1 is a properly atmospheric and eerie looking comic, albeit also a bit inconsistent. At its best, the pencils are absolutely stunning. Vanesa Del Rey's thick and shade-heavy pencils populate this desperate world with an ever-threatening landscape and weary individuals. The ever-stonefaced Geralt of Rivia contrasts with the desperate, frightened, and scheming people he constantly runs into, perfectly replicating his visage and that dynamic from the games. The monsters are taken straight from CD Projekt Red's artbook, with all the details there to make RPG fans rejoice. The panel layouts from John Starr are directionally easy to follow and flow reasonably well, making for a structurally solid reading experience. Jordie Bellaire's colors are deep and varied, with an array of tones dancing across every surface and perfectly reflecting whatever light source is found in the panel (which in this world is only moonlight or fire, or nothing at all). Unfortunately, the way this comics dark atmosphere is handled can sometimes be a bit inconsistent. There are moments where it is hard to discern where the setting is and not just due to the comic's atmospheric direction. This issue's very stylized art direction can sometimes make character's faces rougher than usual to the point where the art looks rushed. The lettering from Aditya Bidikar on the other hand is perfect for a comic set in this world, with scratchy and eerie font choices that vary based on character and tone of voice. This is a mostly solid looking comic, with just a couple of minor issue that drag the visual presentation down a bit.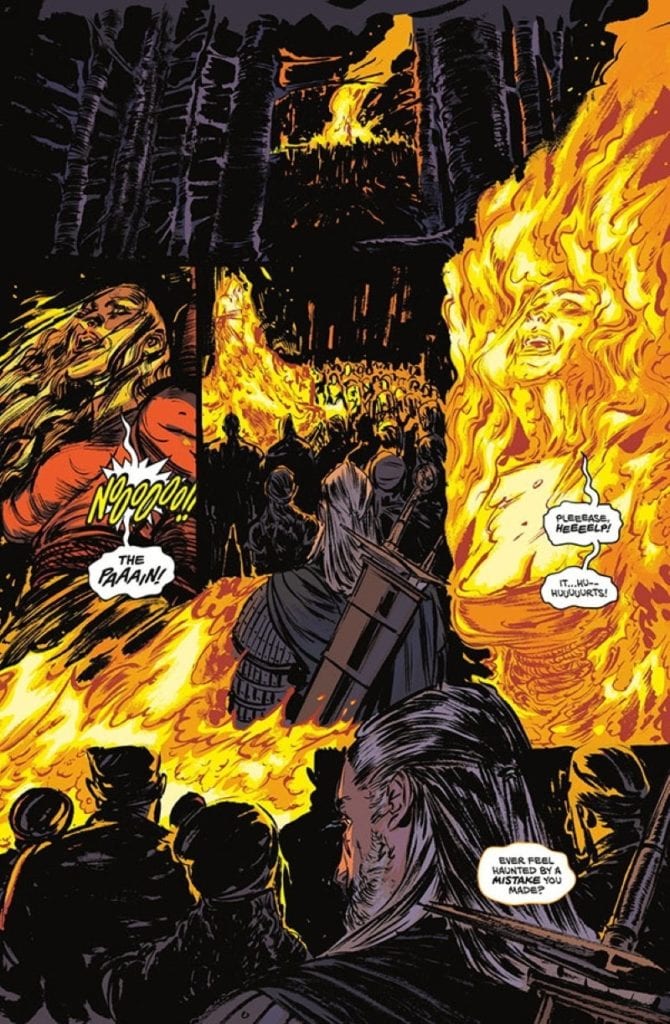 "The Witcher: Witch's Lament" #1 is a creepy and atmospheric opening issue that nails the voice and feel of the games (and novels) it is based on, while also a bit marred by some uneven pacing and inconsistent art. The character voice and main plot thread here is enticing and engaging to read, even though it can be hard to decides what needs to be focused on. The visuals are perfectly dark and unnerving for a nighttime hunt for ghouls and witches, although they can dip into the sloppy and rushed side from time to time. If you're a fan of this grim and lore-rich universe, be sure to grab this issue when it hits shelves on 5/26!