The Harbinger #5 from Valiant Entertainment comes to comic stores on February 23. In this new arc, readers will get the chance to empathize with the title character going through some personal troubles.
Background
Peter Stanchek is back from the dead as the Harbinger. Along with him is the Renegade, the embodiment of all of Peter's rage and trauma. With the Renegade's actions causing trouble for other psychics, the Harbinger is trying to set a better example.
The Harbinger #5 On Routine
Collin Kelly and Jackson Lanzing's writing shows a keen understanding of Peter Stanchek's self-destructive character flaws. While the Harbinger embodies Stanchek's more positive traits, like his fight against oppression, he shares his past self's compartmentalization troubles. The physically absent Renegade, meanwhile, shows Stanchek's toxic influence of empowering premature psiots before they're ready. It's a compelling depiction of someone struggling with mental illness and creating more problems for themselves.
Order In Inner Chaos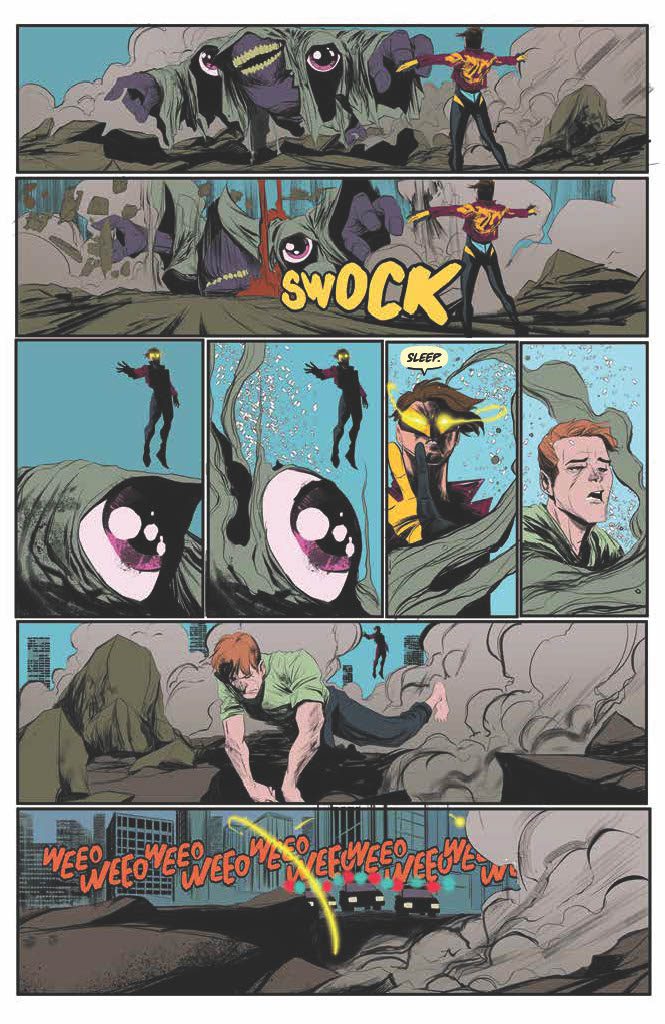 Robbi Rodriguez illustrates The Harbinger #5 with some cleverly made panels. A number of pages show orderly grids that bely a sense of tension taking place between characters. This is probably best shown in the gridded pages where Harbinger speaks to another character. Throughout their conversation, the tension builds up and breaks off in an empty panel before the Harbinger flies off. The coloring by Rico Renzi certainly helps give the dynamics more character, especially in one particular monochromatic panel. It gives the impression of trying to hide troubles from someone else.
Hassan Otsmane-Elhaou gives probably one of the most creative depictions of telepathy through lettering. Going through these pieces of torn out note captions, it feels like Harbinger is scrolling through social media feeds. It makes him feel a little more relatable in how he tries to block out personal drama by listening to other people's stories.
The Harbinger #5 Hooks You Into A New Arc
The Harbinger #5 sets up a rather enthralling new arc with a challenge. With artwork that continues to best communicate how the title character expresses himself, it'll be interesting going forward.
And check out our exclusive preview of THE HARBINGER #5 here on MFR!