The immensely talented Mirka Andolfo (Unnatural, Deep Beyond) brings us another fantastic chapter with Sweep Paprika #3. With help from Simon Tessuto's colors, Fabio Amelia's letters, and localization from Steve Orlando, this issue offers more of Andolfo's trademark humor, clever writing chops, and stunning visual work. Complete with a deviously funny final revelation, this comic is yet another great installment in this series.
"Paprika's "forced fun" night doesn't seem to be too bad, perhaps—but, in the end, not too great either. Come on, staying together for so long, for no real reason…how can people like it? Then, while her father seems to be recovered and healthy again, Paprika will have a nasty surprise…"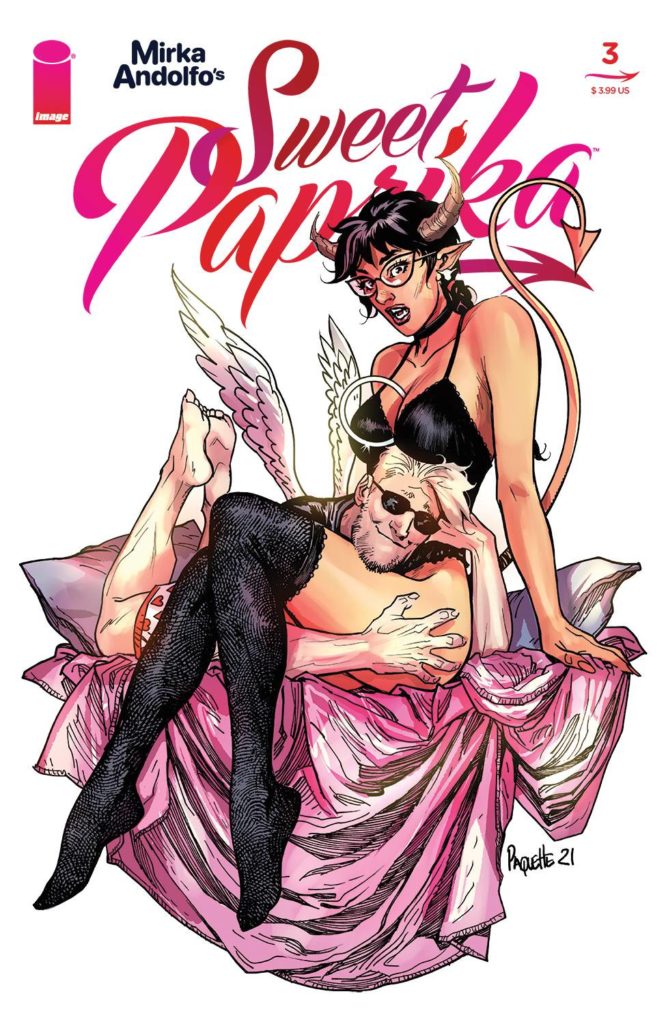 Writing & Plot
Mirka Andolfo's writing for Sweet Paprika #3 continues to combine her trademark over-the-top humor and Paprika's realistic emotional struggles. This issue sees our protagonist continuing to try and reconcile her internal struggles with relationships and issues with her father. This time however, it's in a social situation with attractive men and lots of expensive alcohol. We get to witness more of Paprika's worse parts – like the fact that she's a wealthy work-zealot with a firing fetish – but also her at more vulnerable lows. At the same time we also get Dill not being an obnoxious playboy and instead being a kind, likeable person. This is the first interaction we get of these two where Paprika isn't trying to rip his head off, and it's genuinely sweet.
While Andolfo's usual sexual humor and cartoony silliness are still here and fun as ever, the emotional bits are the huge surprise in this comic. The way Paprika shies away even from light flirting is relatable and genuinely thoughtful. The manner in which she fantasizes about sex but is then interrupted by her deep personal issues continues to be both hilarious yet insightful. The real plot highlight of the book is its ludicrous and hilarious end, which will no doubt mark the turning point for Paprika's story.
Once again I have to give props to Steve Orlando's localization. He does stellar work in taking Andolfo's original writing and reapplying it to our reading sensibilities while maintaining everything she is telling us.
Art Direction
As always, Mirka Andolfo's art absolutely shines in Sweet Paprika #3. Her animation and details are rife with personality and perfectly craft each scene's tone. The manner in which her scenes flow both via her panel direction and penciling is so natural it's almost easy to miss. Reading Paprika is a stellar reminder that comics are not necessarily a static visual medium. The way characters shift and move so seamlessly and break out of conventional panel direction is singular to Andolfo's style. The fact that her work here is also receiving an animated adaptation makes only too much sense.
A massive portion of what makes Andolfo's work pop here is the coloring from Simon Tessuto. His vivid visualizations of characters and settings match Andolfo's vision by crafting a rich world of colors. Tessuto utilizes lighting in such a sharply detailed way that I've never seen matched in another comic. The opening scenes at a lavish party lit by chandeliers paint everything in a sort of gold-white light. Scenes decorated by stars and moonlight cast every surface in a proper blue tinge. Every emotional detail and feature is perfectly presented by Tessuto's work inside Andolfo's lines.
The lettering from Fabio Amelia is an active visual piece to this puzzle as well. The expressive font style is constantly shifting and changing size and shape to perfectly suit the tone of what's happening in the panel. The entire visual experience of this chapter of Paprika is brilliant.
Verdict
Sweet Paprika #3 is more of the sexy hilarity and genuine character storytelling we expect from this series. Andolfo keeps up the over-the-top erotic comedy hijinks while digging deeper into Paprika's debilitating internal traumas. Her beautifully animated pencils, with help from Simon Tessuto's vivid colors, are stunning in every way. Be sure to grab this newest chapter when in hits shelves on 9/22!