Writer Latoya Morgan and artist Walt Barna return with an emotionally powerful new chapter with Dark Blood #2. Morgan crafts a script full of both loving hope and ever-frustrating injustice. Guest artist Moises Hidalgo, along with colorist A.H.G. and letters from Andworld Design, all help Barna create a setting and characters that pull the reader into the story with ease. This is a second issue that carefully builds towards the inevitable super heroics, and it makes this story increasingly engaging.
"Does even the kindness of strangers come with a cost? Avery has adjusted to his post WWII life in Alabama but when an altercation with some local boys leaves him hurt, an unlikely bystander steps in. And while Carlisle, a white university doctor, not only offers Avery immediate first aid but free ongoing medical care… nothing is truly free, not even a stranger's kindness."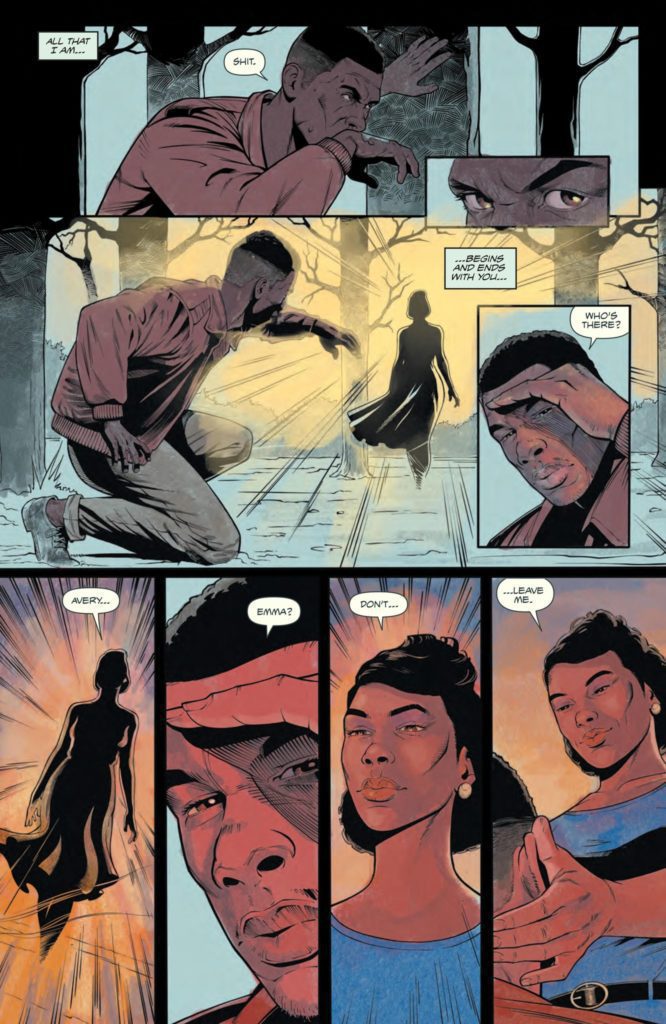 Writing & Plot
Writer Latoya Morgan makes the brave choice to be deliberately methodical in Dark Blood #2. When I say brave I'm remarking on the fact that this entire second chapter is a big flashback. Here we get to see Avery living with his family and witnessing his experiences in the segregated South before his powers manifest. Morgan lays down a strong emotional base for us to relate to Avery that also re-contextualize his struggles as a black man and a war veteran. Witnessing him live with and work for his family's happiness makes us care for this character even more than we may already have. His wife and daughter are written wonderfully as well. The trio all read and feel like real human beings with quirks and numerous qualities. Morgan's decision to use a whole issue for backstory pays off in spades with a beautiful and emotional second chapter.
Art Direction
Walt Barna, along with guest artist Moises Hidalgo, capture intimate character moments beautifully well in Dark Blood  #2. The two artists get to focus almost entirely on characterization through expression in this issue. Most of the art is animating characters as they react to one another, both loving families and hostile neighbors. Barna captures the emotional range perfectly. There are picturesque moments of sweetness, dotted by realistic worry between Avery and his wife. These are juxtaposed by faces twisted in malicious malice, reminders of Avery and his family's reality. The environmental art is stellar as well. Barna nails the sense of place and time, recreating 1950's Alabama country and small towns with genuine detail. Hidalgo's guest art is noticeably different from Barna's, but only slightly so. The guest artist maintains the book's visual style without missing a beat.
I dare attribute the clean transition between the two pencilers to the colors from A.H.G. The colorist uses a softer palette of mottled greens and browns blended with warm interior colors. The visual feel these colors provide sells the time period and tone of the scenes. The mud roads of rural Alabama look hot and sticky. Avery and his family's home is bathed in warm light. The restaurant Avery works at is colored by harsh fluorescent light. A.H.G's work here is both practical and tonally rich. The lettering from Andworld Design is clean and spot-on in terms of crafting dialogue tone. The modern-style font changes size and italics to match a scene's tone very naturally. This is a stellar comic on the visual end.
Verdict
Dark Blood #1 is a bold and emotional second chapter for this uniquely built comic series. Latoya Morgan scripts an issue that focuses on us getting to know Avery as a family man and gets us to know him for what he fights for. The visuals from Walt Barna, Moises Hidalgo, and A.H.G. are well-animated and tonally rich. Be sure to grab this issue when it hits shelves on 8-26!