Marvel Comics' Reptil #4 closes out the miniseries on a high note. Between a climatic battle against the series' main villain and the title character's concerns about his self control, there's a strong sense of familial comfort in Mexican pride.
Background
Humberto Lopez (a.k.a. Reptil) just wanted to keep his head down after events like King In Black. Only for a new villain, Megalith, to hold what's left of Reptil's parents hostage for the source of his dinosaur shapeshifting power.
Reptil #4: Viva La Familia
Writer Terry Blas keeps Reptil #4 dedicated to the idea of a greater family as a form of empowerment. Seeing Berto with his family and community feels absolutely serene. So when Megalith arrives for Berto, there's a genuine sense of intrusion. Having the entire Latin community stand with Reptil feels like authentic support.
This issue builds on everything in the previous three issues for a grand finale. Seeing Reptil assume the form of a Quetzalcoatlus isn't just a resolution on his arc for self control, it's a callback to earlier in the series with Berto's parents. It feels like the end of one journey so a new one can begin.
Strike With Art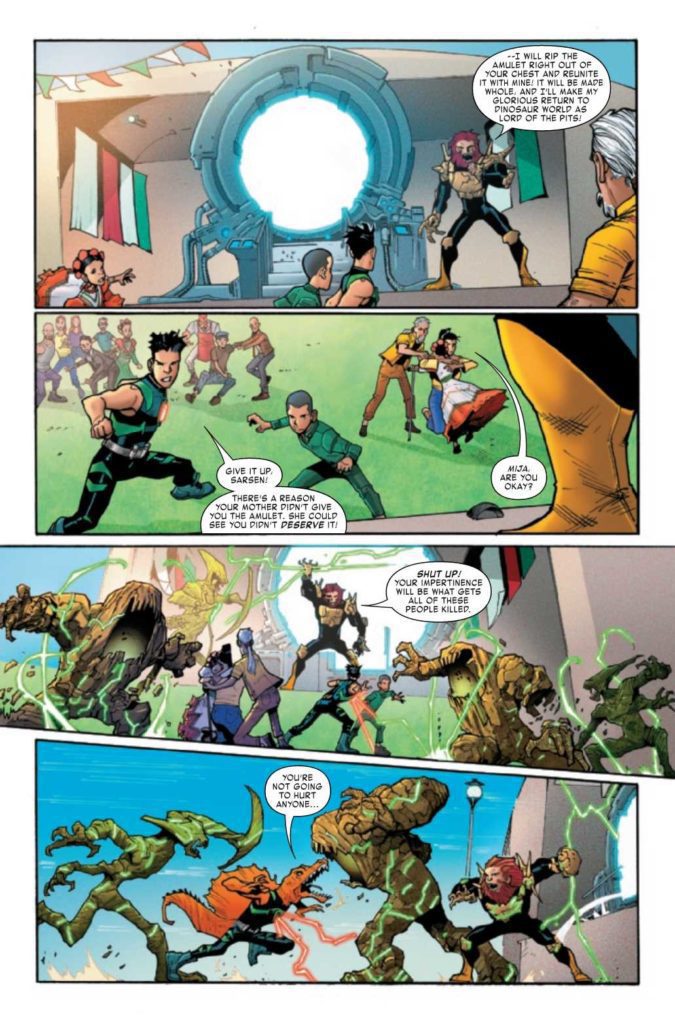 All of the artists of Reptil #4 play their parts in bringing out the very best in this series. Enid Balam's pencils make the costumes, dinosaurs, and monster forms notable enough to remember. It certainly helps that every major character in this issue stands out further with bolder lines from Victor Olazaba's inking. Not to mention the eye-catching colors of Reptil's dinosaur forms and Megalith's golems from Carlos Lopez.
Joe Sabino gives each line of dialogue a great bit of importance in Reptil #4 through fonts. Like when Berto speaks Spanish, the italics and lack of translation caption gives the impression of the community coming together against Megalith's assault. That's not even including how a stylized sound effect from Reptil's Parasaurolophus form communicates with dinosaurs.
Take A Gander At Reptil #4
Reptil #4 completes a heartwarming empowerment story via a greater family. The way the title character communicates with others speaks volumes on aspirational identity. Through the efforts of the creatives, there's a strong sense of artistic expression. Building upon everything that comes before in this series also leads to a grand finale.