Image Comics' Primordial is an incredibly complex series. It seems to be about time travel, government conspiracies, and animal rights. But yet, it's also such a simple series. That's because writer Jeff Lemire, artist Andrea Sorrentino, colorist Dave Stewart, and letterer Steve Wands boil down their story to the necessary. They give us each step of this journey through space and time in bite-sized, tangible pieces. Primordial #2 is a perfect, heartbreaking example of that.
Writing
Lemire shows us life through the eyes of Laika, the space dog. His script is simple, but deeply effective. We see all the people that touched Laika's life. We hear the things they said to her when no one else was around. But through all of it, we're focused entirely on her. It's hard to even write about Lemire's script, it speaks on such a deep level in such an effortless way. At times, it feels like we can understand Laika's barking more than we can understand the words that are spoken to her in plain English. Lemire gets us so invested in this little dog, leaving us wondering if she's the only one who's really "human."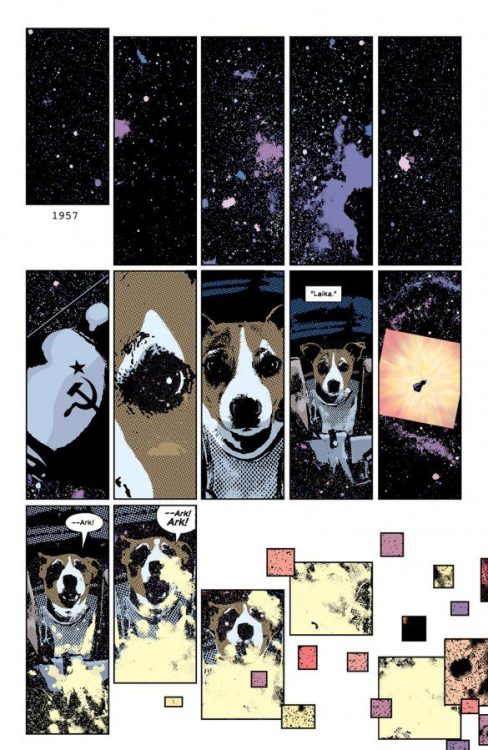 Art
Sorrentino makes you fall in love with Laika on page one. Her wide-eyed innocence as she experiences something she couldn't understand will break your heart. And Sorrentino keeps us fixed on Laika. We see her face in nearly every panel, occasionally switching to see her point of view instead. Except for the last few pages, Sorrentino has Laika constantly in frame. And yet, his images of her differ quite a lot. We see some, drawn in the style we've come to know Sorrentino for. Her face is shadowed and photo-realistic. But then we see her drawn through traditional linework. Sorrentino proves he's a master of both formats and can break our hearts in any style he wants.
Coloring
When we first meet Laika, she's out in the cold on a snowy night in Russia. Stewart paints the page in a cold, blue hue. When a man is taking out the trash, he spots her and gives her a kick. Stewart shows the panel of the man's foot making contact in a warm orange and brown. It's interesting to see that. The coloring looks safe and comforting, but what's happening is violent. Later, Stewart makes sense of it. Laika comes into contact with a woman who's going to take care of her. Stewart colors these scenes in the same orange and brown tones. Stewart shows that Laika is hesitant. All Laika knows about people is that she's been abused by them. So now, in the warm company of a woman who loves her, Laika is slowly figuring out that people might not all be bad. Or maybe Laika's just too trusting.
Lettering
Wands' lettering simplifies the often complicated page layouts. Lemire and Sorrentino use layouts that include scattered panels and interrupted images. The intention, which works brilliantly, is to overwhelm the reader. But it's Wands job to make sure that, after the initial feeling of being overwhelmed has passed, the reader can dive right back into the story. And so, Wands takes us through each page, like we're following a lazy river. Each word balloon points us to the next, guiding us through the page. Wands helps us get lost in the story.
---
Pick up Primordial #2, out from Image Comics on November 3rd. It's a beautiful story that will rip your heart right out. This creative team is taking complex ideas and connecting them to bite-sized pieces. We're experiencing everything through the wide-eyed perspective of the animals at the center of it all.