From writer Alyssa Wong and artist Michael Yg comes a bold new chapter in Marvel's premier martial artist's history with Iron Fist #1. With colors from Jay David Ramos and letters by Travis Lanham, this opening issue offers exciting action and great character writing – even if it comes off as a bit generic.
"WHO IS THE NEW IRON FIST?! After giving up his power to save the world, DANNY RAND believes he's seen the last of the IRON FIST…But when DEMONS begin to attack cities around the world, a MYSTERIOUS NEWCOMER in a FAMILIAR MASK appears, hands blazing with the CHI OF SHOU-LAO THE UNDYING! Who is this NEW IRON FIST? And does his power really come from the DRAGON OF K'UN-LUN… Or from something far more sinister?"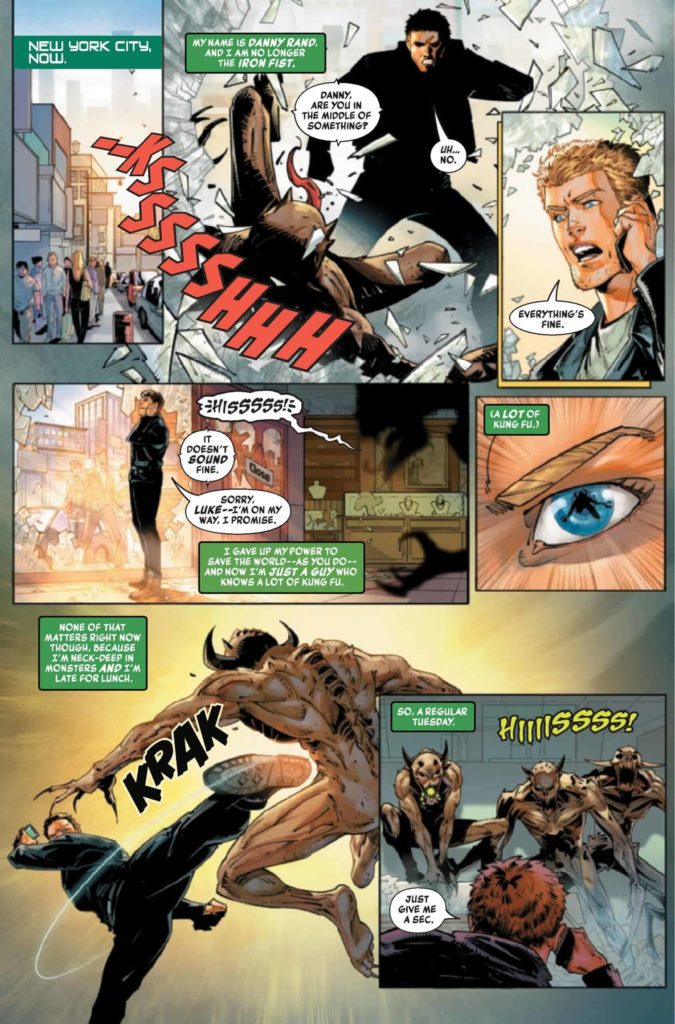 Writing & Plot
Alyssa Wong's script for Iron Fist #1 is sharply paced and entertaining, even if it relies a bit heavily on generic tropes to move its plot forward. Following the events of The Death of Doctor Strange, Danny Rand, the original Iron Fist, no longer has the Chi of Shou-Lao (er, his "iron fists".) While Rand is still practicing martial arts and dealing with his usual sort of trouble, a new character appears to have his old powers. A young martial artist named Lin Lei now wears the Iron Fist garb and seems to carry the power of Shou-Lao's chi. He also has the shattered remains of an ancient sword embedded in his hands (McGuffin). These details end up revolving around fighting demons and deciding upon the new protector of K'un-Lun in a well-written and solidly entertaining opening chapter.
Wong's real strength's here are her pacing and her ear for dialogue. Every moment of the comic grabs your attention and propels the plot in mostly intriguing ways. There's a lot going on here in this first issue, often guided by pages stacked with word bubbles. Despite this, the reading experience never feels bogged-down or overbearing. The quiet moments and exposition-dumps are neatly paced out by snarky Marvel-style action bits that keeps the comic fun and full of momentum. Wong's dialogue is quick and witty, with lots of character-revealing conversations interlaced with plot info. The scripting can get pretty dense, with word balloons dominating several panels, but it fortunately doesn't become overbearing.
My only gripes with this comic come from how familiar and inconsequential the enemies and plot devices feel thus far. Watching Rand and Lei pummel nameless demons while talking about ancient McGuffin swords and cryptic demons feels like old hat. Despite a solid cliffhanger, none of these plot elements hold up to the creativity within the rest of the issue.
Art Direction
The fast-paced and well-choreographed action needed in any good martial arts comic is brought to life by Michael Yg for Iron Fist #1. His sharp character designs and solid directing make for an exciting read, fit for a new chapter of Marvel's premier kung-fu master. Yg's detail work is thorough and intricate, crafting compelling views of our heroes and the New York shops they crash through while fighting fanged, lanky demons. His design for Lin Lei's Iron Fist suit is great; a cool mix of genuine martial artist and superhero that feels modern yet obviously familiar. Yg's panel direction and blocking feel effortless in their execution, guiding the readers eyes through the fights and story with ease. My one gripe here is that if you spend a lot of time looking, some of the character's faces get a bit wonky. Aside from that inconsistency, the pencils here are super-clean and phenomenally executed.
The colors by Jay David Ramos are rich and tonally perfect for this comic. His work here within Yg's lines offers a very high fidelity and professionally sharp look that comes as what you might expect from a modern superhero comic, just crafted at the highest degree. The Iron Fist signature green and gold has scarcely looked better. Finally, Travis Lanham's letters keep the show on the road in solid form, even with some very crowded word balloons. His font choice for this comic fits the story and characters well, and he brings some solid FX letters to the table. Overall, this opening chapter is a great looking comic book.
Verdict
Iron Fist #1 is an entertaining and relatively intriguing comic with a few small flaws that keep it from true greatness. Alyssa Wong's script is fun and successfully introduces a new protector of K'un Lun, but it's held up by some uninteresting plot points. Michael Yg's pencils are sharp and full of energy, but marred a bit by some inconsistent art in places. Still, this is a very solid first issue, so grab a copy when it hits shelves on 2-16!