"Christopher Chance. You're a %##%@&$ idiot!" These are the words that are yelled at the beginning of The Human Target #6. They seem a little unfair. Chance, who has found out he has 12 days to live (6 days ago) isn't thinking right. He's being pulled in a million directions, trying to decide how his last days would be best spent. Obviously, he's going to make some rash decisions. But by the end of The Human Target #6, Chance himself can't deny those words spoken to him at the beginning of the day. He is an idiot and he's in a hell of a lot of trouble.
Writer Tom King, artist Greg Smallwood, and letterer Clayton Cowles end out the first season of DC Comics' The Human Target in a ruthless and dramatic fashion. It will be September before we see the next chapter of this series – it goes on hiatus for the next 6 months. With The Human Target #6, this creative team is making damn sure that its readership is going nowhere.
Writing
Christopher Chance is making a lot of bad decisions. Chief among them happens on an "OH SHIT" page in this issue, which also parodies a great comedic moment in DC's history. King drives the knife in deep. Not only does he show us that this story is going to have real, lasting stakes, but he does so with a wink to happier times. This issue really captures the suddenness of a huge mistake and the human desire to run from what we've done. Immediately after something drastic happens, we see the other characters in the scene almost act like nothing occurred. They turn to each other and talk about anything but what they've done. As everything sinks in, they begin to quietly panic. This issue has screaming matches, fistfights, and buckets of blood. But every scene is punctuated and driven home by the little moments of evasiveness and denial. King just gets people, in all their ugly glory.
Art
King and Smallwood are, simply put, a match made in Heaven. Every moment of subtlety and nuance in King's script absolutely sings on the page through Smallwood's visuals. In the moment of our characters' denial, Smallwood shows us their blank stares. They sit down like the life has gone out of them, unable to process what has happened. In their eyes, there's a slight sadness. A page later, Chance is back to business as usual. But there's a new eagerness to his face, like he's trying to look unfazed. A smile pulls at the sides of his mouth and his eyebrows are raised, almost playfully. As the issue ends, we get one final look at Chance. The charade has ended, his eyes look lifeless and his brow is furrowed in worry. Smallwood perfectly captures human emotions on the faces of his characters. He speaks volumes through the creasing of a nose, the clenching of a jaw, or the lowering of an eyebrow. He tells us so much in the smallest details.
Coloring
There's a lot of strife in this issue. Right off the bat, we begin The Human Target #6 in the middle of a fight between Ice and Chance. But Smallwood's colors play against the writing. Ice and Chance yell at each other in a scene of soft blues and warm oranges. Their fighting is intense, but the scene is gentle and cozy. Later, Smallwood does a similar thing when the shit really hits the fan. The horrors of what goes down all occurs in a brightly lit room, with golden sunlight streaming in from one of the windows. Smallwood's choices create a dissonance in the scene that highlights the darkness of what is going on. But his choices also play into these characters embracing denial as a way of dealing with events. Just as they want to pretend nothing happened, the scene itself is painted in beautiful colors that almost make it seem like nothing did.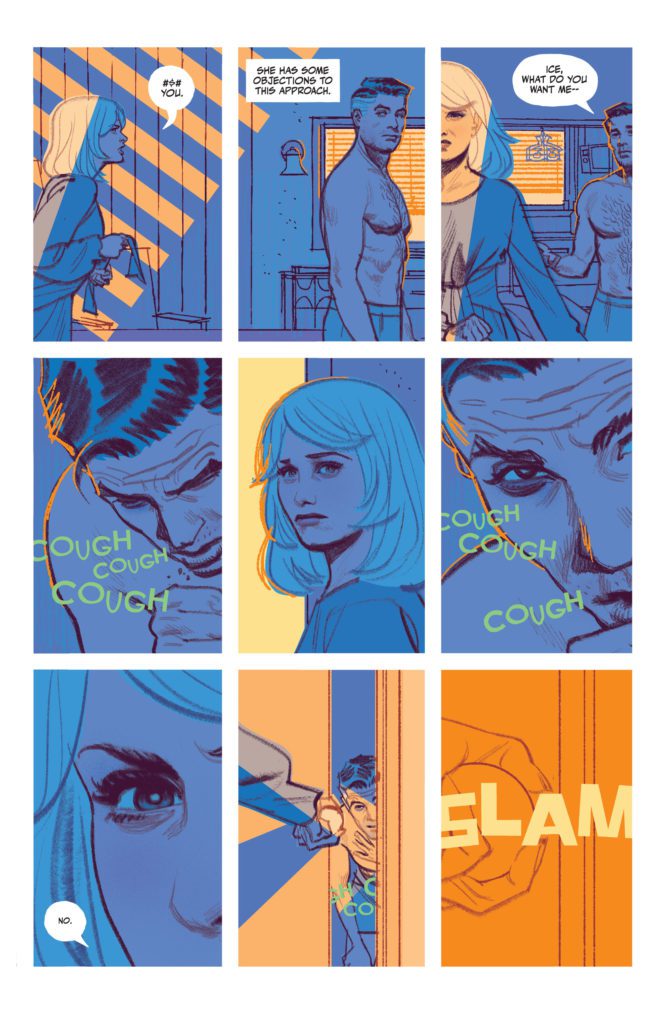 Lettering
There's a calmness to Cowles' lettering. In most pages, we see Chance's inner monologue lined up in caption boxes along the left side of the page. They lazily snake their way to the bottom of every panel, creating a smooth and straightforward roadmap for our eyes. When the issue suddenly shifts, and danger rears its ugly head, Cowles switches up the placement of his caption boxes. They begin to appear on the right side of the page, creating an off-kilter feeling. And then they begin to ping pong back and forth on every page. With this, Cowles creates a sense of movement that mimics the goings on of the scene. Just as things become chaotic for the characters, things become dynamic for our eyes.
Verdict
The Human Target is not just a sexy series with smooth storytelling and even smoother visuals. It also packs one hell of a punch. The Human Target #6 ends out the first half of this series with a bang, promising that season two will see these characters engaging in a completely different story. Pick up The Human Target #6, out from DC Comics March 22nd, at a comic shop near you!