Marvel Comics releases Hellions #2 on July 22. Writer Zeb Wells, artist Stephen Segovia, color artist David Curiel, and letterer VC's Cory Petit continue to explore Krakoa's misfits, those who's inner demons and anti-social tendencies keep them from integrating smoothly into Krakoan society.
Writing
When the Hellions, led by Psylocke, are sent to demolish a cloning lab in the basement of the orphanage where Scott and Alex Summers were raised, they find more than they were bargaining for. They discover the degenerated clones of Sinister's former Marauders team, led by a somehow alive Madelyne Pryor, Scott Summer's ex-wife, and the Goblin Queen, who is controlling the Marauders. This is bad enough, but when Psylocke is injured, Wild Child senses a weakness in his alpha.
Madelyne Pryor's appearance was teased waaaaayyyy back in the Dawn of X, so while Hickman and company keep teasing more and more plot threads, they should be given credit for following up on them, albeit in unexpected ways and places.
It's also nice to see Psylocke's arc carried over from Fallen Angels as her relationship with Sinister becomes more entrenched. While I'm sad to see any one of these X-titles end, I think Fallen Angel's at least felt natural, and I'm glad to see Psylocke continue to be highlighted.
Havok also plays a central role in this book. There is a sense that he is out of place on this team and that he should be with a more traditionally heroic group of mutants, but Alex has had a rough publication history, one that has seen his character rise and fall. In some ways, this issue can be seen as addressing that, given his quest for redemption while also bringing him face to face with Pryor, with whom he has had one of his famous heel-turns in the past.
Art
For whatever reason, horror and zombies seem to be the theme of this week's X-titles so far (between this one and Empyre: X-Men). Segovia does a good job forecasting the menace in this issue, mainly through Havok.
These panels, in particular, upped my interest in this issue. Havok is one of my favorite X-characters, so I'm looking forward to seeing how this series deals with his complex hero/villain history. Seeing this panel with Havok's dark reflection in the glass created an anticipation on my part to see how his villainous turns would come back to haunt him in this issue (I was thinking about a more recent incident, like AXIS). This was a nice anticipation, however, of his reunion with Madelyne Pryor.
The above page wasn't the only time Alex's perspective was used to escalate the sense of dread. Before the reveal of the zombified/defective clone Marauders, Havok discovers a dreadful sight.
Using Havok for these reveals is a great choice, and Segovia does an excellent job with these reveals.
Coloring
Curiel's colors are quite appropriate for a comic about a group of violent sociopathic mutants encountering a bunch of clone zombies. His use of browns, oranges, rusty reds, and sickly grayish greens captures the feel and flow of this issue.
As soon as the zombified clones appear, Curiel's colors capture the look of their rot and decay by coloring it with a sickly green look with a grainy, speckled background.
Meanwhile, all of the violent scenes are drawn with lots of oranges and reds that not only accentuate the violence but also give them a very kinetic feel. Case in point…
By the way, does anyone really doubt that Psylocke will wipe the floor with this guy at the beginning of the next issue?
Lettering
Petit's letters for this issue are nice in that they aren't overwhelming. I've noted elsewhere that the dialogue-heavy nature of some of these X-titles is a little overwhelming, but this issue is pretty action and suspense heavy. The lettering serves to perfectly complement and works in tandem with the art, servicing the plot without becoming distracting. Petit gives some of the zombies their own unique font, but a lot of the lettering is pretty straightforward.
Oh, and there is this nice little sound effect between Greycrow and Empath.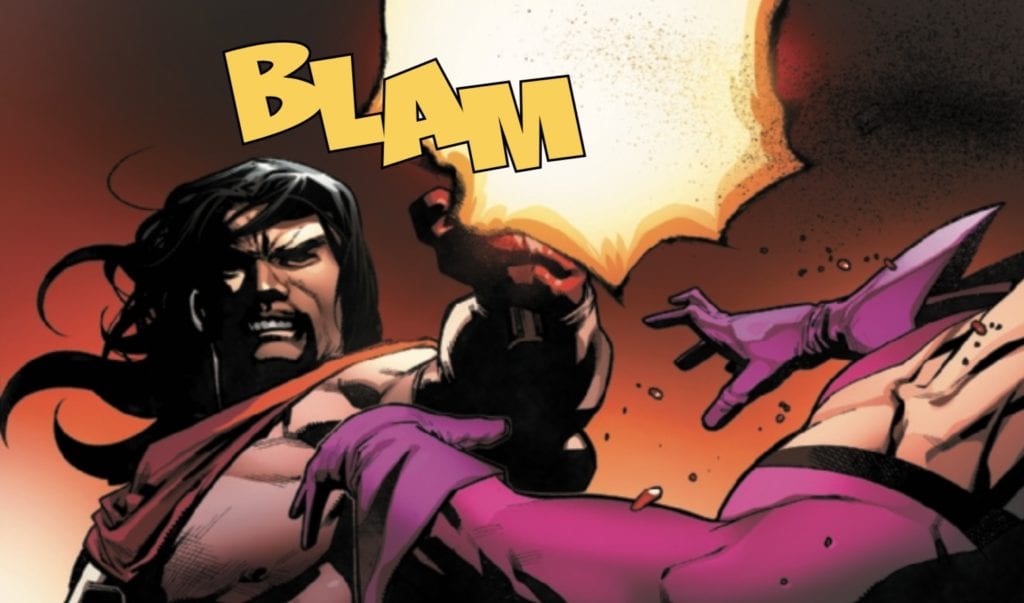 I'm sure he'll be fine, right? After all, what is death on Krakoa?
Conclusion
Hellions #2 is a fine second issue of a series focusing on a darker, Sinister-influenced side of Krakoan life. Again, the X-titles keep surprising by their choice of casting for each book, but I think Psylocke and Havok are going to continue to be really strong characters in this series, in part because of how their more noble nature may clash with the darkness they find themselves surrounded by. It will also be interesting to see if Krakoa has a place for Madelyne Pryor in its future.
What did you think of Hellions #2? Tell us in the comments below!