HAHA #2 hits comic book stores on Wednesday, February 17th, continuing W. Maxwell Prince's take on clown life. This issue hones in on a performer named Rudolph—a young woman who seems less than enthusiastic about putting on a show. But as readers will learn, her present predicament is a direct result of another person's experiences. Her identity has been forged by her mother's life.
Story
Much like W. Maxwell Prince's classic works, such as the Ice Cream Man series, each issue appears to be its own standalone story. This issue tells the story of Rudolph's childhood and the way her life changed once her mother was deemed "crazy."
But is dressing up as a clown and doing what makes one happy classify them as "crazy?" The issue doesn't give a direct answer, but leaves the interpretation up to the reader. They're able to live vicariously through Rudolph as they determine whether her mother is actually off her rocker or has tapped into something more.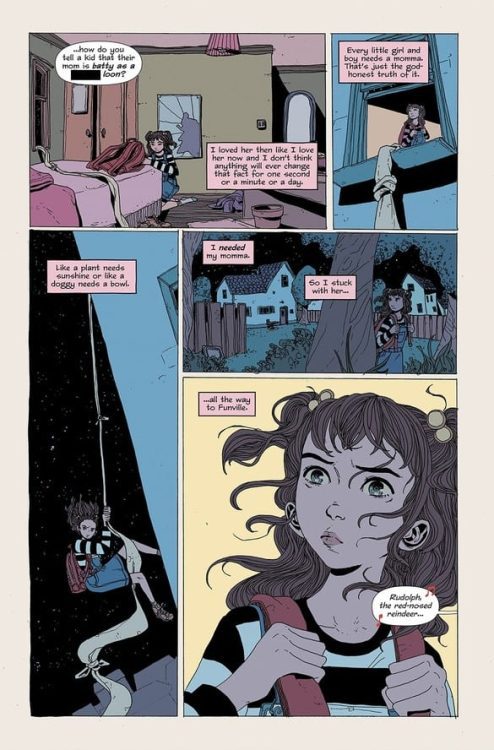 One of the brilliant pieces of this issue shows itself when Rudolph's mom reveals their destination: Funland. Readers will remember this as the amusement park from the previous issue worked as a clown. By choosing this setting, Prince connects this world to his other seemingly unrelated stories, which makes us wonder what unifying element could be tying them together.
Artwork
Zoe Thorogood's penciling and ink work, Chris O'Halloran's coloring, and Good Old Neon's lettering worked well together in this issue. The characters and scenes appear to be drawn with slight squiggles in their outlines, adding to the slightly eerie nature of this story. These illustrations are fleshed out with traditional circus-esque colors to set the issue's tone further. We also enjoyed the narration word balloons, which were colored pink to both go with the clown theme and represent the innocence of young Rudolph.
Conclusion
HAHA #2 is a sobering tale of the absurdities in life—both in its many obstacles and our own ways of fighting them. We're excited to see how the next issue connects with Funland in its own way.
Do you see any other elements tying this story to the first issue? Let us know in the comments below!