To say that Matthew Murdock has had a rough time lately is putting it lightly. He just lost his best friend Foggy Nelson, and got into a big fight with his super hero buddies last issue. The Stromwyns and the hand have been relentless in trying to torment him, and with almost no allies left, Matt turns to Cole North to whip him into shape. Chip Zdarsky continues his epic run on Daredevil this issue. He's joined by Rafael De Latorre on pencils, Matthew Wilson on colors and Clayton Cowles on letters.
WRITING
Chip Zdarsky is one of the top writers in comics at the moment. He's done Batman, Daredevil, the critically acclaimed Eight Billion Genies. Essentially anything he touches is worth a read. We're at a point in his Daredevil saga where Matt is at his lowest. His wife is arrested and he has next to nothing left to lose. Zdarsky knows this is when Matt is at his most interesting. The Stromwyns have been a worthy white collar adversary for Daredevil. This issue, Zdarsky gives us a Daredevil that has nothing left to lose. As Detective North says, "People were hurt! Foggy is dead!" He's the perfect person to snap Matt out of his funk. Zdarsky doesn't hold back in this issue either. We see Daredevil do crazy and unexpected things to gain any semblance or normality back. One thing is clear in this issue though, Matt Murdock loves Elektra. This has been one of the things Zdarsky has been trying to hammer in this volume of Daredevil.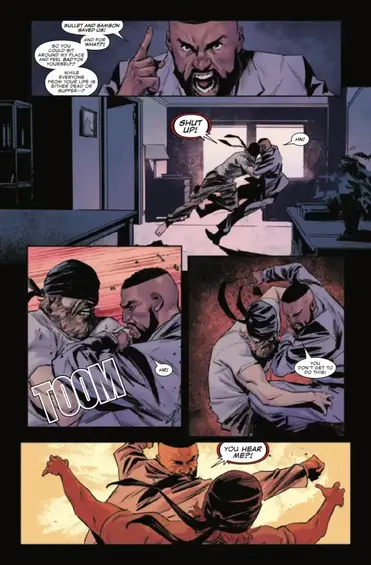 ART
The pencils this issue are handled by Rafael De Latorre. The line work and inks are smooth. De Latorre uses a lot of detail, particularly when he does some close up faces. Detective North is seen on panel with a disgusted look on his face. De Latorre captures this perfectly as the detailed lines really add to his anger. His pages with the Stromwyns are drawn with a level of smugness to them. How they're postured to how their faces look scream entitled and privileged. There are images where De Latorre out does himself, specifically during some eye gouging. The panels are eerie and creepy perfectly drawn.
The colors by Matthew Wilson have to match the intensity of pencils from De Lattore. Wilson uses bright bursting yellows and reds as a background during action sequences or tense moments in the book. This is effective and adds an extra layer of depth to the art. In a panel where Daredevil confronts the Stromwyns, Wilson allows Daredevil's uniform to pop out with a nice bright red, while shading out his face. This is an expert job in coloring from Wilson and one of the most memorable pages in the book.
The letters by Clayton Cowles work here. The monologue boxes he uses for Matt as he walks through the city are layered perfectly in a descending pattern. They sink lower and lower on the page and allow your eyes to follow the flow of thought. As someone gouges out their eye, Cowles uses a "SHNK" in red to signify blood. This is also placed across the shaded face of the character. It's the perfect area for the sound effect.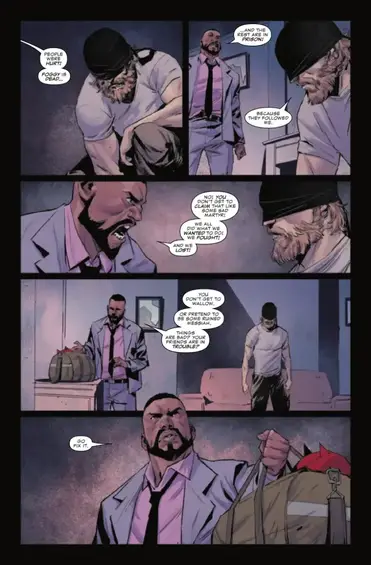 CONCLUSION
Daredevil #11 is perhaps the most surprising issue of the series so far. Chip Zdarsky continues his great character work and interesting story telling. The pencils and art compliment the writing to a T. Daredevil #11 is available at a comic shop near you!