The final chapter of the Zombot saga arrives and an epic battle unfolds in Sonic The Hedgehog #29 by Ian Flynn, Adam Bryce Thomas, Matt Herms, and Shawn Lee. Sonic and his comrades have been pushed to their breaking point fighting against a threat without limits which turned friends into enemies. The wrap up to all this feels like what fans have been waiting for.
This is it! Sonic and the remaining members of the Restoration team-up for their final fight against the ultra powerful Deadly Six.
Writing
The Zombot arc has been going for a while (14 issues) but managed to keep a consistent level of interest through its run thanks to the intensity and drama the story carried. Only a grand ending would be enough to ensure this series wraps up in a tight little package. Luckily writer Ian Flynn delivers such a conclusion.
The fight scenes are intense and feel like they have weight. All of the characters are shown to be at the end of their ropes but willing to stand their ground to the very last moments. The battle takes up most of the issue but when it's all over, the fans will find themselves in awe of what they just witnessed. No spoilers here at its too good of an issue to spoil.
Artwork
The artwork by Adam Bryce Thomas showcases a great flow from panel to panel. The attention to detail comes off especially well with showing how the characters are tired and scared as the battle reaches its climax. If you look closely in the panels you will also see a shoutout to Neon Genesis Evangelion, complete with an AT FIeld.
The colorwork by Matt Herms offers some intense mood lighting for the panels. Adding to the sense of distress and hopelessness, the coloring works to set the mode the heroes are drained and don't think they are going to make it out of this one. The colors take center stage when a certain event takes place involving Silver and Sonic (again, no spoilers).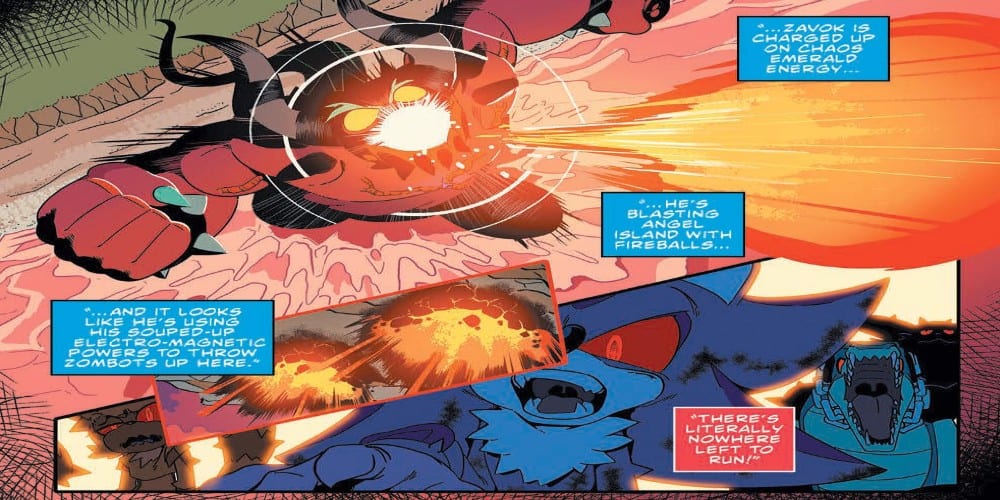 The lettering by Shawn Lee captures the emotions of the character as the battle unfolds. There is a special emphasis on conveying the fear and exhaustion the characters are carrying with them as the battle wages on. At the same time, the sound effects manage to be present but not distracting from the story which is always a welcomed sight.
Conclusion
Sonic The Hedgehog #29 is an ending intent on leaving a lasting impression. From here, Ian Flynn will be using the next two issues to wrap up this arc and prepare for a new writer to take over. The creator will have to bring their best work to match an ending this impactful.