Writer Cullen Bunn (Harrow County, Bone Parrish) and artist Andrea Mutti come together for a supernatural mystery-thriller. Parasomnia #1 is a gorgeous and compelling comic, rife with mystery and questions abound. Bunn's sparse yet intriguing script and Mutti's atmospheric visuals make this a striking start to this mysterious mini-series.
"After his son disappears, a broken-down man braves a nightmarish dreamscape in order to find him–and battle the ruthless cult that seeks to rule the land of dreams as the barrier between realities starts to collapse."
Writing & Plot
Cullen Bunn is no stranger to horror comics. The Harrow County writer is most famous for his expert handling of the genre across a ton of excellent titles. Parasomnia #1 is a noticeably different beast, however. In terms of its pacing and script, this opening issue is more of a supernatural thriller than a horror story. Bunn is building a mystery with the lack of explanation for who the characters in this comic are. A present day homeless man and an 18th century lone soldier are both searching for a young boy, and there's our whole connective plot. Bunn manages to make this two-pronged story extremely engaging with its unspoken questions. Who are these people? Why are these two timelines separated by almost 300 years so similar and connected? Who is this boy? We don't know, and that's totally fine.
Bunn's actual script is a minimalist mixture of short dialogues and mystery-building narration. The differences in vernacular between the two timelines builds authenticity and the world itself. The story's fantastical and supernatural elements aren't explained, they just exist and we deal with them. This comic is an intriguing mystery that I can't wait to unravel.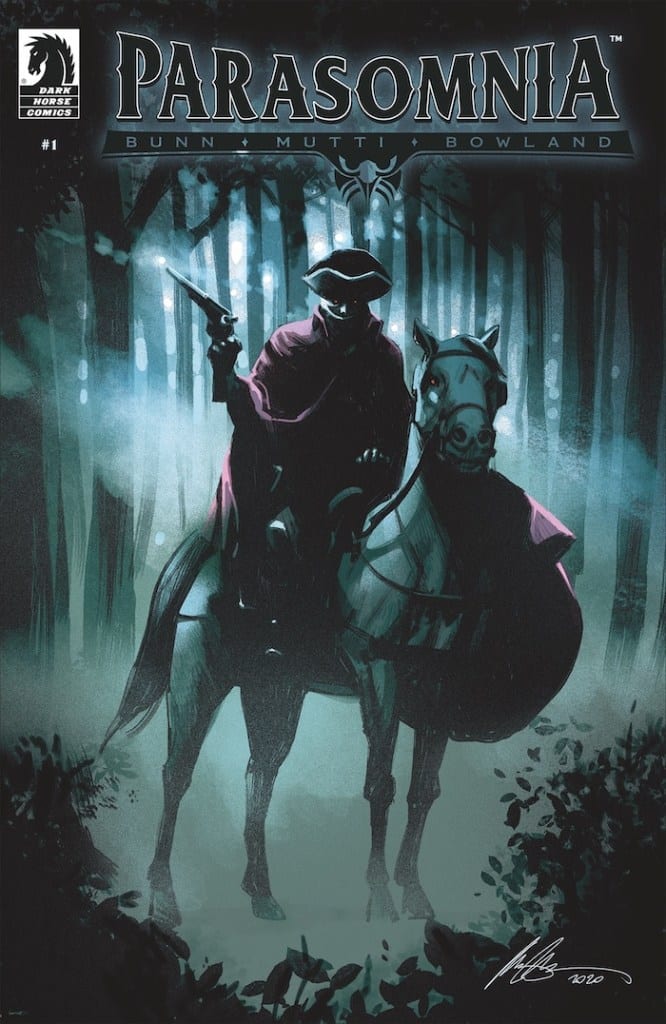 Art Direction
The cold, foggy atmosphere of Andrea Mutti's art greets the reader on every page of Parasomnia #1. His thin pencils and watercolor shades perfectly capture the shifting reality in this comic. Mutti's penciling is arguably simplistic, but his thin lines capture immense amounts of character detail. His animations are subtle but vary greatly from character to character.
The colors in this issue bring out the desolate sadness that permeates the tone of the story. Every panel is a shade of cloudy, wintry gray that absorbs all the light and energy this world might otherwise have. Bits of color on character's clothing pop against the contrasting background. This subtle effect helps recognize characters even more easily, helping us keep a mental marker about certain people. The lettering from Simon Bowland is similarly minimalist, using a classic comic font with subtle changes in italics and size to capture the narrative tone. This is a visually stunning comic that captures the essence of its story brilliantly.
Parasomnia #1 is a wonderfully intriguing supernatural mystery thriller from a top-tier creative team. Cullen Bunn crafts a script that flows naturally with no exposition and a tight narrative that keeps the reader strung along, begging for more. Andrea Mutti's visuals are atmospheric and thoughtfully detailed, pulling the reader into this world with ease. Be sure to grab this stellar debut issue when it hits shelves on 6/30!