BOOM! Box's EVE #1, available now, grabs all of the brutal truth that comes with climate change and bundles it into one approachable and humanizing tale. This is the tale of a young girl named Eve and her quest to save the world.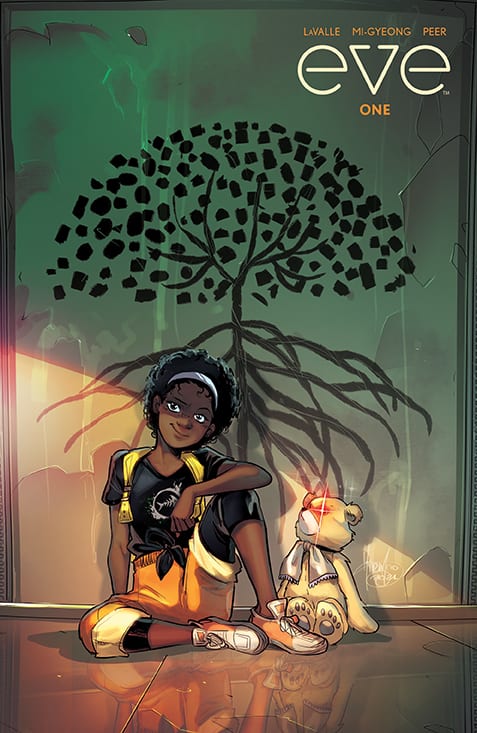 Eve #1 is the beginning of a brand new miniseries by BOOM! Box. Written by Victor LaValle, with artwork by Jo Mi-Gyeong, Brittany Peer, and Andworld Design, this series is unafraid to tackle the very real and heavy concept of climate change.
However, it is about to do so in a very approachable fashion. Young Eve lives in a world where the ice caps have melted. She's alive, though most of humanity likely can not say the same. She's safe in a bunker, but she cannot remain. Not if she is to help save the world from further damage.
More importantly, to young Eve, at least, she has to save her father. She may not understand everything that's going on, but she does understand that he's not here. She'll do whatever it takes to bring herself to him, even if it means facing off against a terrifying and dark world.
Writing
Eve #1 is a bold introduction to this five-issue series. Already it's easy to feel attached to Eve. She's so happy, even when wandering alone and talking to herself. She's so young and so human. So real.
Unfortunately, she also has a major trial waiting in her future. And it doesn't take long to understand how she was so unaware of what is happening to the world around her. Or to understand the dangers she's about to face.
What really strikes home is how real the situation is. Ice caps melting doesn't sound as out there as aliens, does it? The threat is one we can all easily imagine, and that makes the story hit home in so many hard to prepare for ways.
Victor LaValle included a letter at the end of this issue, explaining his motivation for writing this series. He dedicates his drive and understanding of climate change to his wife – a climate change writer. The ultimate goal here was to create a story that carries a message – the need to do something about climate change now before it is too late. It's a message that is heard loud and clear.
Artwork
It's truly outstanding how quickly the scenes changed in Eve #1. One moment Eve is on a beautiful and lush island. The next, she's in a bunker, all alone. Save for one inorganic life form with a…unique design.
Jo Mi-Gyeong's artwork makes Eve appear to be the little girl that she is. She's happy and sheltered. Yet even early on, it's possible to notice some hints of what is truly happening. There are signs of aging – hints for why a bunker would be needed in the first place.
The colors provided by Brittany Peer are so incredibly vibrant. Much of the issue is in hues of blues and greens, merging tech with organics. There's something so somber about the colors – colors that otherwise should be indicative of life.
Andworld Design's lettering helps to bring the story home – aiding in that gut punch the series was aiming for. There's no denying the truth of these words, not as they merge with the artwork and carry readers through the narrative.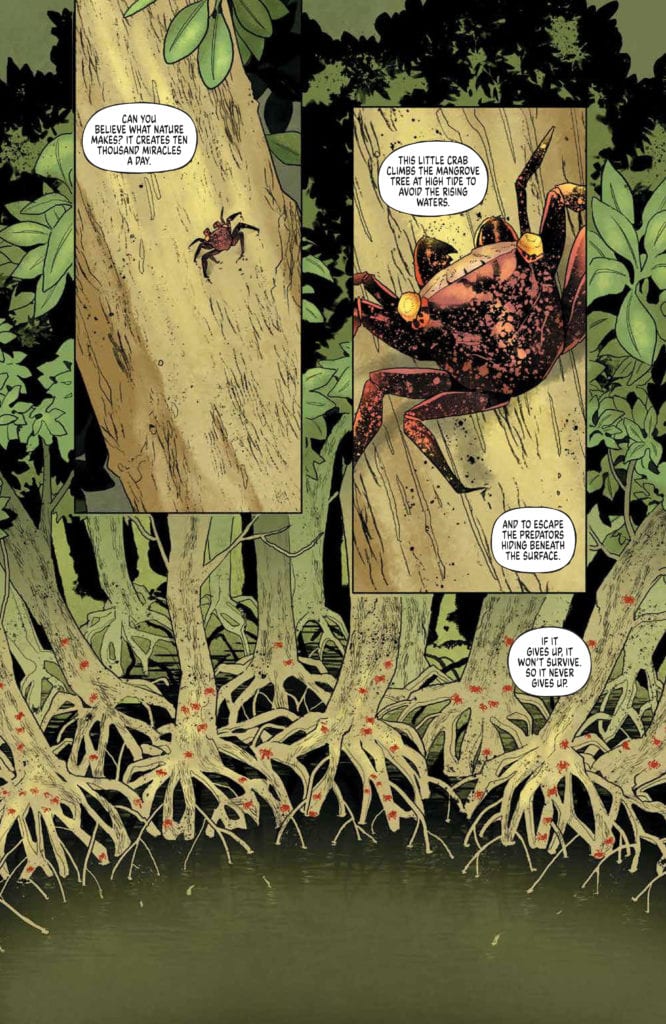 Conclusion
Eve #1 is the start of a vehemently emotional, all too real, and powerful story. It resonates with the need to do something. It is full of a daughter's love for her father and the determination to do whatever it takes to save him.
If the goal of this series was to hit hard with a discussion of climate change, then it succeeds. It's powerful yet not overwhelming, unavoidable yet approachable. It is proving that, once again, the lens of fiction helps to get the message across.