ONCE & FUTURE #13, available today from BOOM! Studios, continues a tale full of legends of old — and the havoc they can wreak when summoned into today's day and age.
Once & Future is a series that has been steadily increasing in drama — and danger. It started with a classic Arthurian tale, but with a darker twist. Now it has become a creature of its own making, as the stories come to life.
Before the series started, Duncan was no hero. Now, he's been transformed, taking on the role of multiple heroes. But even that has a limit, as we're soon to learn. That is where Once & Future #13 picks up, as he picks up the family career of monster (and legend) hunting.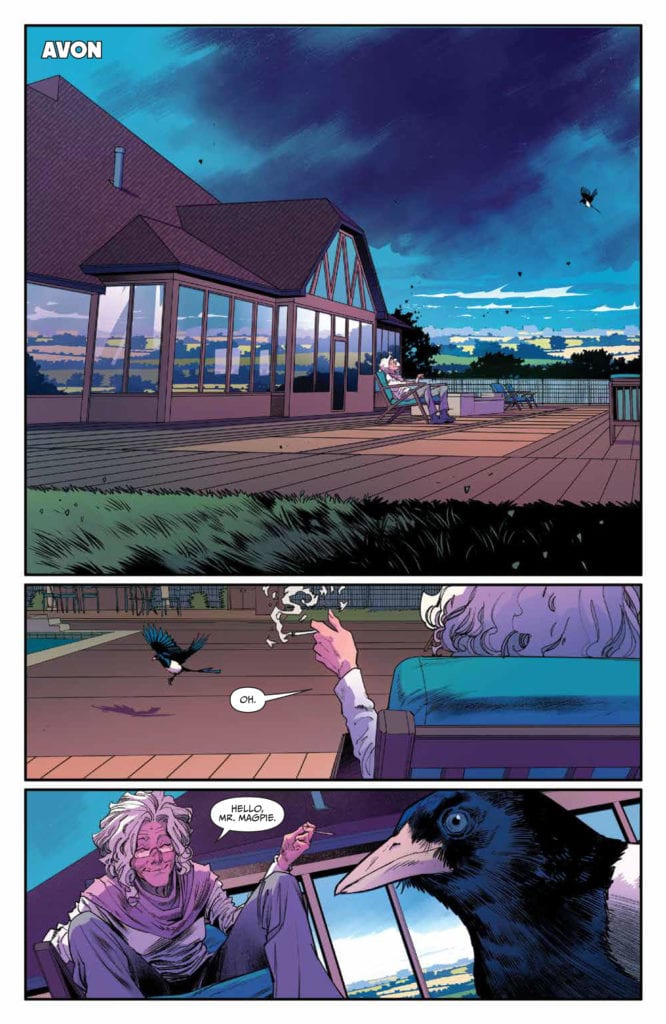 The Writing
Once & Future #13 is not quite as full of action as the previous few issues, but it does bring something new to the table: suspense. A creeping feeling, like something is watching from the darkness.
That is Kieron Gillen's writing style shining through, weaving in different elements into this already horrifying tale. The introduction alone is an intriguing one, though as with the rest of this series, it isn't exactly for the faint of heart.
From there, the issue takes a few different twists and turns, reminding readers that it isn't all about the fighting (don't worry, there's still that). There are human beings interacting with legends and lore. It's an important detail that one must never forget.
Oddly enough, there's even a little bit of humor found within the writing this time around. It's almost like a breath of fresh air. Almost. It feels more like the calm before a storm, where readers simply know that things are likely going to get even worse than ever. Especially now that we've been reminded of all the reasons to root for these characters.
The Art
Once & Future #13 is a bright issue, almost literally, as the case may be. The colors are bold and bright, with backdrops that pop, even in what should be nothing more than a dreary rain scene. It makes for a memorable setting, even without the supernatural interfering.
Naturally, that is not something that will last. Something, some creature, from legend will pop out, and Tamra Bonvillain's colors will make them absolutely striking. It's the ideal complement to Dan Mora's lines.
His characters, be they human or something more, are fascinating. They dominate the pages, requiring only simple backdrops to complement their designs. Admittedly, the creatures tend to be even more captivating, but that makes sense, doesn't it?
Ed Dukeshire's lettering is the final touch in this issue, bringing with it an epic scale that is exactly what the story needed. As with the character designs, it's the creatures and their words that the lettering is the most intriguing.
Conclusion
Once & Future #13 is a unique issue, even among an already unique series. It makes a few deviations, while ultimately getting back to the main focus before the end. Yet that variance allowed for a spark of humor and humanity to shine right through. A poignant reminder of what these characters are battling for.