Written by Simon Spurrier, with art by Matias Bergara, colors by Jordie Bellaire, and lettering by Aditya Bidikar, DC Comics' John Constantine: Hellblazer #10 brings Constantine to account. This creative team takes Constantine, a character known for escaping unscathed from the hairiest of circumstances, and makes him feel the unforgiving pain of surviving. DC Comics' Hellblazer continues to be the best title on the stands, helping readers digest some of the darkest parts of the current zeitgeist.
Writing
Spurrier understands the heart of John Constantine. He's a man who is afraid of nothing except himself. Constantine has evaded death, mutilation, and capture over and over again, but at what cost? Spurrier suggests Constantine has forfeited his soul, arguably long before the start of Spurrier's run. And so pitting Constantine against an older version of himself is the only thing that will put the fear of God in him. He must think, for the first time, about his effect on the world and wonder if he's doing it any good.
Spurrier is the kind of writer you want to quote. Just put a snippet in to show people how brilliant his writing is. The problem is, there's just too damn much to choose from. Spurrier rhapsodizes poetically about truth and illusion. Spurrier's question is, are hallucinations and dreams any less real? Does it matter if Constantine sold his soul to a figment of his imagination if he willfully did it either way? Spurrier is continually pushing our concept of what's real. So when Constantine faces the ghosts of his past, in a dream or not, it hits home. He's still a bastard, even if the people telling him so aren't real.
Art
Bergara hones in on the danger of this issue. As characters are being stalked, Bergara creates pages of their brutal demise that take the same format each time. Three panels, stacked on top of each other, before the rest of the page is taken up by the image of their death. Bergara simulates the feeling of something approaching. The first of the three panels is smaller. The characters only just notice their followers. Then the next panel widens. The characters are doing something about the danger, taking charge. They're aware the danger is closer. But then the third panel shrinks back. They think they're in the clear. And finally, Bergara shows their bloody end, stretched out across the rest of the page.
This makes each of these pages terrifying. Each moment feels like one step closer to the danger. Bergara's repetition of the process only adds to the terror. That third panel no longer fools us. The shrinking back isn't the character in the clear; it's their loss of focus. Bergara achieves these small moments of fear and destruction brilliantly. As Constantine looks out at the death he's caused, those images loom over him. They're cobbled together on some kind of cracked black screen that looks suspiciously like panels on a comic book page. Bergara is reminding us that these aren't the first deaths John's been responsible for. John's list of sins is long, and it's been innocuously recorded in years and years of comic book pages.
Coloring
Bellaire shows us when John is really in his comfort zone. Throughout this issue, hopping through dreams and dodging death, John is in reds and greys, and he's mostly in his underpants. Bellaire makes John a victim of his surroundings. He isn't red, the overarching horror in the sky is, and he's covered in its light. He isn't grey, the darkness of his past is, and its shadow surrounds him. But when do we see John looking at home? In the color schemes we're used to. The yellows and oranges we associate with his powers and fashion sense.
It's when he's lighting a cigarette that he looks like himself, washed in the lighter's glow. Or it's when he's grabbing a drink in a pub. John is a man of vices, Bellaire is telling us. Vices that he uses to escape the moment. It's these things Constantine wants to drown in, rather than face the music. These vices, these distractions from his own soul, are where he finds his identity, and Bellaire's familiar color scheme for these moments shows us that.
Lettering
In John Constantine: Hellblazer #10, Bidikar places some captions in boxes, and others in the blank space on the page. Bidikar makes these moments, words that have no borders, feel dangerous and uncontained. The feeling is that they aren't from anywhere; they simply exist. As one character walks down an alleyway, she feels she's being followed. It's the familiar moments that get a text box. She's been followed before; she recognizes when someone's breathing and pace matches hers. But Bidikar makes the dangerous moments both unbound and more subtle by their lack of a text box. Those are the thoughts she has of her old traumas, sneaking their way back in. As she turns to face her stalker, the captions get another text box. This thought is a thought that is comfortable and emphasized. She is choosing to have this thought, not trying to pretend it isn't there.
As she turns to face her attacker, "…wh… where'd y–" she says as she sees them disappear. Bidikar slaps a giant blam of a gunshot on the bottom of the page to create a kind of whiplash. We go from a small quieter moment that's broken by a loud, violent one. The prominence of the "blam" on the page means we know this moment is coming. It's impossible to miss, even peripherally. Bidikar wants us to know what's coming, and give a damn anyway.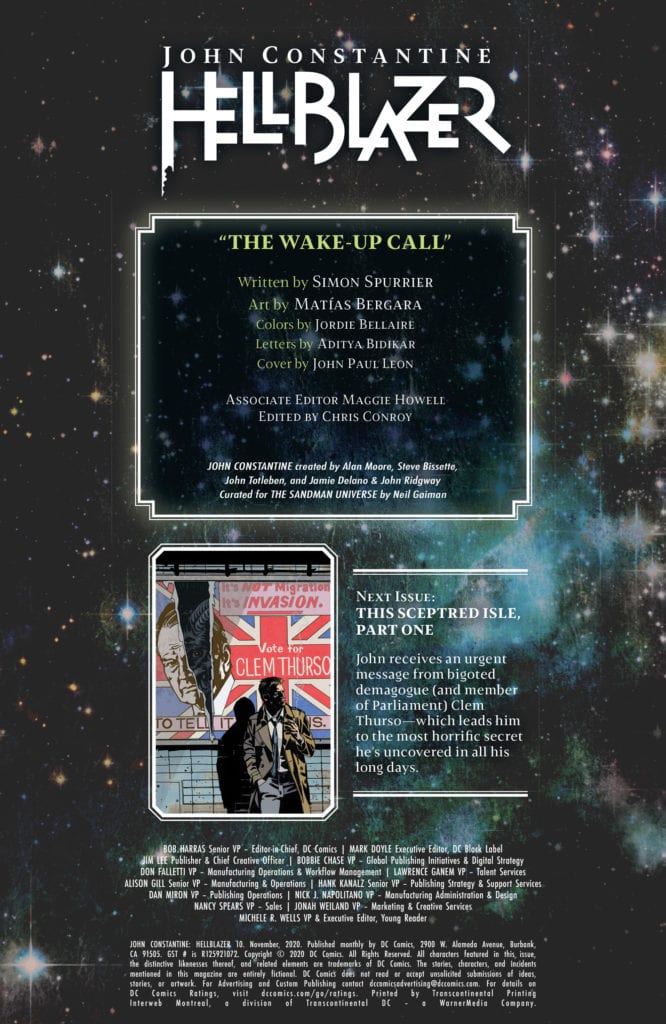 ---
DC Comics' John Constantine: Hellblazer is easily the hardest cancellation to digest of DC Comics' recent culling. This series rips apart the heart and soul of Constantine, so it can also rip into our own fears and ugliness. Pick up John Constantine: Hellblazer #10, out from DC Comics September 29th, at a comic shop near you. It's the soul-searching comic we need right now.