Sierra Barnes' graphic novel HANS VOGEL IS DEAD is receiving a new edition courtesy of Dark Horse Comics, coming this September.
The series originally debuted as a webcomic before finding success on Kickstarter and receiving a hardback edition from Cast Iron Books in the UK. Dark Horse's new paperback edition of HANS VOGEL IS DEAD will feature new cover art and an expanded sketchbook section.
About HANS VOGEL IS DEAD:
It's the height of WWII, and the Nazi forces are driving through Europe. Decorated German fighter pilot Hans Vogel follows orders and doesn't ask questions. It's worked out well for him… so far. But when his plane is shot down in the middle of an air raid over London, he is dead before he hits the ground. And that's only the beginning of his problems.
The series is known as an "anti-fascist fairytale" which focuses on the importance of recognizing past wrongs.
Regarding the project, Barnes says, "Hans Vogel is a passion project that I've poured so much love, research, and work into over the last few years, and I can hardly believe how lucky I am to see this weird little webcomic get set loose on the world! I'm so thankful to everyone who read and supported Hans and Reineke in their journey over the years, and I hope you're as excited as I am to see them continue to grow and their adventure keep going. Thank you, thank you all!"
Check out some preview pages for HANS VOGEL IS DEAD right here: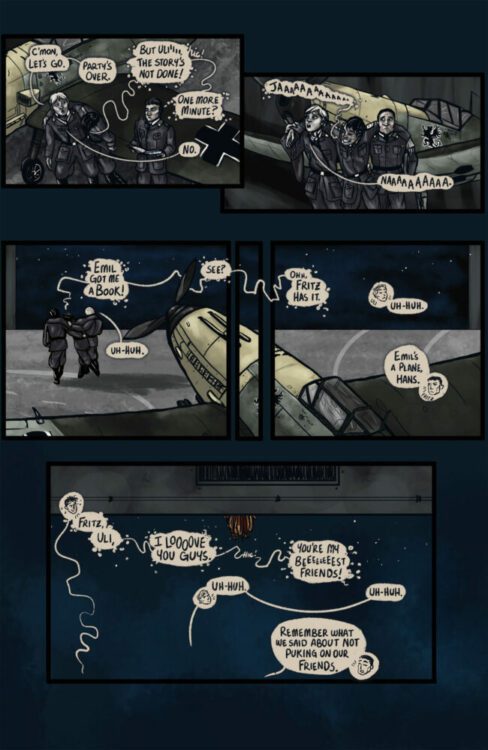 HANS VOGEL IS DEAD Volume 1 will be released in comic shops on September 20th, 2023, and in book stores on September 19th. It's currently available for pre-order.