America Chavez #1 begins a new chapter for the titular character from Marvel Comics on March 3. TV screenwriter Kalinda Vazquez of Prison Break and Nikita fame dives into America's more personal angles. Artist Carlos E. Gomez illustrates with plenty of dark inking and body language the title character's personal stakes. Because while the flashy colors by Jesus Aburtov are eye-catching, America's superhero life doesn't hold much importance. Travis Lanham's lettering makes a special use of captions from an outside perspective by the series antagonist.
Who Is America Chavez #1?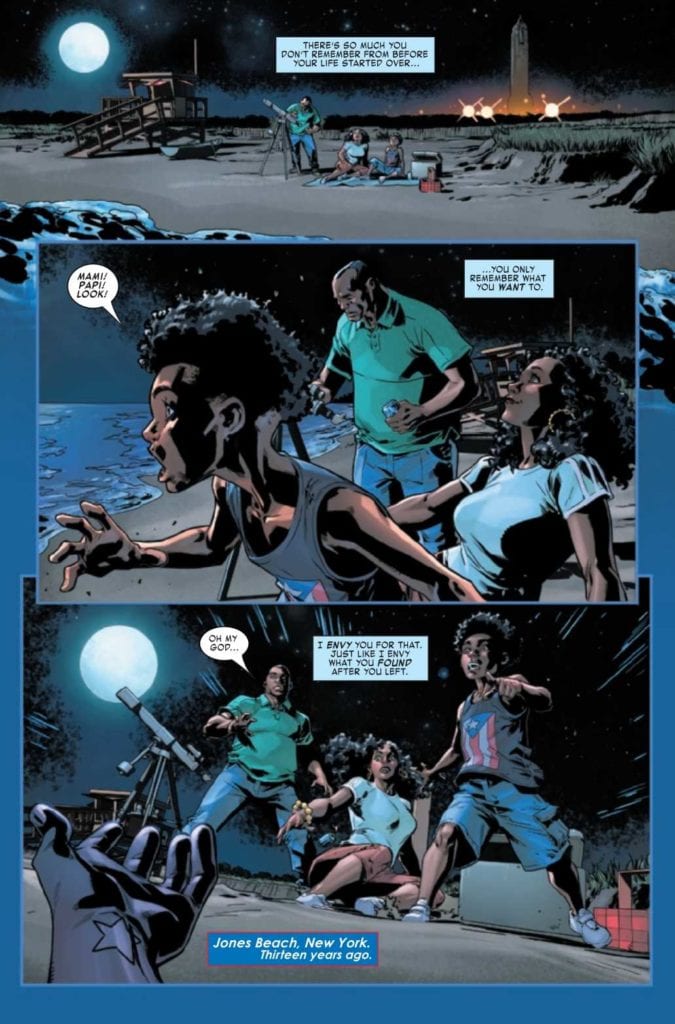 Vazquez gives America Chavez #1 an attitude and character of its own. Instead of giving all of the narrative weight to America or a mysterious narrator, the plot takes command. The opening page is a flashback sequence that looks at America's encounter with her foster family. In juxtaposition, the narrator explains their feelings towards America in these moments. For America, this is a point more important than the nature of her powers or her home reality. It's a feeling the narrator shares by explaining their envy of the happy life America found.
Further into the issue, the reader seems to share this feeling when looking at America's superhero life. A fight with mutant moles is absurdly charming, especially with friends and admirers. So what happens when the superpowers and life get boring? Throughout the issue, I found myself more engaged with looking at America's life with her adoptive family (the Santanas) than anything else. Funny enough, a Chavez admire feels the same way when bringing that up. It's a sign of the plot pushing Chavez to confront her history to expand her character. After developing America Chavez's powers and personality, this new phase is welcome.
Perspective Art
Gomez's illustrations give America Chavez #1 a look evoking classic mainstream superhero pin-ups. Where this art style really shines is in what the body language and inking outlines focuses on. When America's soon-to-be adoptive brother Berto's outline emboldens, it shows the power he has in directing his family towards something almost out of focus. The outline of the young America Chavez's wrist and her star mark is what tells a reader who this story is about. Provided they are already familiar with her for a better experience.
The colors by Aburtov show off the flashier parts of America Chavez #1. Most of them come from America's powers, like when stars spark off her fists and feet. There's an energy to them that makes every move mean something. Like when her blue star-shaped portal punches a hole in a giant purple barrier.
VC's Lanham decorates the issue with the mundane and flashy elements within America Chavez #1. The captions that showcase a time and place look very basic yet have a stylization fitting America's color scheme. Another caption has a very stylized look to it, like introducing America to a wide audience. That one instance is a demonstration of the life America has after her humble beginnings with the Santanas. So when she is thrust into meeting up with them, the basic stylization takes over as no amount of flashy sequences take away the down-to-earth moments that people find warmth in.
Try America Chavez #1
America Chavez #1 opens the series with a sense of interest towards its title character. Whether its readers who follow America's journey or just getting into her story, they should stick around for more developments. Because Chavez is well on her way to being a classic character with an appearance in the coming Doctor Strange movie.