Marvel's RUNAWAYS #35, available Wednesday, is a complex issue. It wraps up several plot arcs while raising more concerns along the way. This issue is a masterclass in foreshadowing, proving that the Runaways are never far from danger.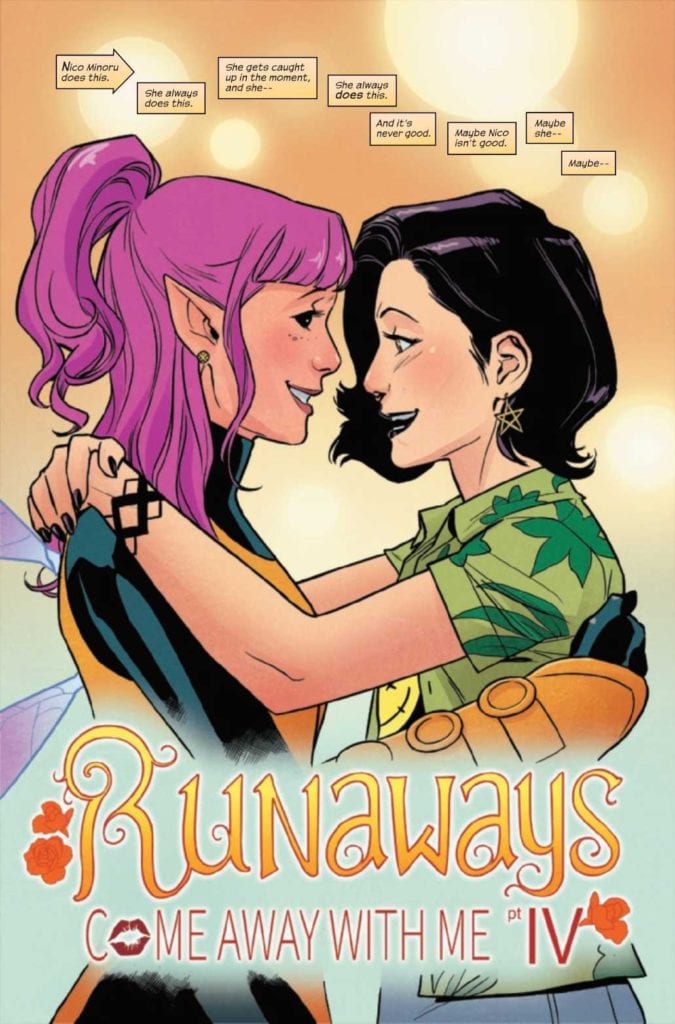 Last we saw, the Runaways were in the middle of a daring mission – one they hadn't fully agreed to. But they're the Runaways, so getting pulled into random missions is sort of their thing, especially when a young hero is on the line.
On the bright side, the chaos came with an X-Men team-up. Wolverine and Pixie are also wrapped up in this adventure (they may or may not be the cause of said adventure). Fans of superhero interactions will undoubtedly appreciate the more comical moments brought about by their presence (see the last issue for a real treasure).
Runaways #35 picks up where the last issue left off, naturally. Before we dive into the review itself, let's take a moment to discuss that cover. That has got to be one of the most foreboding covers I've seen in some time. It's full of foreshadowing. Surrounding the deal that Nico made. One that I feel like most of us would have known to turn down…
The Writing
Runaways #35 is an issue that will run readers through the emotional wringer. It's tense, fascinating, and (as mentioned above) fairly foreboding. There's a lot of subtlety to appreciated in Rainbow Rowell's writing, as always.
The truth of the matter is there's actually quite a lot that happens in this issue. While it isn't an overwhelming amount, it does take a little more time to process – mainly due to all of the implications.
One thing is certain, fans old and new will appreciate some of the hints (and revelations) that happen here. Some of it feels like a blast to the past, while other moments are clearly building on newer plot arcs. The result is an issue that feels fully fleshed out. While still fitting in with that classic Runaways vibe.
There are some severe highs and lows inside. Most of these points were pertaining to the relationships that have formed along the way. It's hard to predict how things will go from here, but I imagine every fan will have a different theory.
The Art
The art of Runaways #35 had a lot to keep up with this time around (nothing new there), but it did so with style. That classic Runaways look is there, with sharp pops of color and lots of small details to pick up on.
Andrew Genolet's artwork really brought that sense of foreshadowing to a whole new level. While I firmly believe those moments would have been fascinating regardless, the impact is a lot higher. Deliciously so. Additionally, Genolet's portrayal of the characters and their gambit of emotions really brought the story home.
Dee Cunniffe's colors are divine, as always. They're bright and bold, much like the characters themselves. These colors enhance the frequently subtle backgrounds, allowing them to pop or complement as needed. The colors surrounding Nico's magic are especially eye-catching – with a clear intent to draw the eye.
The lettering, provided by VC's Joe Caramagna is the final touch this issue needed. It easily picks up on all of the details Rowell, Genolet, and Cunniffe were working into the narrative. The lettering makes it all flow smoothly, ensuring that the readers miss nothing.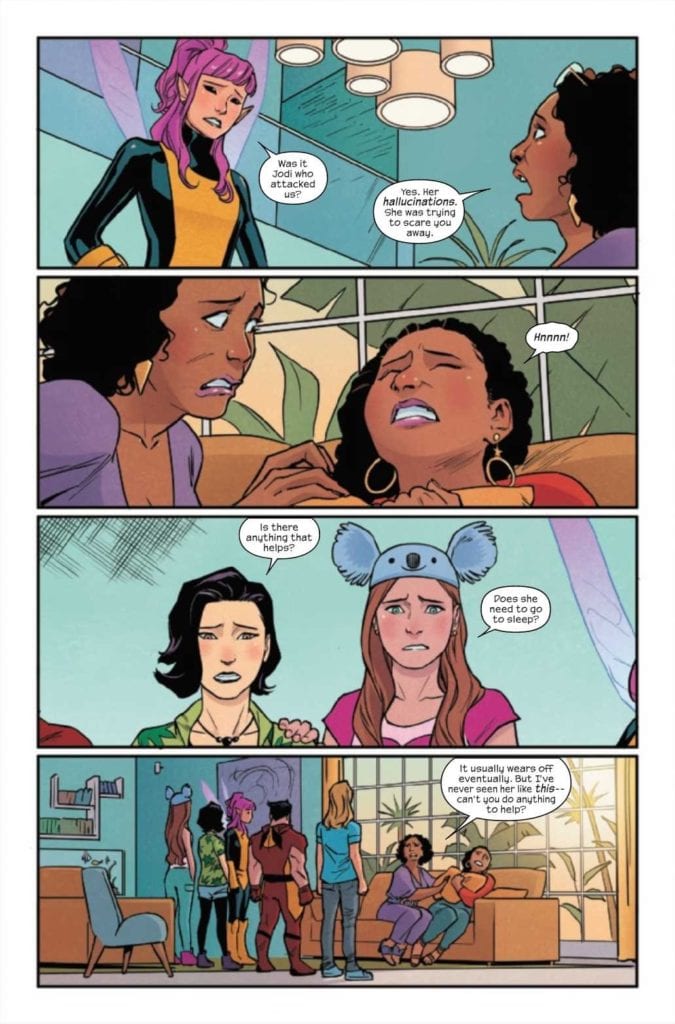 Conclusion
Runaways #35 is a fascinating and richly detailed issue. This is an issue that fans will be remembering – and theorizing about – for quite some time. Personally, I can't wait to see what Runaways #36 is going to bring with it.