THE MAGNIFICENT MS. MARVEL #18, available Wednesday from Marvel Comics, is a bittersweet moment. It celebrates the 75th issue of Kamala Khan's solo series, while also being the final issue to her current run.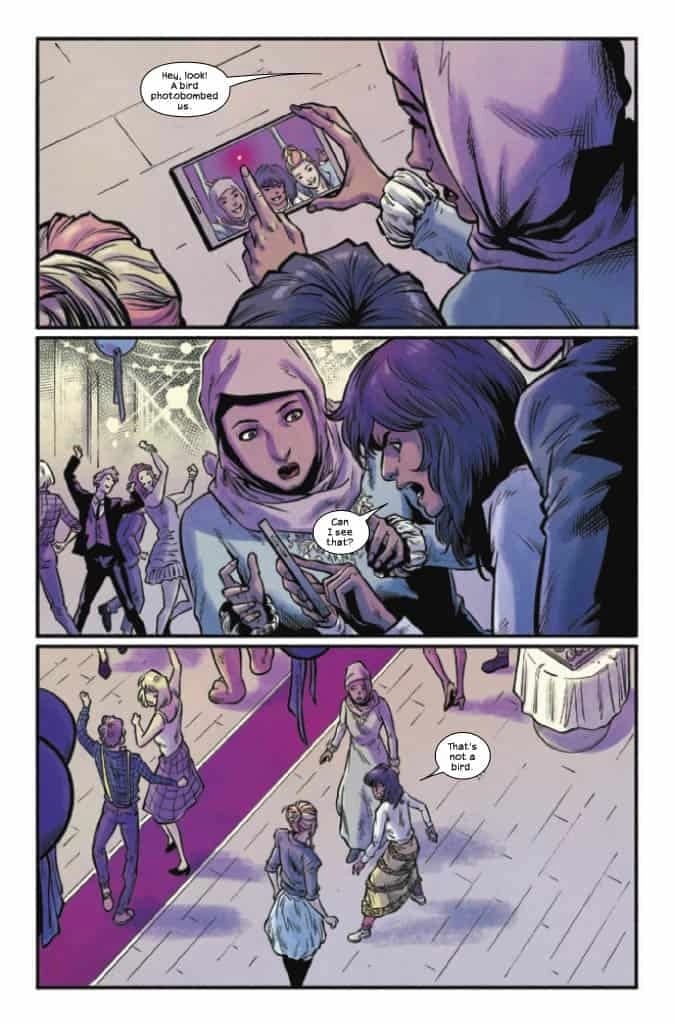 While it may be sad to think of her series ending (and it certainly is), there is still the knowledge that her story is far from over. This is Kamala Khan we're talking about. She's a Champion, a fighter of justice, and so much more. We'll be seeing her again.
Until then, let's talk about The Magnificent Ms. Marvel #18. This issue marks the end of Saladin Ahmed and Minkyu Jung's run of the character. They've pushed her plot farther, taking risks and introducing new characters in the process.
Now it's time to see how they're going to wrap up this final plot arc, one that promises to bring back a villain from a not-so-distant past.
The Writing
One thing is certain, Kamala Khan knows how to go out on a high note. The Magnificent Ms. Marvel #18 is full of all of those emotional highs fans have come to expect from her series, and it carries much of the same impact as well.
Saladin Ahmed's take on Ms. Marvel has resulted in a few changes, as have current events (looking at you, Kamala's Law), and yet at the core, this is still the Ms. Marvel we know and love. It's just that now she has more in her past, as well as a few new allies.
The issue does a great job of immediately pulling readers into the thick of things, only to set up back in time and see all of the buildup. From there, it touches upon many plot points that have come up over the past 17 issues, giving a strong sense of closure by the time it's all said and done.
That isn't to say that the issue lacks action – the very first page of this issue promises for quite a bit of that, actually. It just does so with all of the flair that Ms. Marvel is known for.
The Art
The Magnificent Ms. Marvel #18 is a vibrant addition to the Ms. Marvel collection. She stands out in a crowd, no matter what she's wearing. As do her friends – and enemies. This issue flawlessly transitions from moments reminiscent of teen youth, to moments only a young superhero can expect to deal with.
Minkyu Jung's art is essential to this plot arc. The sense of movement, abilities, and tension is unavoidable. Then there are the character designs themselves, with special notice left for the newest hero (Amulet). His design is striking, and makes a sharp contrast from Kamala's.
That's where Ian Herring's colors really come into play. That specific blue hue that is used is quite spectacular, and helps make Amulet pop out from the pages. Along with his shields, of course. That isn't the only highlight of this issue, as there is a clever use of color essentially everywhere, but especially when it comes to making a memorable panel.
VC's Joe Caramagna provided the letters, and that wraps both the writing and the artwork together. The sense of impact is further enhanced, which is vital given Kamala's ability set. You can also practically see her emotions streaming across the page, in a way that makes her feel so wonderfully human.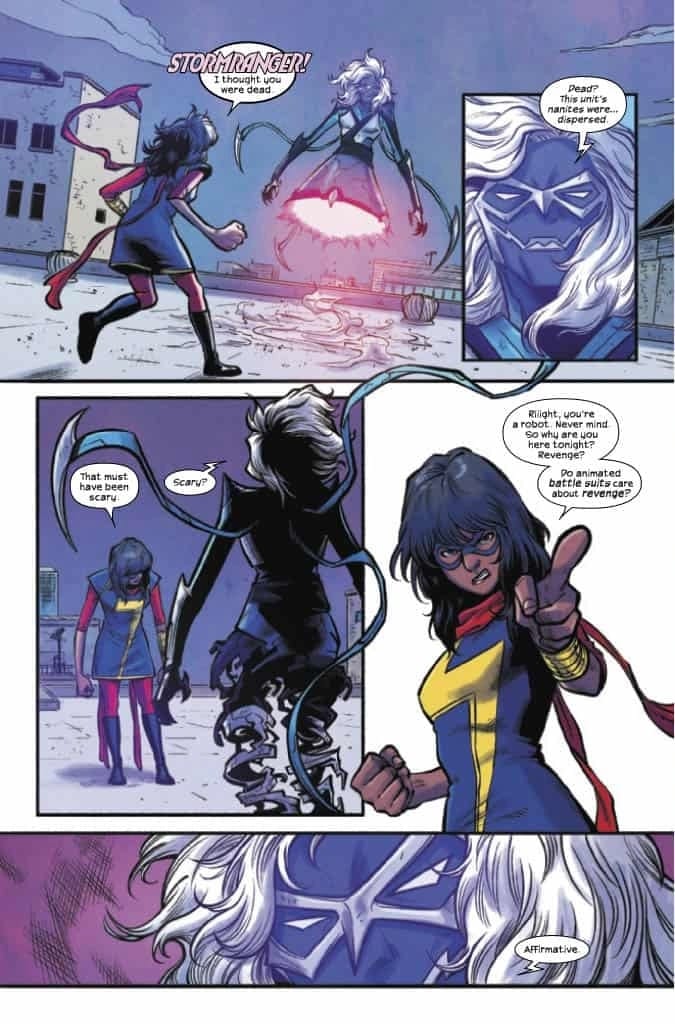 Conclusion
The Magnificent Ms. Marvel #18 is a strong addition to Ms. Marvel's series, even if it happens to be the last issue. At least, for now. It's bold and memorable, and did an excellent job of wrapping up as many loose ends as possible. All while leaving an overall positive impression – just the way Kamala would have it.