The Visitor #5 comes to comic stores from Valiant Entertainment on June 2. After a long hiatus, writer Paul Levitz provides the context for this series' conflict. Artist Soo Lee and colorist Ulises Arreola provide dynamic action alongside rising tensions. Thanks to the lettering by Simon Bowland, the reader can genuinely experience this thrilling climax.
Background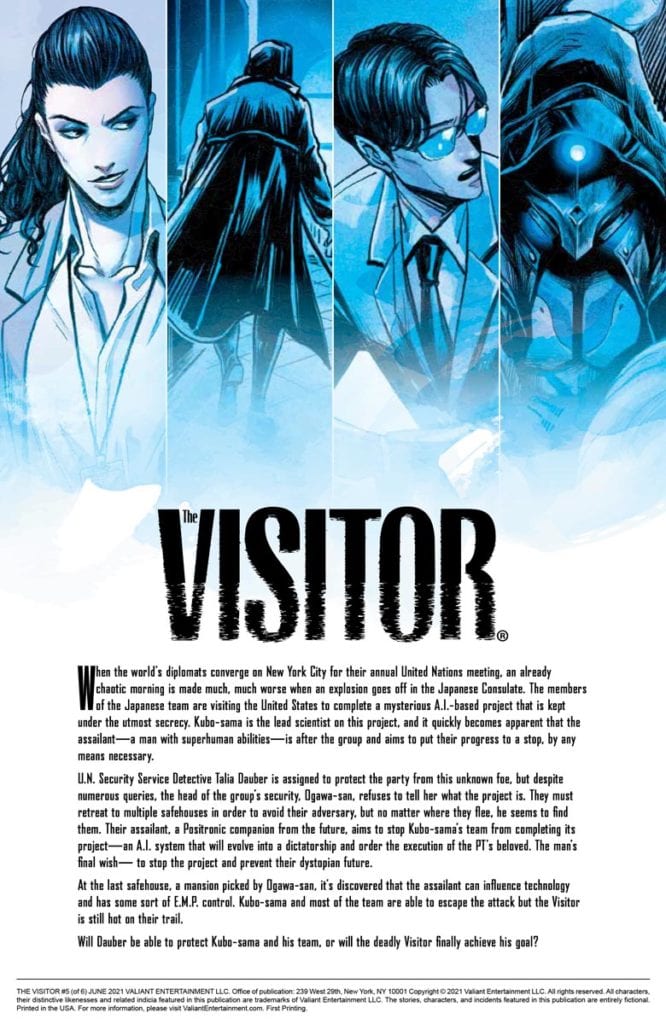 To catch readers up pre-hiatus, The Visitor focuses on the titular cyborg time traveler and his mission to prevent an A.I. project from activating. Considering the murderous people behind it, he has every right.
The Visitor #5: Finally Some Context
The Visitor #5 is where Levitz can give readers some answers after so long. The satisfaction will vary by how much they will like the connection to Rai's setting. Some readers may find it clever after so much buildup from previous issues. Otherwise, it might come off as annoying that this series is an extension of another franchise. Because the way Levitz handles the pacing in this issue is some of the best so far. From how the Visitor's thoughts weigh on his mind to how the characters interact, there's a genuine thrill to it all.
Connective Energy
Lee's illustrations possess a great degree of actions in flux with The Visitor #5. With pages and panels reflecting specific moments of time for the Visitor to appear, they all have a certain weight. A splash page, for example, is a good way for both the reader and Visitor to assess the situation.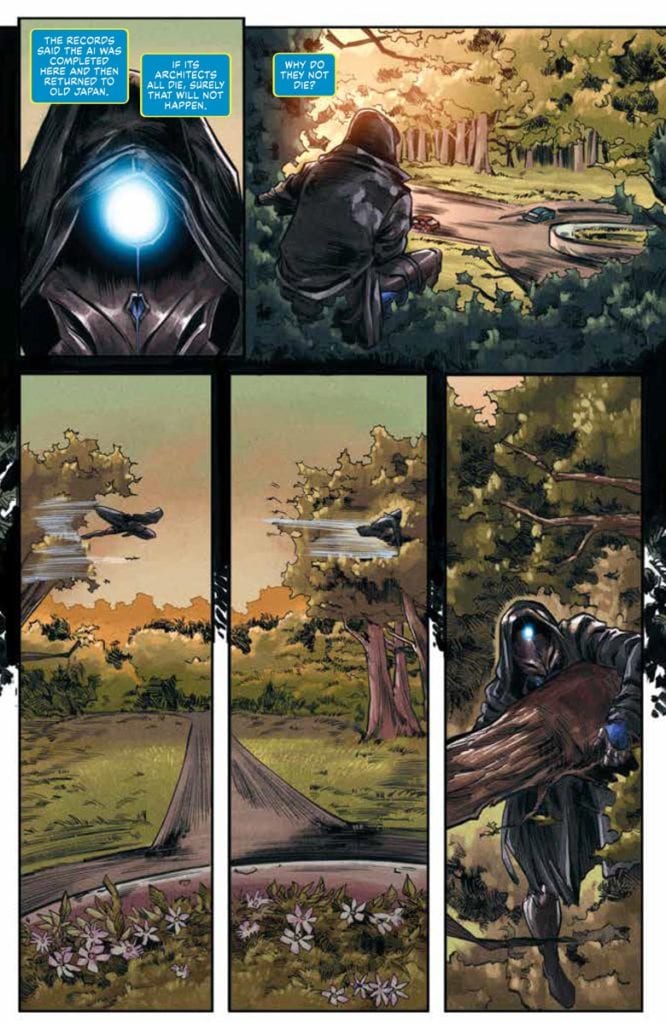 Later pages give the actions a degree of movement and greater intensity. Sometimes a single action across multiple panels can describe the situation. The Visitor #5 goes to lengths to show how one misstep can lead to a downfall. There's no greater metaphor than a tree branch not being strong enough to hold the Visitor's weight. With some parts of the plot happening simultaneously, the struggles feel very apparent to the reader.
It helps that coloring by Arreola adds to the anticipation. The Visitor's bright blue electric powers are not just eye-catching. They also steal power from a secret group of villains. It brings a real sense of power balance to the narrative, as does the lettering of Bowland that louden actions like the Visitor communicating with supporting character, Daubner even if some SFX can seem dull in comparison like using plain white words for gunshots that look quieter than they should be.
Want To Try The Visitor #5?
The Visitor #5 is an interesting and thrilling return for a series back from hiatus. Now that the characters are open about their motivations, the stakes can connect to readers easier. While readers might or might not like how the narrative is going, they're sure to be entertained.