BLACK WIDOW #3, available Wednesday from Marvel Comics, brings the next installment of the Black Widow's adventure, and it is full to the brim of surprises, and action. Though the latter is probably less surprising, given the leading lady.
Natasha Romanoff, aka the Black Widow, has seen her fair share of stories at this point. Yet none of her tales have unfolded quite like what has been portrayed in this latest series. Written by Kelly Thompson, this is a version of the Black Widow like never before.
Natasha's new life is full of changes, and by all appearances, it's perfect. But appearances can be deceiving, something that Natasha probably knows better than most people. Even she can see the cracks that are forming.
Black Widow #3 brings us back to this setting, with the third part in 'The Ties that Bind', and it's starting to feel like only a matter of time before those behind it start to feel the pain. Has anybody started a timer yet?
The Writing
Kelly Thompson's vision for Natasha Romanoff continues in Black Widow #3, and the stakes are getting higher. This issue is a cocktail of emotions and experiences, balanced in a way that only Thompson can handle.
There's room for comic relief, and then there's room for several darker themes and implications. It all weaves together, creating a narrative that is fairly accurate for the one known as Black Widow. Yet, this tale very much feels fresh and different.
This whole plot has been toying with several themes, perfection, illusions, love, and knowing oneself, just to name a few. Many of those themes are still present in this issue, while other darker ones rear their ugly heads.
All put together, it makes for an enthralling read. This is a story with high stakes, and for reasons completely unexpected for this heroine. It raises countless questions, but we'll have to keep reading in order to get those answers.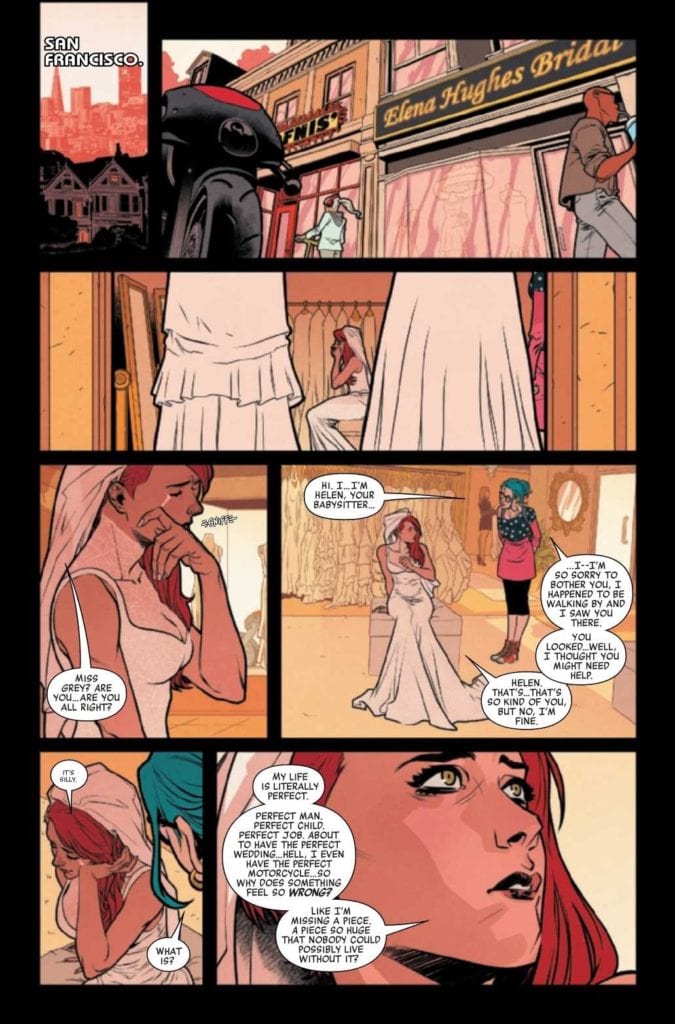 The Art
Black Widow #3 is full of brilliant and intense artwork. It really makes the story come into focus, both the good and the harrowing. In many ways, the artwork makes Natasha's current life feel so shockingly real, a burst of colors across a darkened screen.
Elena Casagrande is the lead artist for this arc, and she truly outdid herself in this issue. There is something about the juxtaposition portrayed here that really strikes home. It's one part slice of life, and one part action. Yet the two work wonderfully together. Not to mention, the designs revolving around Natasha (her hair, her dress, etc) look phenomenal.
Those vibrant colors were created by Jordie Bellaire, and they work so well in setting the scene. There's no denying the truth, not with Natasha's hair demanding attention. Or a million other details made to stand out here.
The lettering was provided by VC's Cory Petit, and it's the back half of Black Widow #3 where the lettering really gets a chance to shine. Natasha's actions are not silent, nor do they lack impact, and it's all thanks to Petit.
Conclusion
Black Widow #3 is an issue that ups the ante, while setting the scene for even more confrontation in the future. It's both dramatic and intriguing, portraying a completely different version of a beloved character. The sheer level of risk-taking in this arc is going to make it memorable for a long time to come.