Welcome to Self-Published Spotlight, a regular interview column where I will be highlighting self-published comics and the creators and small print publishers who make them.
---
Jonathan Thompson(Burn Residue, Night of The Comet, Airplane Mechanics) continues to be one of the most dedicated writers in indie comics. A master in just about every genre, Jonathan also has the amazing ability to find the perfect artist for every project. With his latest book, the racing comic ALL IN, Jonathan tapped Argentian artist Jok to join him in the race. Jonathan and Jok took a quick pit stop to give us a lowdown on the well-oiled machine that this comic is going to be. Check out the chat below and make sure you head over to the book's Kickstarter campaign and ensure it reaches the finish line!
Monkeys Fighting Robots: Jonathan I have already asked you this before, but for Jok, what's your comic book origin? How, when, and where did you fall into this wonderful medium?
Jok: I've been doing comics since I was 5 ( silent comics, since I didn't know how to write then). I kept reading and doing them profusely during my childhood and my teen years. I was already in contact with a local pro by then. And at 18 I began some formal study of comics. With a very prestigious professor and a renowned artist-creator called Oswal. Very famous in Argentina and Europe. Later, my self-publishing days began, in my 20s. And in 2001 I started my own professional studio with a few colleagues. Sorry for the long account, seems like I'm a veteran already! (laughs)
Jonathan Thompson: I like this because this is the best way for me to learn about my collaborators. My conversations are always about work, work, work!
MFR: So what's the collaboration process for All In between you guys? How did this race start, so to speak?
JT: Well, Jok and I first worked on a pitch together for ONLY BAD THINGS HAPPEN AT NIGHT. Like most artists I hunt down, I found his work first online and chased after him. I really enjoyed what he did with my script for OBTHAN and knew there was an energy to his work that could really be fun to work with. I also had a back-of-my-notebook idea for a race comic. A one-shot with high stakes and two lead characters. I wanted to make something in a different style, which is where we landed on the horizontal style of the book. I knew Jok would do something that would really speed off the page. I trust Jok to do what he does best. He sends me the thumbnails and I suggest little tweaks, and then he flies. I hope he's having as much fun with this one as I do watching pages come in!
Jok: OBTHAN pitch was a lot of fun, even though the atmosphere was quite heavy and a bit dark. When Jonathan told me about ALL IN, it sounded like a great mixture of genres, which I always appreciate. Sci-fi and racing combined into a straightforward story featuring two charismatic characters. The landscape format made it risky, but even more fun! I believe he had the concept very clear in his mind. I just needed to play along.
MFR: What challenges did that landscape/horizontal layout of the book have? And did this format lead either of you to discover something new about creating comics?
Jok: I´m quite familiar with the horizontal format since I´ve been producing many projects for websites over the years (I did literally thousands of pages for David Lloyd´s Aces Weekly). Also, many of my childhood comics here in Argentina were featured in horizontal format. So, for me, it was quite natural. Except for the double spread, which I´ve never done (or even seen!) before.
MFR: Did any particular creator or project influence ALL IN? Any specific comics, movies or stories?
JT: Speed Racer. I knew I wanted to do something high-octane and a little more on the action side this time. I was also inspired by Daniel Warren Johnson's storytelling with books like Space Mullet and J.H. William's ECHOLANDS for format.
Jok: My influences or reference stuff came from weirder places, almost unconnected with racing topics in fiction. For the city, I went for an industrial/rusty look and maybe a bit of Robocop´s Detroit. Characters were very clear in Jonathan´s description, I just added a little 80s vibe to them. Strictly on the racing department, I went for a Mad Max/dragster look for the cars. And some Blade Runner atmosphere all over the place (can´t help it!)
MFR: So would both of you agree ALL IN has a cinematic look and feel to it?
Jok: As a big fan of cinema many of my influences come from movies, so hopefully, some of that love shows on the page. I like to analyze storytelling from movies and series and, sometimes, try to adapt those resources to the comics medium. Narrative rhythm is not easy to define, but I tend to naturally think of some scenes or particular shots using a cinematic sense. I believe some of these devices blend naturally with comic medium and help provide solutions to keep a safe and smooth narrative flow (if used in the right dose).
JT: I think the widescreen nature of the layout does add to that cinematic feel. But, really, I think any story with the right energy can give that. You know the things I'm most excited about in this book are the racing pages and the big climax. When I say, you haven't seen anything yet, it's really true. The way it all comes together thanks to Jok is really going to be something breathtaking!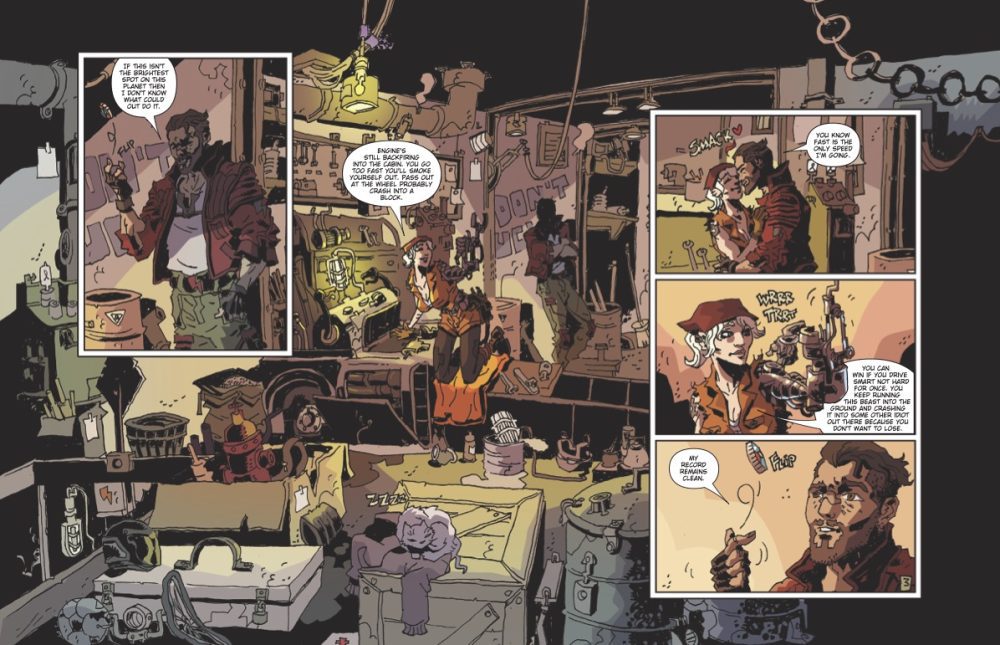 The Kickstarter campaign for ALL IN ends on Friday, October 21, 2022. Click here to support the book!