The X-Men line is the best it's been in a long time. With big-name writers like Kieron Gillen, Gerry Duggan, and Al Ewing all penning books, it's hard to argue that the X-Men won't thrive. This week X-Men Red #4 comes out. Things heated up last month as Magneto joined the Arakki great ring. This will have an effect on the mutants of Mars. This week's issue delves into the politics of the great ring as well as some problems with resurrection.
WRITING
Al Ewing has been slaying it on this title. For this issue, we have 3 storylines going on at the same time. Magneto deals with being a member of the great ring. Storm meets with other world Illuminati. Sunspot deals with being reborn and the consequences of dying. Perhaps the most interesting part of the issue is the plot involving Sunspot. Although he is not himself anymore, Ewing uses Rockslide as a tragic character to represent a botched resurrection. He was unable to be brought back properly because he died on Otherworld. His conversation with Sunspot is both eye-opening and tragic. In another storyline, T'Challa talks to Storm about mutant resurrection. Ewing shows everyone that Storm is a true boss and not someone to mess with. She confronts an intergalactic Illuminati and never budges on her stance. Ewing ties all of these stories together based on the new reveal that mutants are able to come back from death. Each story flows nicely and is interesting in its own way. Ewing continues to put out superb work on every issue.
ART
The pencils in this issue have three different artists. One for each story in the book. Juann Cabal handles Magneto's chapter, Andres Genolet works with the Sunspot story, and Michael Sta. Maria does the Storm Portion. Cabal does a great job of using scale in many of his images. Our first page shows the great ring with a gigantic tree in the background as our mutants look small in comparison. Cabal also uses a lot of close-up panels of characters as they speak at the table. This allows the conversation to feel more intimate to the reader.
The art dips a little during the Sunspot portion of the issue. Genolet has a less descriptive and detailed style of art. Genolet uses a less is more strategy, and the transition from Cabal's detailed work to Genolet's is a bit of a stretch. Having said that, Genolet does have the most emotional of the 3 stories. It's weird having emotions from panels with a rock talking about his life, but Genolet does convey emotion on Rockslide wonderfully.
Michale Sta. Maria takes over for Storm's part of the issue. His style is more similar to Cabal, so this area feels familiar. Sta. Maria has the task of drawing a room full of tough characters. Emotion emitting from this crew as they decide what to do about the resurrection protocols can be a little trying. Hulking is a character that Sta. Maria uses for the audience to relate to. He's young and generally feels out of place at some of these things. Sta. Maria conveys his hesitancy and naivete at times like this wonderfully.
Colors for this issue and all three stories are handled by Federico with Blee. This isn't an easy task for Blee as a colorist. Each story has its own feel and vibe, and color scheme. The background is a cold blue for the Storm part of the story. This could be due to the fact that the characters are involved in a tough conversation or that the characters themselves have the ability to be cold. For the emotional Sunspot story, the colors are dark with rays of light shining through. This could signify hope. Maybe someday Rockslide will be able to get back to normal. The rays of light streaming in with vibrant yellows certainly mean something. The Magneto Portion is a mix of reds and blues. Blee could have used this to sum up the situation with the great ring. A mix of hot and cold characters discussing a hot button issue. The issue overall is brilliantly colored and reflects the mood of the story.
Letter duty falls to Ariana Maher. Maher has a knack for putting the word balloons exactly where they need to be. When Sunspot is brought back, he's in a crowded room filled with mutants. Maher places the word bubbles out of the way so that we can take in the pencils and not be distracted by the talk. The balloons blend in perfectly with the picture.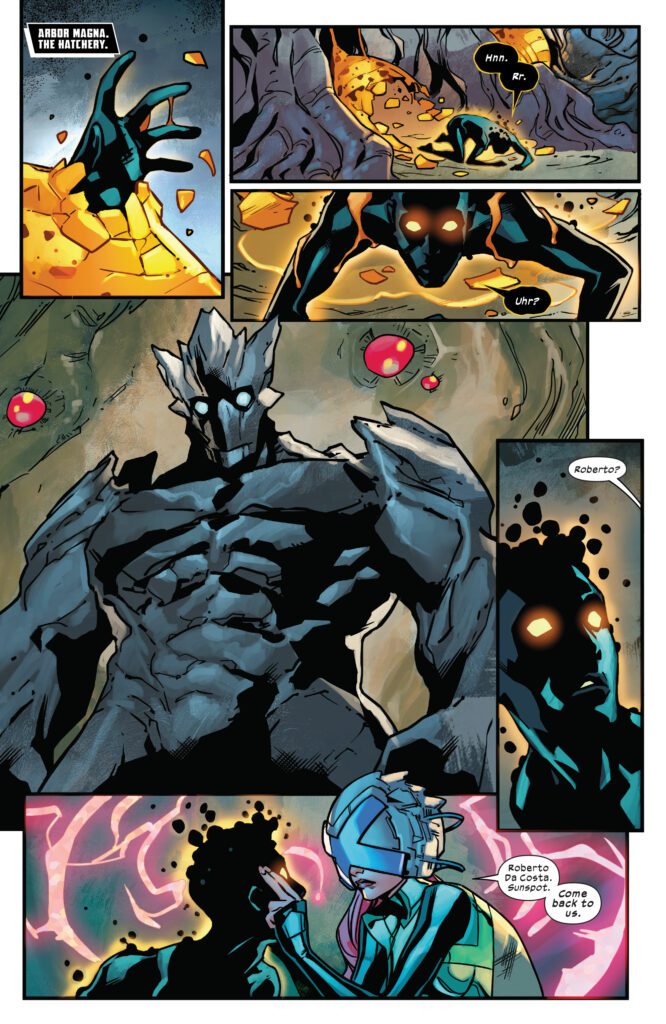 CONCLUSION
X-Men Red #4 is an issue that cements the characters of the book through old-fashioned dialogue. Al Ewing has written three amazing and entertaining conversations that pull emotion out of readers. The art on the issue is filled with great layouts and wonderful colors. X-Men Red #4 is out at a comic shop near you!