From legendary Hellboy creator Mike Mignola and writer Rob Williams, along with artist Laurence Campbell, comes a history lessen about a deadly McGuffin in The Sword Of Hyperborea #1. Featuring colors by Quinton Winter and letters from Clem Robins, this opening issue is more of a lore-note than a comic book. While held aloft by stellar artwork, this issue has little to offer anyone who isn't an absolute diehard Hellboy fan who must know all the things.
"From the ancient warrior Gall Dennar, to Sir Edward Grey, to the B.P.R.D.'s Agent Howards, the iconic Hyperborean sword from the world of Hellboy has landed in many influential hands. And this has been no accident. Trace the sword's path through the adventures and encounters that finally brought it to Ragna Rok, at the end of the world, and witness the sword's journey through history."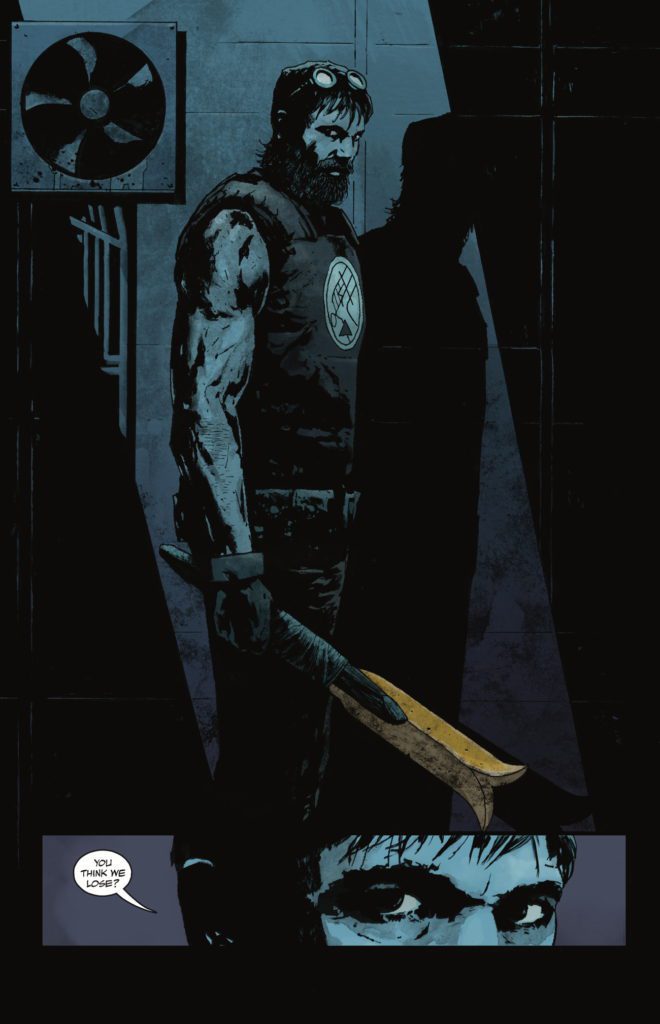 Writing & Plot
Mike Mignola and Rob Williams make a move to fill some of the gaps around Agent Howards' badass weapon in The Sword Of Hyperborea #1. Admittedly since its first appearance in the pages of B.P.R.D., it has been an object shrouded in enticing mystery. Like with many recent Hellboy universe comics following B.P.R.D.: The Devil You Know, Mignola & Co. offer to answer this mystery. Unfortunately, despite this comic's intriguing premise, this first issue comes off as scattered. We're presented with slices we've seen before in prior stories, such as Gall Dennar in prehistoric times leading his tribe. This issue fills in a bit more of that, which is admittedly pretty satisfying to see for a longtime fan of this universe. However the rest of this chapter ends up feeling overly vague.
There are clearly important time-parallel hijinks going on here, and plenty of mad wizards and giant monsters to contend with. Despite having all the ingredients for a great Hellboy/B.P.R.D. story, this comic just feels like its throwing scenes at the reader without reiterating why they're important. This is sort of the problem with making a story surrounding an item. The balance between characterization and just moving the plot forward for more story can be hard to maintain. There is certainly material here to love for diehard Hellboy fans, but that doesn't save the script from feeling bland and scatterbrained.
Art Direction
You can almost always count on a Hellboy universe comic to have fantastic visual work, and Laurence Campbell keeps that tradition going in The Sword of Hyperborea #1. Campbell's heavy inks pay homage to Mignola's signature style while still keeping his unique touch intact. Every character and surface is detailed in a manner that makes the scenes appear almost three-dimensional. There's a digital look to the art, but it's given an atmospheric grittiness by the inks and Quinton Winter's colors. Those colors are rich and finish off the dark, unsettling feeling of a Hellboy comic spectacularly well. The lettering from Clem Robins is classic, highly competent Hellboy comics fare. He maintains the same lettering style that has been utilized in every comic book in this universe, and it brings back that reading experience perfectly.
In all honesty, this is possibly one of the best looking Hellboy universe comics I've gotten to read.
Verdict
The Sword Of Hyperborea #1 is a gorgeous comic book with an unfortunately underwhelming script. Mignola and Rob Williams make some interesting moves with exploring more of the sword's past.  Unfortunately, it still feels scattered and too vague to feel like a satisfying single issue. The visuals from Laurence Campbell and Quinton Winter save the comic with detailed and atmospheric visuals. From the artistic end, this is a top-tier Hellboy universe entry. If you're a diehard fan of this universe, be sure to grab this issue when it hits shelves on 1/12!