DC Comics' Dark Knights of Steel #2 begins with a scream and ends with a whimper. Writer Tom Taylor, artist Yasmine Putri, colorist Arif Prianto, and letterer Wes Abbott set the stage for the chaos that's coming. But before all hell breaks loose, we witness the quiet, personal attacks that are going to set off the powder keg.
Writing
Issue #1 of Dark Knights of Steel showed us the idyllic, if tense, world of a medieval DC Universe. But issue #2 makes a point of kicking this story into gear. Taylor begins with the final, violent scene of the first issue. But it's not the violence that makes this story so terrifying. In fact, the rest of the issue feels relatively calm. The House of El mourns their loss, but they also very matter-of-factly discuss retaliation. It's in that that Taylor finds the true tension of this story. The bureaucratic discussion of war and peace is far more chilling than impassioned duels could ever be. And Taylor also fills this chapter with a general sense of doom. Each character almost seems resigned to the imminent war. They don't want rampant death, they just know they can't avoid it. It feels like an all too realistic response to an act of war.
Art
This issue begins in quite an emotional place. But quickly, Putri pushes those emotions to the sidelines. After their initial release of fury and sadness, we see that few characters show how they're feeling. Instead, Putri shows them with looks of concentration and knitted brows. Clark is one of the few who allows himself to look angry. With this, Putri lends her version of Clark a wide eyed innocence, a youthful energy. He hasn't become jaded. He's open and trusting, allowing people to see how he feels. The same can be said of Zala, this world's version of Supergirl. Putri shows that there's something different about how the Els grew up. They've always been so untouchable that they never learned to guard themselves when danger comes a-knocking. This isn't to say that the other characters Putri presents aren't emotive. But they express everything subtly, holding back the true passion of what they're feeling.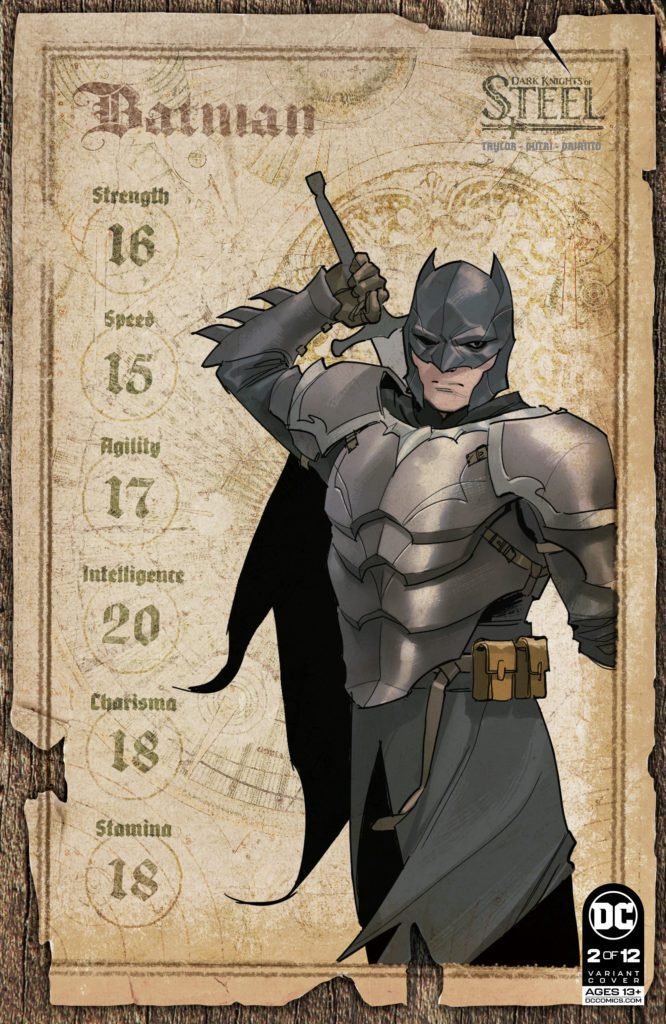 Coloring
Prianto's scenes, on the other hand, have a very emotive quality to them. It's part of what tells us what's brewing under the surface of our more stoic characters' faces. When Bruce and Clark go into the castle's dungeons, the scene is lit by the fire of torches. The reddish light gives us a hint of the fury Bruce is feeling. When Zala spars out in the sunlight, the warm yellow glow of the setting matches her face, which is brimming with joy. And when we reach the heartbreaking conclusion of this chapter, the night is cast in a cold blue light. Prianto displays every moment of this comic as a kind of litmus test for each character. Prianto doesn't just paint with reds, blues, and yellows. He paints with joy, anger, and sorrow.
Lettering
There is a lot of movement in Abbott's lettering of Dark Knights of Steel #2. The "SHLK" noise of someone's limb being chopped off actually slices through the air in a jagged, haphazard trajectory. It almost seems to separate the limb from the rest of the body. When the rain douses someone's pipe, Abbott writes the "TSSSS" noise in the shape of smoke, slowly rising and growing in its font. The "FTT" sound of a flying arrow cuts through the air, and the "THP" of someone catching it feels stationary, like screeching to a halt. Abbott explores how his sound effects can create motion in this comic. His lettering gives so much life and energy to every page.
---
DC Comics' Dark Knights of Steel #2 starts setting everything in motion. This creative team hints at some of the doom that's on its way, like an oncoming storm. But we'll have to wait and see what the House of El and the Kingdom of Storms next moves will be. Pick up Dark Knights of Steel #2, out from DC Comics December 7th, at a comic shop near you!