Writer James Tynion IV (Something Is Killing The Children, Batman Detective Comics) returns to DC and brings along artist Lisandro Estherren for a new window into an old world with The Sandman Universe: Nightmare Country #1. With guest art from Yanick Paquette, colors from Patricio Delpeche, and letters by Simon Bowland, this opening chapter is a wonderfully macabre start to this new story in the Sandman mythos. With a smart, tense, and darkly humorous script and unique standout visuals, this comic is a must for both old Sandman fans and newcomers alike.
"Sometimes, nightmares walk the Earth. Every night when you sleep, the Lord of Dreams chooses the path you'll follow…into a sylvan Elysium, or down the hallways of your darkest fears. And sometimes, if it is Dream's will, those nightmares escape those halls, and go out into the world. But it is not a choice he makes lightly. Today the Corinthian walks the Earth again. The most feared of all Dream's nightmares, his ravenous mouths have made him a legend among serial killers. Letting the Corinthian out among mortals is the most dangerous thing Dream could possibly do. But he has no choice-because there is another nightmare walking the Earth, one that must be hunted…and this monster is one that Dream, lord of all nightmares, did not make."
Writing & Plot
It's safe to say that James Tynion IV has a signature style of horror writing. He brings that style to bear and mixes it with some old Vertigo ingredients for his script in Nightmare Country #1. His work here mixes his foreboding horror sensibilities and signature dark humor with poignant reflections on living in this timeline as a millennial – another detail he's very good at. He then sprinkles in bits of poeticism that even Neil Gaiman himself would be proud of. This comic nails the goal of feeling like a Sandman book while also being something totally new and exciting. The way Tynion hints at coming terrors and conflicts while still always keeping the tension in the present is constantly compelling. There is an unceasing dreamlike quality to the whole comic. Every character conversation and small moment that we *know* isn't part of a dream/nightmare still very well feels like it could be. Again, this is that Sandman quality making itself known throughout the book. Despite this the comic never feels unclear. Everything feels pointed and purposeful – and I'm sure we'll find out why in the coming chapters. Like Si Spurrier and G. Willow Wilson in their Dreaming runs, Tynion adds his voice to Gaiman's mythology with a comic that is totally loyal to the concept and thematic core of that original universe – but still feels wholly unique unto itself.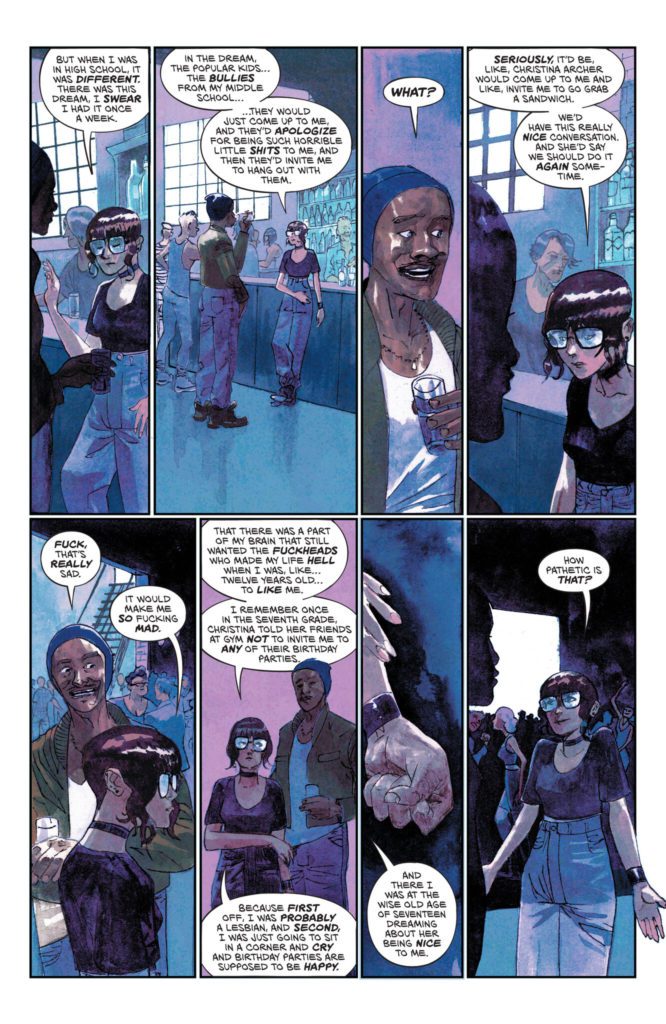 Art Direction
Tynion tends to get his horror scripts visually told by wonderfully unique artists, and Nightmare Country #1 is no exception. Much like Werther Dell'Edera in Something Is Killing The Children, Lisandro Estherren's art in this comic gives this story a singular style that perfectly captures its uncanny tone. Estherren utilizes his wavering, sort of rough-hewn penciling to great effect. His characters always seem like they're caught in a dreamy haze (which they kind of are). His visual interpretations of nightmare creatures are striking and unnerving, and are sure to stick in the reader's mind long after they've closed the book. His visual approach is one that feels like it belongs among some of that old Sandman work. He fits in to a modern day camp of artists who bring the same sort of uncanny style to comics that Kelley Jones and P. Craig Russell did to classic Sandman, but here in a new light. Estherren's direction and blocking add more to both the tense nightmarish sequences and the dreamy, uncertain pacing of the comic as a whole. Yanick Paquette's portion as guest artist is as stunning as you'd imagine, but it also sticks out a bit much. Still, it does nothing to stop the overall stellar visual flow of the comic.
Patricio Delpeche's colors make up much of that hazy, dreamlike-feel of this issue. His murky watercolors give off an unnerving feeling and cast the book in a dim pallor that really completes the comic's tone. Simon Bowland returns to The Sandman Universe on letters, and unsurprisingly he's as brilliant as ever. He utilizes numerous fonts for different characters, replicating the work of Todd Klein in the original Sandman while keeping his own style intact and fresh. Visually, this comic is a great atmospheric treat that crafts a timeless Vertigo-esque quality for the reading experience.
Verdict
The Sandman Universe: Nightmare Country #1 is a creepy and stylish new chapter in the legacy of this beloved world. James Tynion IV returns to DC to craft new nightmares in his signature brand of poignant, eerie, and darkly funny horror and he absolutely nails it. The visuals from Lisandro Estherren and Patricio Delpeche are rife with memorable visual terrors in a style that feels like it picks up where the more gruesome classic Sandman issues left off. This is a must-read for both Sandman fans and complete newcomers. Be sure to grab this comic when it hits shelves on April 12th!