From acclaimed artist Tyler Crook (Harrow County) comes a new horror series about generational trauma, loss, and a big magic sword in The Lonesome Hunters Vol. 1. Published by Dark Horse Comics, these first four issues create a great opening arc that gets readers into the heads and emotional states of the protagonists while also throwing us into the lore of this world of ancient weapons and old magic. With thoughtful writing and expectedly outstanding art, this opening volume is a must-read for fans of Harrow County and books like it.
"An old and out-of-practice monster hunter in hiding crosses paths with a young girl that forces him to confront these chaotic creatures. As the beasts invade their tenement, they set off on a supernatural road trip to stop these ancient evils in a story that explores the ways that youth informs adulthood and how early traumas can haunt us in old age."
Writing & Plot
Tyler Crook returns to the realm of magic-tinged and character-focused horror with the opening volume of The Lonesome Hunters. Our story focuses on an old and in-hiding monster hunter named Howard. After the deaths of his whole family and everyone he knows as a boy, Howard runs away with an ancient sword that was given to him by his father – a sword that in turn grants Howard a very long life. Now as an old man, he runs into a girl having her own trouble with magical objects, and the old hunter is forced out of retirement to face his demons anew. While the fantasy/horror material is up front and strong in this comic, all the genre trappings take a back seat to the human characterization of the two leads. Howard led a troubled childhood trying to live up to his father's expectations as a monster hunter. As a old man, he is still emotionally crippled by his trauma and experiences as a boy. Lupe, the young girl he befriends, has lost almost everyone in her family and feels a desperation for people she cares about to, well, not suddenly die on her. The emotional weight of the pair's past and how they relate to each other carries the book forward as they clash against dark forces. There's a lightheartedness to The Lonesome Hunters as well; one of my favorite scenes involves Lupe describing an 80's mecha anime to Harold and the old hunter is absolutely engrossed. There are moments of fun and genuine sweetness that lift the overall tone of the book where it's appropriate while also making this duo feel more human. Crook's dialogue sensibilities are solid, with naturalistic delivery but with just enough stylization to make the words interesting and memorable. Crook proves himself every bit the writer that he is the artist with this first volume of his new horror series.
Art Direction
Most people familiar with Tyler Crook's work will be expecting his unique brand of visual storytelling, and that is exactly what they'll get with The Lonesome Hunters Vol. 1. The Harrow County artist utilizes his signature spooky atmosphere blended with his detailed character art to make an original lighthearted horror tone that will feel familiar to returning readers of his work. Crook's soft, thick lines and detailed animations make his characters feel alive and easy to relate to. Crook excels at displaying emotion across all of his characters, making his work feel all the more organic. His background settings feel lived in with an eye for detail that makes the world feel real – and makes the magic elements stick out that much more. Crook's colors are just as interesting as his pencils, with his sepia-tinged watercolor approach setting a murky tone for the entire volume. Those familiar with his work in Harrow County know exactly what they'll be walking into here, but with a more urban-tinged and rust-colored aesthetic compared to Harrow's backwoods greenery. His careful sequential direction carries the story forward at a brisk but steady pace, relying on mostly larger panels that switch between character close-ups and moments of action. Crook's lettering is as brilliant as ever as well. His dialogue balloons showcase his solid font and structuring that captures a speaker's tone very well. However, it's his SFX work that is especially wonderful. Crook blends his lettering into the art itself, making the effects actually a part of the visual experience. It's outstanding work, and another shininis g example of Crook's stellar artistic style.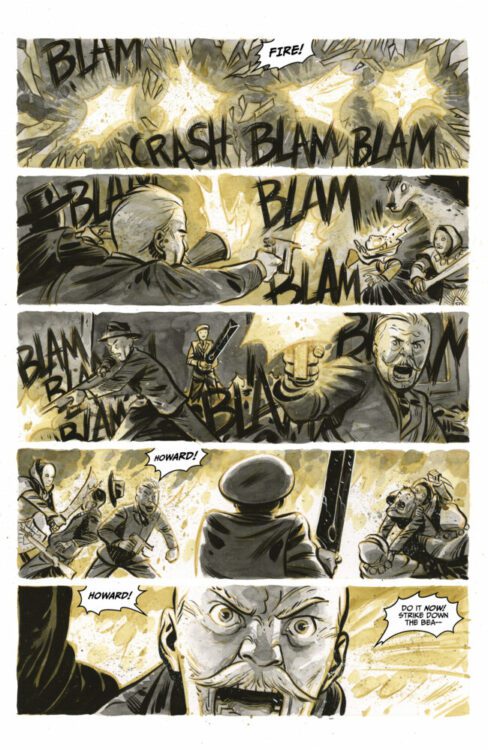 Verdict
The Lonesome Hunters Vol. 1 is a great opening salvo of issues that starts off Tyler Crook's new original horror series. His writing here brings the fantastical magic/horror in spades, but keeps a clear focus on the deep humanity of the two lead characters. His visual work is as stellar as ever, with great facial animations and a gloomy aesthetic that pulls the reader into the tone of every issue. Be sure to grab this opening volume from your Local comic shop or a bookstore near you!