KING IN BLACK: NAMOR #2 hits comic book stores on Wednesday, December 30th, diving deeper into Namor's younger years. Last issue detailed the sea dweller's introduction to the Swift Tide warriors. Now, readers will follow Namor and this groups into dark depths, revealing a power older than the sea itself. Can our water warriors stand against a power spawned by the symbiote king Knull?
Story
The story opens with a view of an Atlantean village being attacked by local bandits in search of food. But the Swift Tide soon arrives to meet them with Namor and his friends in tow.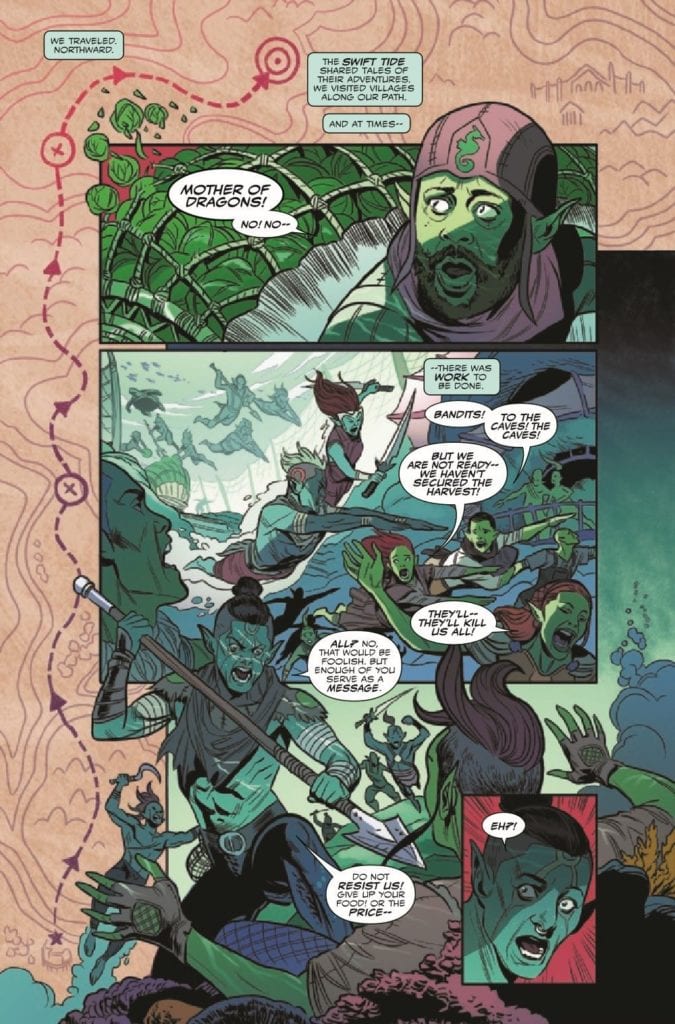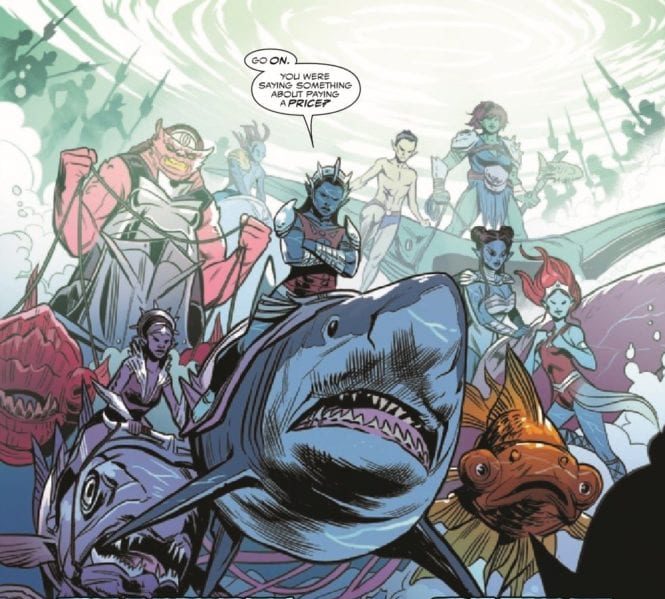 Readers get to enjoy a younger, more idealistic version of Namor as he fights for a cause he believes in. This element, present throughout this issue, help us sympathize more deeply with the character—especially when compared to his older, jaded self.

The story continues as the Tide seeks out a mythic relic called the Unforgotten Stone. In the process, we learn of the moral difficulties facing Namor's friend Attuma. As an outsider of sorts, he's able to find sympathy for the hungry raiders. This revelation explores Namor's capacity for mercy in brilliant fashion.
Unfortunately, this moment is soon broken up by the Tide's pressing task to find the Stone. Soon the horrors of old gods and twisted beings will come front and center.
Kurt Busiek's writing takes readers on the rollercoaster that is Namor's life with the Tide. We see his joy and unexpected sense of horror at what his compatriots find in the dark depths.
Artwork
Benjamin Dewey's penciling and ink work, Tríona Farrell's coloring, and 'VC'S Joe Caramagna's lettering worked together wonderfully in this expansive issue. The spanning scenes of undersea Atlantean mountains and temples set the atmosphere perfectly. They and the characters set within them stand out from these backgrounds while complementing each other. And the lettering, much like the water throughout the setting, seems to flow with the currents in an engaging way.
Conclusion
The expansive story told in KING IN BLACK: NAMOR #2 establishes more backstory for both Namor and the mysterious forces of Knull. We can't wait to see where the creators take this prequel next!
Would you like to learn more about the Stone's history? Let us know in the comments below!