Writer G. Willow Wilson and artist Nick Robles continue their outstanding Sandman Universe saga with "The Dreaming: The Waking Hours" #5. Along with Mat Lopes on colors and Simon Bowland on letters, this issue resolves the series's first major arc with relatable and emotional revelations as well as character developments that will no doubt be fascinating to read about in coming issues. With yet again incredible visuals from Robles and Lopes, this is yet another outstanding comic book from one of the most talented creative teams in the industry right now.
"After his escape to the waking world went terribly awry, Ruin finds himself face to face with his creator, Dream…and Dream is not happy. Is there any force in this world that could stop him from unmaking his most unpredictable creation?"
Writing & Plot
Every issue of "The Dreaming: The Waking Hours" that G. Willow Wilson has penned thus far has been, much like the original Sandman, an engrossing mix of relatable human character drama and wildly imaginative and intelligent mysticism. This issue ends the introductory arc with Lindy and her infant's unintentional run-in with the denizens of the Dreaming in an emotionally meaningful way. This series thus far has been, among other things, an internal journey for both struggling single mother Lindy and the lovesick nightmare that is Ruin. While Lindy's time with the assorted identities of Shakespeare does come to a rather abrupt conclusion, it ends in a way that still feels right from Sandman's ever-present literary standpoint. The conclusion of Ruin's introduction and his search for love and meaning is a stroke of brilliance for Wilson as a character writer and someone putting her stamp on this universe. Not only is Ruin a great new character that is near impossible not to love, but Wilson also understands Dream himself as a complicated being with his own sense of humanity. As always, the dialogue is naturalistic and engrossing. The pacing in this issue is a bit rushed at points compared to prior issues, but the conclusions that Wilson comes to still feel right and climactic. This is another fantastically written issue for this series and another great installment of Sandman universe storytelling.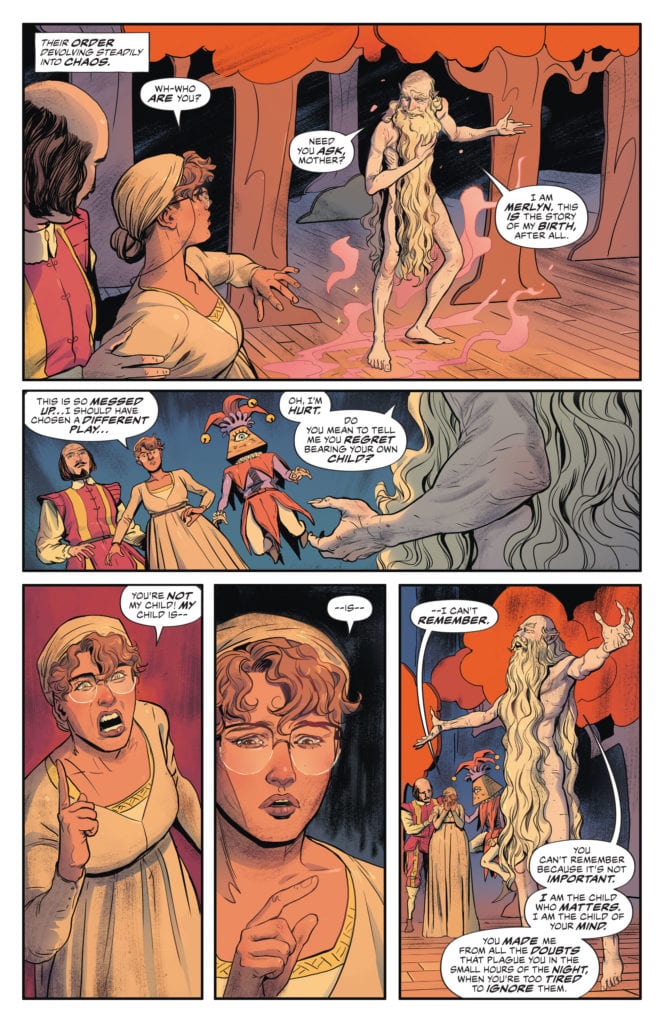 Art Direction
I could never possibly run out of praise for Nick Robles's work, and that still proves to be true on The Waking Hours #5. The dynamic animations and never-ending range of stylistic variety in terms of environments and characters – human and other – that Robles brings to the Sandman universe is some of the best seen in the franchise's history. Getting lost in this world is an impossibly easy task thanks to how Robles's pencils create such vivid detail and brilliantly designed characters. Not only are his pencils great, but his visual direction is just as inventive. In true Sandman fashion, panels run into each other or disappear altogether for the sake of how the Dreaming and its reality-shedding story often works. Robles – and the story at large –  is aided by the astonishing colors of Mat Lopes. The sheer amount of variety in the shades and tones used by Lopes within the pencil lines is beyond impressive, but also the way the colors match and create the emotional tones of each panel is the work of an artistic expert. The visual experience crafted by these two artists work hand in hand to perfectly deliver this comic's incredible visual experience. The letters from Simon Bowland are a modern touch on the classic Sandman lettering style; a classical yet contemporary aesthetic with each character having their own slightly different font. Once again, this series is gifted with an incredible art team that delivers perfect results week in and week out.
"The Dreaming: The Waking Hours" #5 is an emotionally sweet and beautiful ending to this series's opening story arc. While this script feels a bit more rushed that the prior issues thus far, the story still feels complete and the character revelations are all earned. The visuals are once again beyond striking, making this one of the most gorgeous comics on shelves right now. Be sure to grab this latest issue from your local comic shop when it hits shelves on 12/1!