Where every issue of this series has been nothing but great so far, "The Dreaming: The Waking Hours" #4 is the best chapter yet. Writer G. Willow Wilson, artist Nick Robles, colorist Mat Lopes, and letterer Simon Bowland put together a beautiful comic book that sings with a wide range of emotion, sensitive characterization, and mystical in-universe plot development that will leave any reader elated.
"Ruin has traveled to Worlds' End to seek help from the denizen of the Dreaming who set him free in the first place…unfortunately, Brute and Glob have followed him there—on the orders of Dream himself! And back in the Dreaming, Lindy has taken on the challenge of discovering who the "true" Shakespeare is, via a staging of the apocryphal play The Birth Of Merlyn. But when you tell a tale inside the Dreaming, it has a strange way of becoming very real indeed…"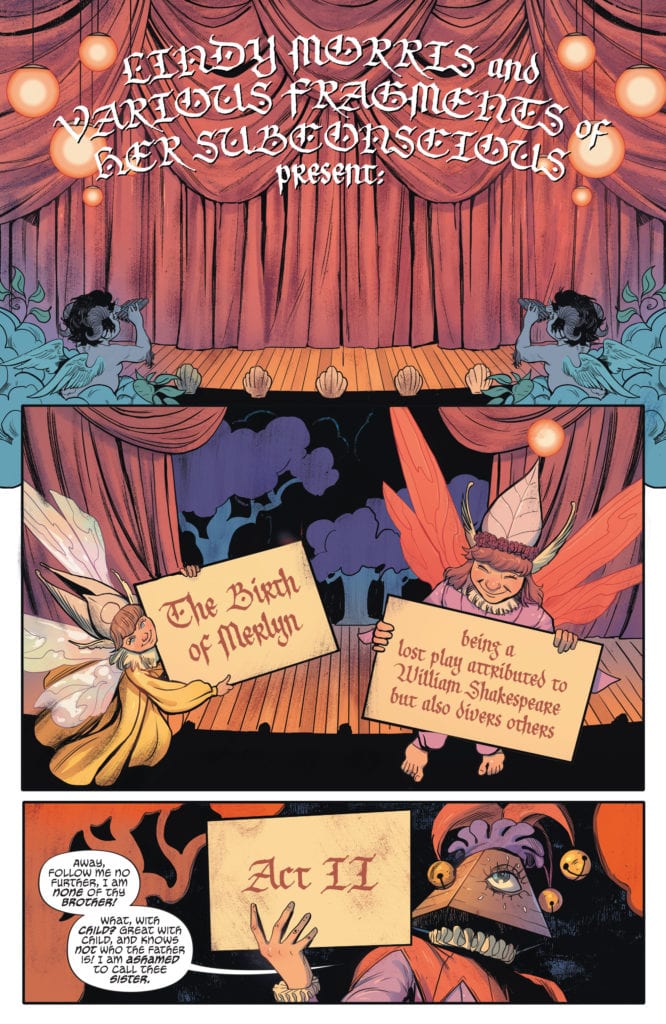 Writing & Plot
G. Willow Wilson has a habit of outdoing herself with every subsequent issue of "The Dreaming: The Waking Hours." This time though with issue #4, she really, really destroyed her own record. This chapter of the thus far incredible continuation of the Sandman Universe story is a warm and intelligent piece of mystical fiction that is every bit as human as it is fantastically imaginative. Wilson follows in Gaiman's footsteps by mixing wonder and horror into a vast fantasy landscape, and brings beings as powerful as gods down to the level of your roommate who never bothers loading the dishwasher. While the Dreamlord himself, in all his moody fury, is written as foreboding and edgy as ever, he is far from the star of this show. Willow's attention to the human condition when dealing with Lindy's life is as inspiring as it is heartbreaking. The fact that she's able to mix it with her literary intellect (Wilson writes some damn convincing Shakespeare) and unique spin on the nature of The Dreaming, all while making this feel like a true Sandman story makes this one of the most impressive feats of comics writing coming out at this time.
There are three plots running during "Waking Hours:" Lindy's time stuck in the Dreaming to figure out who the "real" Shakespeare is, Ruin & Co.'s need to reunite Lindy's infant with it's mother, and Dream's chase of his escaped nightmare. It would be pretty normal for one of these plots to be more interesting than the other, thus making the time spent away from that superior plot feel like a drag. This is not the case with this series, as every facet of the story is titillating in a different manner. The most Sandman-esque scenes with Dream are perfect for longtime fans, Lindy's experiences are perfectly intimate, and Ruin's journey is outstandingly intra- and extra-personal. In the last of which a character is suddenly introduced into the mix, and he has to be one of the greatest audience stand-ins I've ever seen in a comic; wildly confused but devoted and along for the ride. Speaking of character introductions, there are a couple familiar faces that show up in this issue (one classic, the other from a much more recent tale), and as with every issue of "Waking Hours," their appearances have weight within the plot as well as being well-executed fan-service. This is hands down one of the best scripts I've read this year.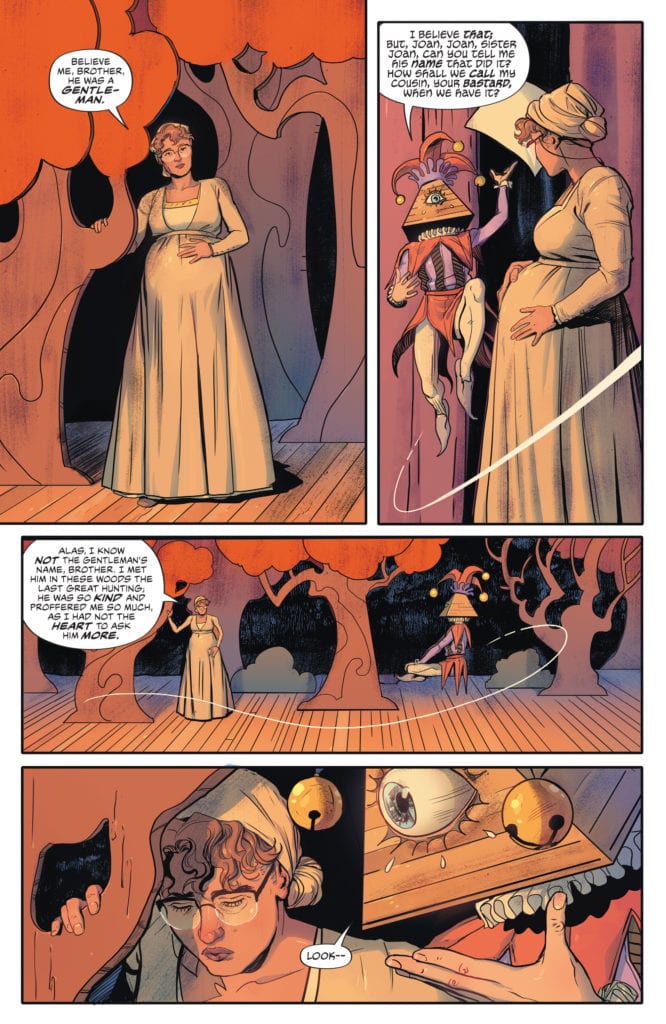 Art Direction
As stellar as Wilson's script may be, it wouldn't be so impressive if the visual end of the team couldn't hold up their end of the deal. Fortunately, "The Dreaming: The Waking Hours" #4 has the never-ending gift of Nick Robles's pencils and Mat Lopes's colors. As an artist and the co-creator of this vision of dreamscapes and nightmares, Robles crafts the characters and world of The Dreaming with a delicate and immensely detailed hand. The character animations and designs are personable while also being endlessly imaginative. The ever-shifting landscapes made of dream-stuff offer some of the most awe-inspiring visuals of any comic in recent memory. The very nature of the story being told allows for Robles to vary his stylistic approach from moment to moment, and the results are unbelievably cool. The colors of Mat Lopes create a vivid complexity seldom seen in any art form. The sheer amount of shades and variations of colors he seems to bury in a single image is staggering, and the finished product is bursting with life. Returning letterer Simon Bowland again offers a classical Sandman tonal experience with his work, offering varied fonts and effects straight from the Vertigo era of Sandman but with a contemporary touch. The visual work here is once again staggeringly great, and a beyond worthy addition to the artistic vision of the Sandman Universe.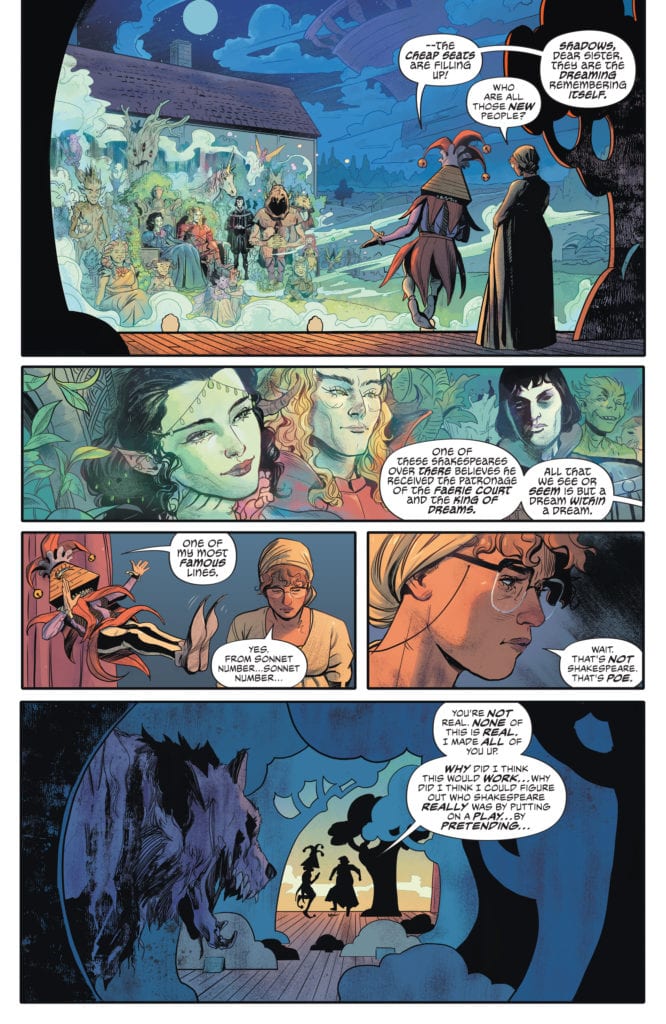 "The Dreaming: The Waking Hours" #4 is a wonderfully human comic that manages to be so perfectly emotionally balanced while also being hyper-imaginative. Wilson's commentary on subjects ranging from academia and literature to the weight of having children alone is impactful, but the script still has brilliant moments of levity. The visuals from Nick Robles and Mat Lopes are a wondrous sight to behold as always, and some of the greatest work seen in a Sandman comic. This is possibly the best single comic issue I've read all year, and it's a desperately needed piece of relatable fantasy with needed bits of inspiring realism. Be sure to grab this latest chapter of the Sandman Universe from your local comic shop!