DC Comics' Swamp Thing: Green Hell feels like it's coming out at just the right time. It's the story of the leftovers of humanity. A battle-worn group of people, on the brink of extinction. With Swamp Thing: Green Hell #1, writer Jeff Lemire, artist Doug Mahnke, colorist David Baron, and letterer Steve Wands, ask the question: "Is humanity – in all its destructive glory – really worth fighting for?"
The Premise of Swamp Thing: Green Hell #1 (from DC Comics):
The Earth is all but done. The last remnants of humanity cling to a mountaintop island lost in endless floodwater. The Parliaments of the Green, the Red, and the Rot all agree: it's time to wipe the slate clean and start the cycle of life over again. And to do so, they've united their powers to summon an avatar—one of the most horrific monsters to ever stalk the surface of this forsaken planet. Against a creature like that, there can be no fighting back…unless you have a soldier who understands the enemy. Someone who has used its tactics before. Someone like Alec Holland.
Of course, it would help if Alec Holland hadn't been dead for decades…
Writing
Lemire retreads some familiar territory with this series. We come back to a world of warring Parliaments, much like we saw in Lemire's 2011 run on Animal Man. The Parliaments of Red, Rot, and Green, watch the slow extinction of mankind in impatient anticipation. And, honestly, it's tempting at first to side with the Parliaments in this. The world Lemire puts forward is bleak and uncaring. But Lemire then sprinkles in characters with big hearts and sturdy senses of integrity. Characters that, Lemire shows us, have weathered all kinds of hardship and heartbreak. Yet they're still here, fighting for what's right. With this, Lemire connects to an audience that feels exhausted by our years in the pandemic. He places us in the story: an optimistic few who have managed to survive some of the worst the world could muster. And so, Lemire has created what seems like insurmountable odds in this story, but odds we're truly invested in seeing the characters overcome.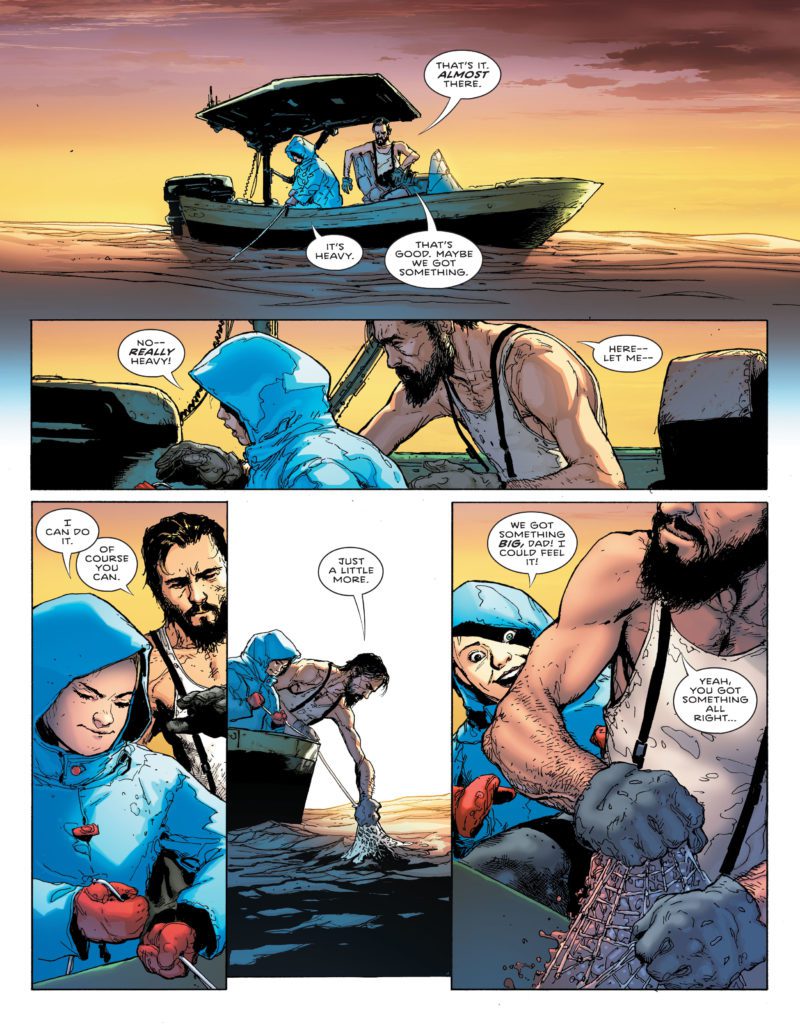 Art
Mahnke's art is terrifying. He gives the entire issue a feeling of foreboding. While there are small moments of brightness, of characters smiling and swapping jokes, it's the evil things in this story that take up the most space on the page. When a group of armed bandits show up to the town, it's there image at the bottom of the page that makes up the background of every panel. And when they beat a man in the center of town, the same thing is true. By placing these images in the backdrop and eliminating page gutters, Mahnke makes these violent moments feel inescapable and all-encompassing. It's only at the end of the issue, after we've seen plenty of gore and carnage, that we see the good guy equivalent. Characters ask someone for help to fight off the evil that's quickly spreading. When the character arrives, his moment of arrival acts as the backdrop of the page. He's just as powerful, just as inescapable, as the threats they're facing.
Coloring
Baron actually keeps to a relatively bright color palette throughout this issue. At times, it feels a little strange. Some moments are quite dark thematically, yet the characters are shown in vibrant flesh tones, wearing colorful clothing. But there's something really interesting to this choice. For one thing, it's quite disturbing. We see people ripped apart on a page that feels unsympathetic to their struggle. It's the same coloring treatment you'd get for a big superhero battle. But it also means that the darker moments, the ones where Baron pulls back on in his coloring, really do stand out. When one character ominously sinks into the sea, or when our main character has a tough conversation with his daughter, these scenes mean something. It's an unorthodox choice on Baron's part, but it brilliantly highlights the emotional moments of this issue.
Lettering
Wands' sound effects similarly almost seem to ignore the gravity of each moment. It has a disturbing and sadistic feel to it. When people are slaughtered, Wands shows the "SPLORT" noise of branches puncturing flesh in neon yellow. In fact, it's actually once the carnage begins that Wands' sound effects really come to life. Up until that point, his sound effects are quite subtle. We see the small "KRK" of someone's nose breaking shown in red. We see the noise of a bell ringing in orange purple hues that blend in with the rest of the page. It's when heads roll that Wands' sound effects splatter across the page in sadistic joy. It works really well to make these scenes feel even more disturbing than they already are.
---
DC Comics' Swamp Thing: Green Hell starts off with a no-holds-barred first issue. This creative team presents a bleak future and insurmountable odds, begging the question "Is humanity really worth all the trouble?" But somehow, in the midst of the blood, guts, and horror, they also manage to tease out a subtle optimism. In the end, we want these characters to beat this. Because if they can, maybe we can too. Pick up Swamp Thing: Green Hell #1, out from DC Comics December 28th, at a comic shop near you!