Suicide Squad #4 was the first in this series to not get a perfect score in my reviews. After three brilliant issues, the writing began to slip a little as it became exposition-heavy. However, if DC Comics' Suicide Squad #5 tells us anything, it's that this creative team knows how to bounce back with a vengeance. Back to cranking out one of the best series on the stands, writer Tom Taylor, artist Bruno Redondo, colorist Adriano Lucas, and letterer Wes Abbott make Suicide Squad #5 the ride of a lifetime.
Writing
Taylor almost seems to specifically go out of his way to show he can do great exposition. As the issue opens, one of the new Squad members begins to talk about his childhood. But instead of retelling past stories that feel slightly out of place, Taylor allows Redondo's art to do most of the work there. We see and hear just enough to piece together who this character is. Taylor makes us love a character we've barely met in the space of four pages, while never missing a beat in the main plot. And as the issue comes to a close, and a major question gets answered, we're left with more questions than ever. Taylor manages to keep us balanced on the edge of our seats, and it's clear he's going to keep us there.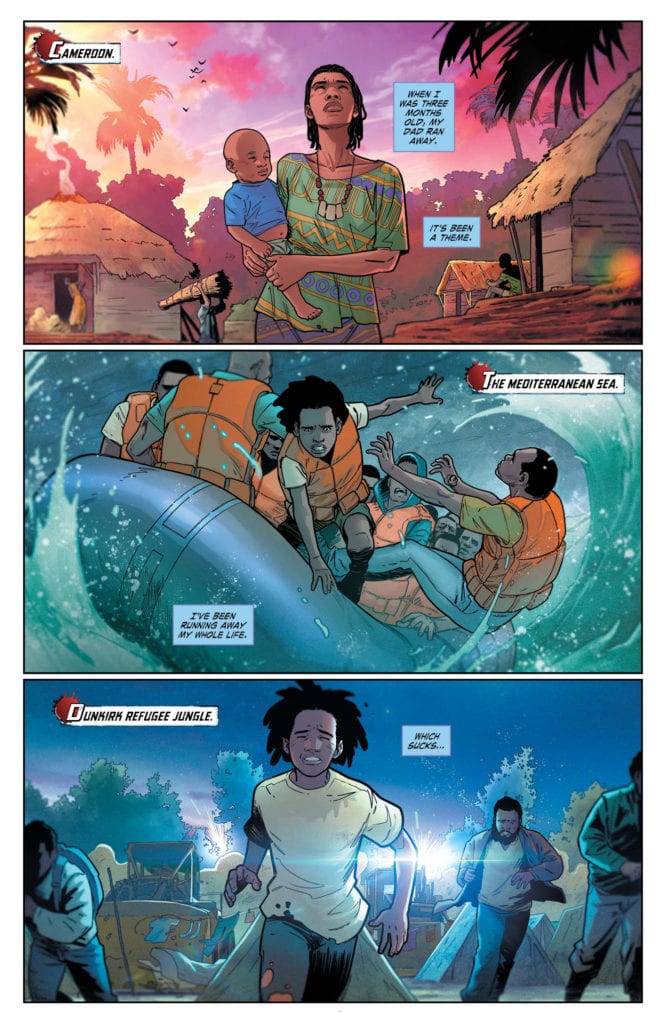 Art
Part of the reason Taylor's minimalist approach to writing works in this series is because Redondo's art communicates so much. We learn a ton about the characters through his art. When things get violent, Redondo shows us who the characters are who set their jaws, and who the characters are who light right up. And you don't blame them for lighting up, as one specific use of violence in this issue is one of the funniest things you'll see in any comic. But Redondo also knows how to pull our heartstrings. And he does it by not trying too hard. In one scene, two characters say goodbye to each other for the last time, but Redondo makes it seem almost nonchalant. Yet there is something more intimate about it for that reason. These characters know each other too well to weep and moan. The pain is implied. The fact that Redondo can break our hearts one minute, and make us laugh out loud the next is a testament to his extreme range.
Coloring
Lucas continues to make so much about this series fun. From purple glasses to neon backgrounds. Lucas is the one who comforts us when things get tragic and cheers us on to get into the shenanigans. The grittiness and the tragedy in this series are always offset by Lucas. He's one of the reasons this series is so balanced and versatile. Shocking violence quickly gives way to bright yellow backgrounds and delighted characters. Lucas hasn't just set a tone for this series; it's like he sits down at every page and says, "How can I make this as beautiful as possible?" When colors aren't jumping off the page, they're bleeding into one another. It doesn't feel like looking at a comic book page. Each panel feels like a meticulously crafted work of art.
Lettering
Abbott's lettering makes you feel what the characters are feeling. When Captain Boomerang's hand is brought down on one of his boomerangs, the red lettering looks like it's cut into skin. And when one character stomps vengefully on another's face, the bright pink lettering gives a sense of her twisted joy. But there are two specific moments where Abbott hits it out of the park. When things boil to a head, and someone fires the first shot, Abbott doesn't write a sound effect. But it works. Because, at that moment, time almost seems to freeze, and everyone's words are caught in their mouth. In the opposite vein, when one character tragically blows up, the "BOOM" takes up the whole panel in the background. It seems to go on forever. Abbott shows us first what it's like to feel the shock of violence, and be lost for words, and then what it's like to lose someone dear and feel as though nothing exists beyond that moment.
---
Read this series. Buy this issue. DC Comics has struck gold with this creative team. Taylor, Redondo, Lucas, and Abbott mesh-like Shakespeare and hard liquor. They're the perfect team, writing a book that's going to be a classic. If for no other reason, than for this issue alone. Suicide Squad #5 is out from DC Comics now!