SPAWN #315, available in comic book stores on Wednesday, February 24th, offers readers one of the most thrilling surprises in a story—even by Spawn's standards. The battle between Spawn and the mighty Omega Spawn seemed all but settled in favor of the latter, but a last minute newcomer shows there's a chance to even the odds.
Story
The issue picks up in the middle of Spawn's losing fight with Omega. Readers will remember how hopeless this fight seemed last issue, but in an epic introduction, the presumed dead Medieval Spawn joins in the fight.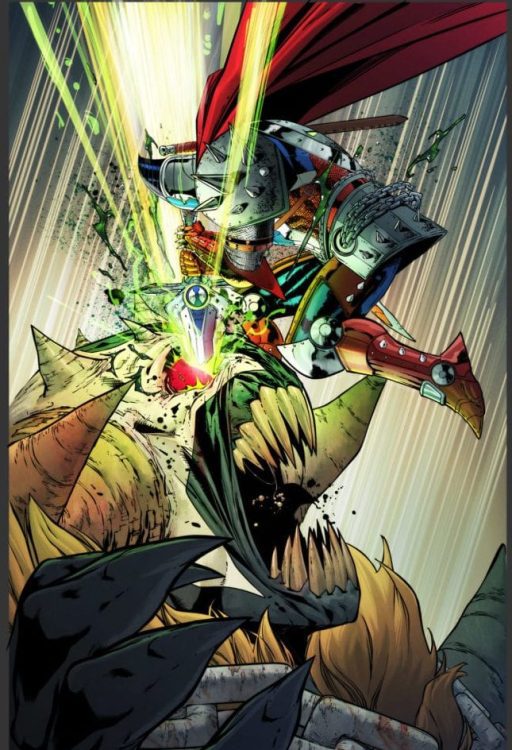 What appeared to be a losing fight from the get-go turns into a massive turnaround. The unexpected introduction of Medieval Spawn comes when our hero is at his absolute lowest, which draws readers into the narrative that much more. His presence shocks Spawn out of his wits, but the two form an unlikely union in the face of so great a threat as Omega.
Todd McFarlane's writing flows smoothly from scene to scene. The relatively calm narration provides a great balance to the exclamations from each character in the thick of their fight.  And, as it turns out, there are more surprises that lie in store for the reader later in the story.
Artwork
Carlo Barberi's penciling and ink work made sure every possible detail was included in this story. Whether it's the chains and armor on Medieval Spawn or the gushing necroplasm, we're treated to fully realized panels. These are rendered with beautiful shades of reds, blacks, and greens by colorist Jay David Ramos. And Tom Orzechoski's lettering does a brilliant job of framing these scenes, informing the reader while helping focus the frames on each character.
Conclusion
SPAWN #315 is full of exciting surprises long time fans of the series are sure to enjoy. We can't wait to see where the next issue goes after this story's shocking events.
What was your favorite part of the issue? Let us know in the comments below!