SPAWN #312 hits comic book stores on Wednesday, November 25th, bringing readers closer to the impending conflict between Hellspawn and the forces of both Heaven and Hell. This story jumps between many characters' perspectives to give their take on these events, giving readers a chance to connect with figures other than Al Simmons himself. The result is a tale full of surprises each Hellspawn must face in their own way.
Story
Building off of the previous issues' events, #312 expands upon Simmons's recent breach of time itself. The story hones in on multiple versions of Hellspawn facing the ramifications of this reality, ranging from Gunslinger Spawn to Jessica Priest.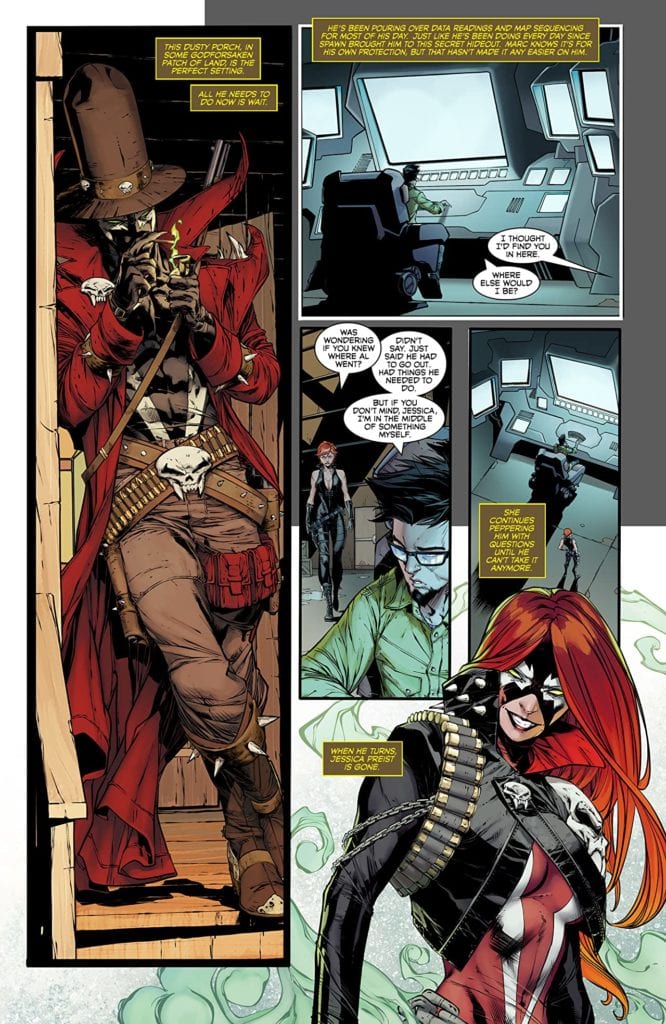 Each Hellspawn reacts differently to the impending threat. Gunslinger faces a horde of demons head-on, Priest carelessly runs about as if nothing is different, and Simmons spends his time hectically planning for what's next.
Todd McFarlane's narrative further differentiates each Hellspawn, showcasing each of their unique personalities. This helps readers fall in love with those characters that entertain them the most.
Artwork
This issue's illustrations are astounding in their ability to capture the story's action. Carlo Barberi's penciling and ink work, alongside Peter Steigerwald and Jay David Ramos's coloring, brings each character to life. The dark shades of black mixed with bright reds shows how each Hellspawn is connected despite their unique outfits. We also loved how Tom Orzechowski's lettering placed the focus on Simmons' by casting his dailogue within jagged, black borders.
Conclusion
SPAWN #312 is an epic connecting story that sets the stage for action on multiple fronts. While not the main tale in the Cult of Omega arc, this issue is integral in its effective character development.
Who do you think is the most powerful Hellspawn right now? Let us know in the comments below!